This post is part of a virtual book tour organized by Goddess Fish Promotions. Colleen will be awarding a $10 Amazon or B/N GC to a randomly drawn winner via rafflecopter during the tour. Click on the tour banner to see the other stops on the tour.
Neither Rex nor Regina wants a spouse, but they do have needs.

Ranger Rex Duncan needs a false identity—just long enough to uncover a ring of Kansas ranch thieves. Answering Regina's ad for a temporary husband, he leaves his beloved red dirt of Oklahoma to assume that disguise. But the most obstinate woman he's ever known confounds his assignment, and with hair the red color that has always made his heart beat a little faster.

Regina Howard needs a new Mrs. in front of her name—just long enough to reclaim her deceased husband's ranch, since Kansas law won't allow women to own property. When Rex answers her ad for a husband who can take orders as part of a brief business arrangement, she finds this stubborn man ignores her every command. Yet a good man is far more than just a name…
Enjoy an exclusive excerpt
I came off the wall and stepped along the inside of the barn doorway. I peered through one of the gaps between the boards. Doc stood near her, very near her, looking down in a way the widow deserved. "Thank you, Doc," I called and waved as I strode out where they could see me. Doc and Regina each took a step back from the other.
"No—thank you." Doc nodded, but I caught the baffled look on his face. "And thanks to your horse, there, also. Walter." He tipped his head toward Walter.
I could see the ready in his eyes, the ready that would take care of Regina and Jess, whether they were ready or not. I waited for Regina to chime in, say anything to either him or me, but she didn't. Her face picked up a sheen. A crimson flush that made her look right attractive where she was, here on a ranch instead of somewhere frilly back east. Red. I was way too fond of red. I felt a similar sheen creep up the back of my neck.
"Thank ya," I said again. I rubbed my hands along my trousers, making old memories sting. Doc needed to go. I dropped my hands. No, he needed to stay. I watched him and Regina. If I'd known the rules for moments like this, Becky wouldn't be Becky Carson right now. Doc was reserved, but he seemed to know how to stand and how to look. "Anything special I can do for Jess?" I called across the brown dirt to where they stood.
"Ben…" Regina looked my way. We stared at each other across that color of ground I didn't care for, her red on the other side like a rising sun.
Doc should go. No, he should stay.
"Thank ya again, Doc." I knew I should hie it back into the barn. Doc would love that woman, but he sure couldn't lead. Ted would run over him every chance he got. So would she. It was the look on Regina's face that gave me what I needed to leave them alone. I dragged one boot backward, and then the other until I was on my own in the barn's dim light. Walter nickered from outside the doorway as they began to speak again. To each other. Soft, so I couldn't hear. I went back to the low wall and bent forward, bracing myself against it with both arms. I leaned into my fists and listened until Doc Harris's buggy finally rolled away. Wheels grinding into the solid dirt, the crunch getting farther and farther from Regina.
"Ben…"
I heard her behind me, the step that said West as much as East, the clip of her deceased husband's boots stopping not far from my back. I knew what I had to do. I drew in a deep breath and turned. She opened her mouth the same time I opened mine.
"Will you marry me?"
About the Author: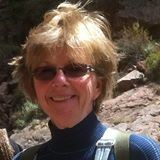 Born and raised in the Midwest, Colleen earned a four-year degree in Medical Technology and used it to travel and explore other parts of the country while working in the field of science.
Outside the laboratory she delves deeply into literature, both reading and writing, her interest piqued by tales involving moral dilemmas and the choices people come up against.
A lover of the outdoors as well as a comfy living room, Colleen is always searching inside and out for the next good story.
Website | Goodreads | Twitter | Facebook | Amazon Author Page
Buy the book for only
$0.99
at
Amazon
.
Also available at Amazon:
Mine to Tell
Love on a Train
Asked For