This post is part of a virtual book tour organized by Goddess Fish Promotions. Coco Gem will be awarding a $10 Amazon or Barnes and Noble GC to a randomly drawn winner via rafflecopter during the tour. Click on the tour banner to see the other stops on the tour.
The Kind of Writer I Am
I am a writer who hates writing.
I know it sounds absolutely ridiculous, but there is absolutely no aspect of writing that I actually enjoy. Just the thought of sitting down at a computer to write out a story causes me great anxiety. I keep a small green notebook in my purse, and it's full of ideas for stories. The ideas are amazing… there are pages of them. The problem with me is that I hate writing. I love telling stories, and I love watching my characters come to life as the stories unfold, but I hate the semantics of writing. I hate that I am a perfectionist when it comes to grammar and spelling and how I arrange my words, and get so focused on how a story is written that I lose the magic of actually telling the story. I'm constantly policing my grammar. Is this modifier dangling? Is this the best word to use in this sentence? How could I better say this sentence? I drive myself so crazy with syntax that the story takes the backburner. I wish I could shut off the former teacher/ current editor part of my brain enough to just tell the story. I don't write a story until I absolutely have to, until it consumes me so much that I can't sleep until I tell it. Only then do I sit down to the grueling process of writing. This is probably why I write mostly short stories, because I have found neither the patience nor the attention span to write an entire novel.
I love to have written, but I hate writing. And all I've wanted to do my entire life was be a writer. Go figure. I've learned, however, to push past my disdain, though it is a lengthy process. I write in my office at a desk that is absolutely cleared, because I am so easily distracted that anything on my desk becomes a reason I can't write. I light a candle, play some music that I'm in the mood to listen to (mostly Citizen Cope or Frank Ocean while I write), and type without backspacing until I get everything out. Then I take a break and go back into the story and clean up my errors and mistakes. This is pretty much how I work. It isn't glamourous, but I would imagine that no great masterpieces are in their creation stages, so I'm okay with how this works.
"The Tryst" tells the story of one woman desperate for the approval of her very dominant partner and the lengths she is willing to go to in order to earn it.

"Me, Her, and Him" suggests that the best way to get over an old man is to get under a new one… especially when his gorgeous wife comes as part of the deal.

From stories of love and passion like "The Elevator" to stories of sheer carnal, insatiable desire like "Bad Girl," Sweat chronicles the stories of women who take control of their sexuality and go after what satisfies them most—at any cost.
Enjoy an Excerpt from "The Tryst"
I take a swig from my flask to calm my nerves. I sit and wait a few minutes for my hands to stop shaking. Another swig. A deep breath. I close my eyes as I feel the warmth of the vodka consuming my body, and I will myself to calm down.
I am sitting in my car on this quiet side street, waiting for the butterflies in my stomach to subside. My makeup is perfectly applied, and my sexy lips are covered in bright red lipstick. My short, tight dress, under which I am wearing a red lace thong, barely covers my ass. On my feet are heels appropriate only for the bedroom or for the stage and my full breasts are straining against the thin fabric of my dress. My body is absolutely perfect, and my shaved pussy is already wet with anticipation. I refuse to lose my nerve. Tonight, I will go through with my plan. All the pieces are in place.
I examine my reflection in the rearview mirror and decide my already perfect pout needs more red lipstick. As I reach up to apply it, the 3-carat diamond in my wedding ring catches the glow of the streetlight outside, and I immediately pause. My heart, which had just slowed to its normal pace, starts racing again. I almost- ALMOST- start the car and abandon my mission.
I am the wife of one of the most prominent attorneys in our city. I am beautiful, I am charming and charismatic, I am well-educated, the very epitome of grace and class. I keep our home immaculate, and our children are well-behaved, well-mannered angels. All I have ever known is opulence. I wear my long hair perfectly styled, because it is important I remain camera ready at all times. I love the woman I am. I love my husband.
I love my life.
Tonight, however, I am preparing myself to be explored, degraded, and fucked in ways my husband could never imagine fucking me. I pull my ring off and put it in my glove compartment. I say a silent prayer that I remember to put it back on when the night is over.
I gulp from my flask again. And I wait.
About the Author: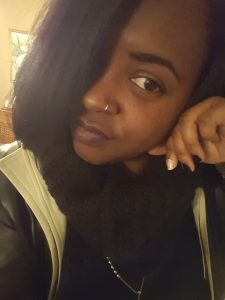 CoCo Gem was born on June 1, 1982, in Washington DC. An only child to older parents, CoCo became an avid reader at a young age, and has always had a love for words. "I didn't have any siblings, so I found my friends in books," CoCo says. "It wasn't long before I'd read every book on my bookshelf and was asking for weekly library visits." All throughout school, CoCo maintained As in English, and she went on to major in English Arts at Hampton University. She graduated and became a high school English teacher, and, for the next 9 years, shared her love of literature and writing with high school students in Oxon Hill, Maryland.
CoCo is an avid fiction writer who tends to focus on the less explored aspects of humanity, including overwhelming sexuality, the heaviness of human emotion, and the constant battle of consciousness. She has several published short stories available for purchase on Amazon, and she continues to write and publish stories on her personal website, www.alisahyman.com. Sweat is CoCo's first book. Set to release in June, Sweat is a compilation of erotic short stories and poems that explore the sexual limits of her characters and entice readers to be more exploratory in their own sexual practices.
CoCo is currently working as a freelance writer/editor and content developer, helping entrepreneurs to develop the content necessary to build their websites and promote themselves. She is also ghostwriting two novels, and is planning to collaborate with other authors in the future. CoCo has one 14-year-old son and lives in the suburbs of Washington, DC. She sees herself one day landing on the New York Times Bestseller list… if she can ever sit still long enough to write a novel of her own.
Facebook | Twitter | Instagram