The Journey of a Story Idea
The original idea for Key Party came to me on a night out in Chicago. A couple of friends and I had driven there from Ohio to see U2 at Soldier Field during their 360 tour in the summer of 2011. Afterward we were sitting in the bar at our hotel and I thought I saw someone I recognized—someone that I'd had the hots for once upon a time.
Which got me to thinking—what would be the odds of running into someone more than two hundred miles away from where I live, in a city that's vastly larger than mine? Of course, because I write romance, my brain took that initial question and ran with it.
What if I went over and talked to that someone and found out he'd liked me back, but neither of us had let the other know about our true feelings? What if I approached him and it turned out the timing was right? We were both grown-ups. In a hotel. In Chicago. It could happen.
Then came the question: what if my friends had known he was going to be there and arranged the whole thing? And what if there was a history between him and I that made setting us up not such a good idea?
Of course the handsome guy at the bar was not the someone I knew, but the seed for the story idea had been planted. It took root and grew and eventually became Key Party. And because one fun set-up wasn't enough, that idea sprouted others and became the Mischievous Matchmaker series.
So what about you? Do you like to play matchmaker? Have you ever been set up by a friend? Would you trust your friends to match you up with Mister or Miss Right? I'd love to hear your stories and thoughts.
Key Party
Book 1 of the Mischievous Matchmaker series
© Jayne Kingston 2013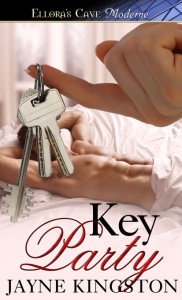 After five years of living abroad, Rachel has returned to Chicago. As a welcome-home present, one of her best friends throws a '70s-style key party. A night of mingling and anonymous sex with one of Petra's hunky friends seems perfect.
Petra knows about the crush Rachel had on Ben in college, and she rigs the game so Rachel ends up with the very fine young doctor. But Petra doesn't know the whole story. Rachel never told her friend about the scorching-hot make-out session that is now Rachel's go-to sexual fantasy.
And neither of them could know Ben is more than looking forward to showing Rachel every carnal moment she missed when she left without finishing what they'd started that night.
A Romantica® contemporary erotic romance from Ellora's Cave.
 Available now from:
Ellora's Cave: http://www.ellorascave.com/key-party.html
Amazon: http://www.amazon.com/Key-Party-Mischievous-Matchmaker-ebook/dp/B00D93NN40/ref=sr_1_3?s=digital-text&ie=UTF8&qid=1370631681&sr=1-3&keywords=key+party
About the Author:
When Jayne was growing up she spent many hours daydreaming about a time when she could flee the too-small town in Ohio where she grew up and run laughing for the sunny West Coast. Of course she stuck around and raised her family there instead, and doesn't regret it for a moment. Now she spends her days dreaming about the delicious fun two people can have while falling in love.
Find Me Here:
Website: http://www.jaynekingston.com
Email: jayne@jaynekingston.com
Pinterest: http://pinterest.com/jaynekingston
Facebook: https://www.facebook.com/jaynekingston.writer
Twitter: https://twitter.com/#!/jayne_kingston
Goodreads: http://www.goodreads.com/author/show/5806691.Jayne_Kingston
Excerpt:
Rachel watched a tall redhead nearly fill the foyer as he came in the front door. Her heart just about stopped. He was ruggedly beautiful, with bright, coppery-red hair pulled into a short ponytail and eyes that were a rich, vivid blue she could see all the way across the room. He was huge, broad-shouldered and long-limbed—just the kind of man who could make a tall woman like herself feel like a delicate flower.
No sooner had she opened her mouth to tell Petra she hoped she got his keys later that night than he stepped sideways out of the foyer. He turned to laugh with the guy behind him and the words froze on her tongue. The blood rushed from her head and her heart really did stop for a moment.
Ben Richards—not quite as tall or broad as the redhead but long and great shouldered just the same—said something that made them both laugh harder as they made quite the entrance into the room.
Just like that, seven years vanished. Rachel could vividly remember what it had been like to be pinned beneath him on his couch, drowning in his mouth—both wildly lush and utterly masculine—as he kissed her freakin' socks off. She shivered as she recalled the way his thick, black hair felt clutched in her hands, and how he hadn't closed his rich gray eyes but watched her while they kissed. And the way his long fingers had felt sliding under the hem her sweatshirt to skim over her skin had been something she would never forget.
They'd been studying so long that night the sun had started to show through the window of the tiny apartment he'd had just off campus. After hours of trying everything he could imagine to help her understand something, anything, about the chemistry class she was failing, work devolved into her collapsing in a fit of delirious giggles. He'd grabbed her, probably out of frustration and his own need to blow off some steam, and kissed her.
It was still the single hottest makeout session of her life.
And the last time she'd seen him.
Oh God.