First, thank you for having me on your site! This year has been a whirlwind of new stories for me and I'm excited to share a bit about my new sub-series, The Sisterhood of Jade. This new series out with Total-E-Bound, and if you're not familiar with this publishing company, all I can say is they're wonderfully professional. Not only have they taken on a series that I feared might never reach readers because I refused to work with Noble Romance Publishing after the debacle over there, but they have supported and helped me hone my craft and become the writer I always dreamed I would someday become. This new series takes off right where the Sisters of the Moon left us.
If you read paranormal, and you like action, adventure, humor, and love stories all wound up into one, I think you'll like my books. That sounds so presumptuous on my part, but as a reader, I often struggle to find stories where the woman is both strong and soft, and the man is both alpha and tender.
For one, I don't write silly females, but my badass girls aren't he-men either. What I mean is, they are strong, but they're also women. What I mean by that is I hope I create characters that show what is so amazing and awesome about being a woman. I hope they are fearless but not afraid to admit they're scared; strong, but not too dumb to know when someone else is stronger – and so on. 🙂
My men can be a bit rough around the edges, but they're not out to do anything more than protect and care for the women in their lives – well that and survive in a world where the line's drawn between good and evil. And often, that line blurs as the good delves deeper into ousting the bad. But my male characters are just as strong as the women in my tales, but with enough strength to be the kind of man you want to spend the rest of your life with – if he's destine to be yours. In other words, my poor girls don't have a chance at resisting….too much.
The Sisterhood of Jade centers on witches from the Jade Coven. Many of the witches in this particular coven are immortal. For some of them, that's a gift – for others, not so much.
Tabithia starts the series and although she's immortal, her life has been one of suffering and struggle. She a very powerful witch, but her inner conflicts rise and often drag her down into despair.  In A Spartan's Kiss, Tabithia meets Aeros, the captain of the Spartans and the sparks – and snappy comebacks – hit from the start. The story will leave you both laughing aloud, and at times, crying, but in the end, I hope you put the book down with a smile.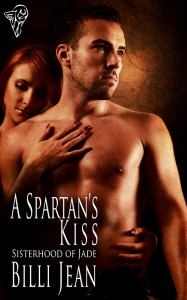 After enduring centuries of life, Aeros the captain of the immortal Spartans, discovers his grey existence may end—in the arms of Tabithia. Only Tabithia is a witch guilty of crossing Ares, the god responsible for Areos' existence.
Tabithia has feared meeting the warrior an ancient hag once predicted would someday command her obedience. But when Tabithia takes a job guiding Aeros and his team of Spartan to a stolen artifact, her fear disappears under his slow, wicked seduction.
Aeros will battle anything to claim Tabithia and the future they could have together—even his god Ares—but when he learns the battle might be within Tabithia, he learns that true love does not come with a command.
The second book in the series is Golden's Rule. This book will tie up some of the loose ends from Silver's Chance, but Golden's story is a stand-alone story. 🙂
Beauty is a witch, but without her memory, she's reliant on one sexy warlock, Torque, to help her discover who she really is. Torque found her battling a slave dealing giant set on selling her to the highest bidder.
Their journey is full of discovering each other, themselves and of course the love simmering between them. Throughout their story, though, they find themselves battling themselves, each other, and the Death Stalkers, but in the end, they discover that the more you give, the more you love.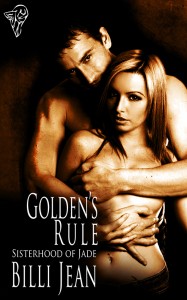 He named her Beauty and swore to keep her safe, but who will save her from his passionate embrace?
Torque is a warrior mage hardened by centuries of battle and death. When he finds the one woman who makes him want to live, he must not only battle the Death Stalkers for her safety, but her own loss of memory in order to stake his claim. But will Beauty be his salvation, or will the sensuous witch teach him a lesson or two on what it truly means to be strong?
Beauty has no memory of who she is, nor what she can do with her powers. Yet she won't back down, nor allow her brave warrior to go off to fight their battles alone. Strong, determined, and confident, she takes on not only the Immortal World, but also one very handsome, dominate warrior mage to win her place by his side.
Leave a comment for a chance to win your choice of either A Spartan's Kiss or Golden's Rule.
About the Author: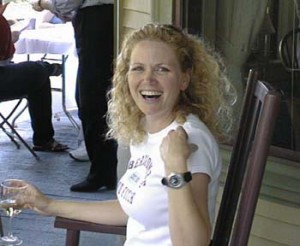 Billi Jean was born in California but didn't stay put for long. She's lived in New York, Indiana, Missouri, Arizona, Colorado, Florida, Massachusetts, and Vermont. She's lived and worked from ranches to beach side coffee shops to the woods in western Massachusetts.
She's been writing since high school when she couldn't wait for Robert Jordon to write his Wheel of Time series faster. She writes paranormal, contemporary, and historical romances with a flair for action and adventure.
Billi Jean is best known for bringing a balance of humor and emotion into her writing, leaving her readers both smiling and teary eyed, but always cheering her characters along.