This post is part of a virtual book tour organized by
Goddess Fish Promotions
. Dan will be awarding a digital copy of the first book in the series The Rogue Retrieval to 3 randomly drawn winners via rafflecopter during the tour. Click on the tour banner to see the other stops on the tour.
Is writing your full-time job?
HAHAHAHAHA *dies laughing*
No, writing is my hobby and I don't expect that to change any time in the near future. That's primarily for two reasons. First, it's very difficult to make a living as a full-time writer these days, particularly if you only have a couple of books out. Most writers have day jobs or other sources of income (like a partner who works). Those who do go full-time often do a lot of freelance work to make ends meet.
The other reason I don't write full-time is that I enjoy my day job. I'm a genetics researcher for a major children's hospital. Our institute uses next-generation DNA sequencing to study rare pediatric conditions, with the goal of improving the lives of our patients and their families. If that's not rewarding work, I don't know what is.
What other books/authors does The Island Deception remind you of?
My publisher pitches it as appealing to fans of Terry Pratchett and Terry Brooks. I think that's far too high of praise, but I understand the thinking: Brooks is a founding father of second world epic fantasy, and Pratchett was the king of dry humor. I certainly aimed to have a good mix of both in my books.
Because I'm a scientist, I like to include some of the super-cool near future technology in my books — whether it's drones or super-LEDs or novel synthetic materials. There's also a large corporation with somewhat-nefarious intentions. If you put these elements together, I think my books might be reminiscent of Michael Crichton, one of my favorite authors.
If you want a more recent comp title, I think that the Time Salvager series by Wesley Chu has very similar themes to mine, especially time travel and a hint of military science fiction. Rumor is that his series is being developed into a movie directed by Michael Bay, so I'm clearly not the only one who finds all of this entertaining.
What happens in Las Vegas stays in Las Vegas. But what happens after you step through a portal to another world, well…

For stage magician Quinn Bradley, he thought his time in Alissia was over. He'd done his job for the mysterious company CASE Global Enterprises, and now his name is finally on the marquee of one of the biggest Vegas casinos. And yet, for all the accolades, he definitely feels something is missing. He can create the most amazing illusions on Earth, but he's also tasted true power. Real magic.

He misses it.

Luckily—or not—CASE Global is not done with him, and they want him to go back. The first time, he was tasked with finding a missing researcher. Now, though, he has another task:

Help take Richard Holt down.

It's impossible to be in Vegas and not be a gambler. And while Quinn might not like his odds—a wyvern nearly ate him the last time he was in Alissia—if he plays his cards right, he might be able to aid his friends.

He also might learn how to use real magic himself.
Enjoy an Excerpt
Quinn Bradley had finally arrived.
For twenty-six years, he'd dreamed of seeing his name in the neon lights of the Las Vegas strip. Of taking the stage at a major casino there, and joining the ranks of magic's elite. Sigfried and Roy, David Copperfield, Penn and Teller. He'd worked his ass off to get here. Designing his own tricks, performing seven nights a week, building his profile online and on stage.
Even so, as he waited in the shadowy alcove backstage, he fingered the stone pendant on a necklace under his shirt and wished he were more excited about it. Quick fingers and cleverness had taken him a long way, but he couldn't help but wonder if he'd ever have made it happen without help from CASE Global Enterprises. Kiara had made good on her promise, and suddenly Rudy Fortelli was calling–nearly panting with excitement–to tell him that a major casino had a slot open. Just a one-night engagement, but still a big deal. Quinn hadn't even asked what they were offering to pay–he'd just cashed one hell of a big check anyway.
It was the Bellagio, of course. The most iconic casino of them all, the home of Cirque du Soleil and countless other top-notch acts. He should have known. CASE Global never went in for anything but the best.
And now that includes me, I guess.
"Quinn?" a woman asked.
Her voice was quiet, but he'd know the accent anywhere. "Veena! I'll be damned."
About the Author: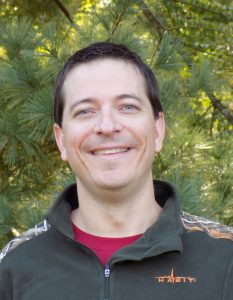 Dan Koboldt is a genetics researcher and fantasy/science fiction author from the Midwest. He works for the Institute for Genomic Medicine at Nationwide Children's Hospital, where he and his colleagues use next-generation DNA sequencing technologies to uncover the genetic basis of pediatric diseases. He has co-authored more than 70 publications in Nature, Science, The New England Journal of Medicine, and other scientific journals.
Dan is also an avid hunter and outdoorsman. Every fall, he disappears into the woods to pursue whitetail deer and turkey with bow and arrow. He lives with his wife and three children in Ohio, where the deer take their revenge by eating all of the plants in his backyard.
Website | Twitter | Sign up for mailing list | Facebook | Amazon Author Page | Goodreads | Instagram
Buy the book at these
digital bookstores
.