Long and Short Reviews welcomes Kathryn Rogers.
The Hysteria behind the History of Hoodoo
The history behind the mysterious practice of hoodoo is as intriguing as it is unsettling. While the motive behind applying hoodoo was originally to help defend slaves from mistreatment, often even well-intentioned practitioners succumbed to the temptations their powers provided them.
Doctor Yah-Yah was a talented African slave who was known for his skills with potions and root cures. However, his prestige ended when he was supposed to give his client a magic elixir, but his customer wound up dead at the hand of his poison instead.
Then there was Robert Johnson – the witch doctor we have to thank for all of the rumors that people could sell their souls at the Crossroads. This was supposedly what he himself did to acquire fame for his musical talent. Of course, this was a lie, but the notoriety behind this exciting, urban legend circulated far more widely than the truth.
In my opinion, the most interesting hoodoo legend who ever lived was Black Herman. He walked the earth from 1892-1934, and he was best known for his Private Graveyard which he sold tickets to. Spectators would come from miles around to watch his "lifeless body" be lowered into a coffin before it was buried at the location of his next performance. When the day of the next show came, the crowd would witness his coffin being exhumed where they marveled as the magic man would rise from the dead. This was how he opened all of his shows. His fans would follow the formerly deceased entertainer into his next performance, and this magic trick
made him legendary.
However, in April, 1934 Black Herman collapsed in the middle of his show while he was holding a performance in Louisville, Kentucky. Even after the coroner had declared him dead on reason of "acute indigestion," his audience still believed this was just another one of his typical stage tricks. He had come back from the dead so many times before that the crowd refused to exit the theater, because they were all waiting for him to pop back up again. When his body was eventually transported to the funeral home, the crowd followed him there…just as they had for the openings of all of his shows. His associate, Washington Reeves, sold tickets to the funeral since he said that's what Black Herman would have told him to do. Thousands of spectators arrived to wait for him to rise up. Some visitors even stuck pins in his corpse to see if he would jump out of his coffin. When he was eventually buried, his death made national headlines, because it was the first time ever that he didn't rise back up out of the grave.
I often felt while writing Memphis Hoodoo Murders that when it came to June and Louie Jackson's deaths, Addie was living like one of Black Herman's spectators. Her grandparents had always behaved as if they were invincible. They had been like cats with nine lives, because even though they had been on the verge of death so many times, they had always come back up swinging. I can picture Addie looking out of her window and restlessly pacing her house every day. It's almost as if she thinks she's house sitting, and she's waiting for them to come back home to take over their estate again.
She never talks about it, so no one in her story brings it up. Her loved ones don't want to pour salt into an open wound she won't even acknowledge is there. Still, it seems to me that if she had a pin and their corpses with her, she would have poked at them every hour of every day to see if that moment would finally be the anticipated moment where they would wake up to come home to save her again.
I would invite you to read more about hoodoo in the Memphis Hoodoo Murders, but I must warn you that it's not for the faint of heart. If you think you can handle it, you probably can't. But if you're the sort of person who wants to enter a forbidden area just because there's a "Do Not Enter" sign flashing above it, well, then maybe you'll read it regardless of how much I might caution you against it. So, if you insist on leaping before you look, go ahead…open Memphis Hoodoo Murders, but I assume no responsibility for any trickery which comes your way if you do…
Addie Jackson has witnessed people trying to kill her family her entire life, and now her grandparents' attackers are hunting her. The Memphis police are never able to catch these crooks since the cops have been bewitched to stay away. Her grandparents, Pop and Grandma, habitually lie to Addie, but she is attentive enough to overhear the secrets they keep from her. In her predictive dreams, Addie regularly sees future events, which disturb her, but to her dismay, she has never been able to stop them from coming true. She often dreams of a dark character, who she is later shocked to discover is the Man, a devil from hoodoo legend.

Addie is disturbed to discover she is being stalked by a witch doctor named Hoodoo Helen. To make matters worse, the more secrets Addie uncovers, the more danger she finds. Addie presses Grandma for answers about the power behind the ring and pocket watch she often toys with, but Grandma remains tight-lipped. Knowing their deaths are imminent, Grandma makes a deal with the hoodoo devil to take care of Addie, and Addie is later horrified to discover that her beloved family has been murdered. John, a family friend, steps in to help Addie, and she soon realizes he knows more about her family's tainted past than she ever has. Addie begins receiving cryptic letters from her deceased grandmother, which reveal a shocking family history revolving around slavery, time travel, and magic.

If Addie can survive jail, her cousin's abduction, threats from a menacing gang, corrupt law enforcement, and hoodooed attacks, maybe she can finally dream of a future where she will be safe and free.
Praise for Memphis Hoodoo Murders:
"Dripping with grisly spells, wry humor and a distinctly southern brand of magical realism, you'll be quickly mesmerized by this magnetic paranormal thriller. A home run for author Kathryn Rogers." – Reviewed by Best Thrillers
"Addie Jackson is not your average college student. For starters, she lives with her slightly odd grandparents in a not-so-nice part of Memphis, Tennessee. Most of her life revolves around taking care of her grandparents and trying to keep a low profile in her neighborhood instead of going on dates, talking about new music, and having fun. When her grandparents' behavior becomes even more bizarre, there are break-ins at the church the family attends, and she begins to have dreams that come true, Addie becomes even more aware of the strange life she is living. She begins to believe that her grandparents have been hiding something from her for her entire life, something big, something that could put everyone's lives in danger. Something that could mean that Hoodoo magic is real. Kathryn Rogers' novel, Memphis Hoodoo Murders, immediately catches the reader with an exciting title and a surprising first chapter." – Reviewed by Red City Review
About the Author: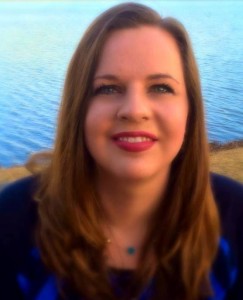 Kathryn Rogers is a Memphis native with an affinity for local BBQ and blues rock-n-roll. As a licensed therapist, she holds her Masters in Counseling and Psychology, and as a licensed educator, she holds her Bachelors in Education. Her experience providing counseling services to the community prepared her to expound upon the psychological issues her characters wrestle with in her stories. She currently lives in Jackson, Mississippi with her husband, playful preschooler, and rambunctious Labrador Retrievers.
Twitter | Facebook | Goodreads
Buy the book at Amazon or Barnes and Noble.