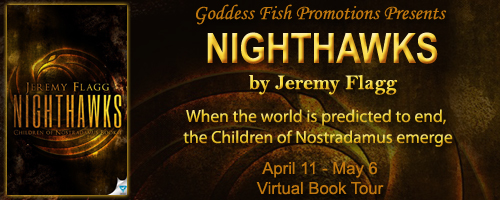 This post is part of a virtual book tour organized by
Goddess Fish Promotions
. One randomly chosen winner via rafflecopter will win a $50 Amazon/BN.com gift card. Click on the tour banner to see the other stops on the tour.
The Hardest Part of Writing
What's the hardest part of writing? It's remembering that I'm a writer and not a writing-hopeful. That might not sound like a big deal, but I work with a lot of writers either through NaNoWriMo or through various writing groups who see it as a hobby and just want to get a story out of their head. They're semi-serious about it, and they'll get to it when the mood strikes them.
I don't get that luxury. Writing is partially a business and your clients are expecting things from you. I'm entering into this weird social contract with my readers and they expect that I will follow up my story and begin to take them deeper while I tie up loose threads and expand on my world. I don't have the luxury to wait for my muse. I'm not allowed to have bad days. Regardless of my mood or my inspiration, I have to continue to push through and produce a product. It might not always be the best it can be on any given day, and I might have to edit it heavily, but I have to continue to push forward.
It's also important to remember that to be a writer you have to write. There are so many distractions for writers these days that it can be overwhelming. Today alone I've had to work on a newsletter, post some social media information, write to my critique group, and prepare a blog post to go out. This isn't to mention I still have a day job I have to attend to on most days. There is a plethora of marketing, networking, and interacting that compliments your work as an author, but ultimately, it prevents you from writing. Thankfully I've learned to spend my days taking care of the business end of things and I spend my evenings writing. Usually, as I'm unwinding for the night, I will crawl into bed with my laptop and listen to music while I clack away on the keyboard.
But if I had to discuss the specific thing in writing I would have to say editing would be my pitfall. I've been writing since I was a kid, but for the life of me, I cannot remember learning grammar in all my years of school. Where do commas go exactly? Thankfully my editor for Children of Nostradamus took her time to not only edit my book but give me a whirlwind class in grammar. She would hand something back to me after only a few days and it would take me weeks to return it. This became such an educational part of the process that I'm glad there was a partnership to finish my book. Thankfully, I can already see in my writing how much I've grown (and by grown, I mean so many fewer things my editor can yell at me about.) The moral of the lesson is, if you can't do it well, find somebody who can. This goes from cover to editing, to writing blurbs on the back of your book. I'm thankful somebody is making sure my commas are in the right spot!
Twenty-six-year-old painter Conthan Cowan takes art to a shocking frontier…

His debut exhibit features the transformation of his high school friend, Sarah, as she went from a shy, soft-spoken girl to a Child of Nostradamus—an individual gifted with extraordinary abilities. Living in a society where the Children of Nostradamus are captured by the government, Conthan's exhibit draws attention from officials and protesters alike.

A government psychic may be dead, but that doesn't stop her from manipulating the future…

The deceased White House aide is only remembered for her failed assassination attempt on the president decades before Conthan was born. Foreseeing her own death, she scribed letters to bring together specific Children of Nostradamus on a mission that will change the world.

On the night of the gallery exhibition, Conthan receives one of those letters…

ispers from the past direct him to visit Sarah, the subject of his paintings, who like many Children of Nostradamus, is being detained in a government research facility. It's there he finds himself aligned with a rogue group of Children on a mission to prevent a dark future.

As a dark future unfolds, there's only one hope to stop the destruction of the world…

The Children of Nostradamus.
Enjoy an excerpt:
Conthan Cowan,
As you ponder the situation laid out in front of you, it is clear that things will never be the same. Before you are many decisions, but alas, beyond this point I cannot see nor predict your future.
You are an element that seems to defy the strands of probability. I fear that before you lies a path that will test the fortitude of your soul. I wish I could give you more than a simple direction. I have done everything in my power to see you safe to this point. I wish I could tell you that somewhere on the other side of the darkness will be you, standing triumphant. However, I cannot. For that, I am sorry. What I can do is start you on your hero's journey.
Go to Sarah.
With Regards,
Eleanor P. Valentine
About the Author: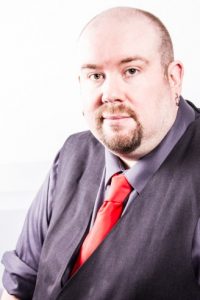 I'm high school graphic design and marketing teacher, at a large suburban high school in Massachusetts. Working as a high school educator and observing the outlandish world of adolescence was the inspiration for my first young adult novel, "Suburban Zombie High."
My inspiration for writing stems from being a youth who struggled with reading in school. While I found school assigned novels incredibly difficult to digest, I devoured comics and later fantasy novels. Their influences can be seen in the tall tales I spin.
I took the long route to becoming a writer. For a brief time, I majored in Creative Writing but exchanged one passion for another as I switched to Art and Design. My passion for reading about superheroes, fantastical worlds, and panic-stricken situations would become the foundation of my writing career.
I participated in my first NaNoWriMo in 2006 and continue to write an entire novel every November. Now I am the NaNoWriMo Municipal Liaison to the Massachusetts Metrowest Region. I also belong the New England Horror Writer's Association and to a weekly writing group, the Metrowest Writers.
Website | Goodreads | Facebook | Twitter | LinkedIn | Instagram
Buy the book at Amazon.