This post is part of a virtual book tour organized by Goddess Fish Promotions. Leslie D. Soule will be awarding $10 Amazon or Barnes and Noble GC to a randomly drawn winner via rafflecopter during the tour. Click on the tour banner to see the other stops on the tour.
The Hardest Part About Writing Is The Rejection
Leslie D. Soule
The hardest part of writing is the rejection, and no one tells you that when you start out, starry-eyed, believing that the hardest part will be getting published. Getting published is a goal that is attainable. But what happens when it doesn't come right away – when you keep on submitting and submitting, and all you get is a pile of rejection letters? Then the rejection begins to eat away and you give yourself doubts about your writing – is it good enough? Will I ever gain the attention of a publisher?
Then there's the rejection that comes after you get published – you get bad reviews on something you've worked so hard on. And then it creeps again into your psyche and you wonder where you went wrong. It gnaws at every corner of your brain, and keeps you up at night. Not all of us can write like Stephen King or George R. R. Martin. You understand that. Doesn't everyone else? You wonder why their standards are so high.
But the real lesson here is that of PERSEVERANCE. You write not for the masses, but because you have something to say. And in time, you learn to brush off the rejection and keep on going, because you are not at a dead-end but a bump in a road that leads further on. And those negative reviews won't matter when you've written ten books, years from now. All that matters is that you're better than you were yesterday – that you can look back on your past writing and have learned from it, and then the reviews just melt into the background – just so much white noise, after the fear of rejection has run out of you. And you keep going. But that's something that has to be experienced, rather than taught. That's the hardest part.
With five crystals to destroy, in order to rob the dark lord Malegaunt of his power, Ash Kensington's path is set. She begins a quest with the talking cat, Greymalkin, and her wyvern, Slick. But when she meets up with the handsome dragon slayer, Draeon, her senses overwhelm her, and she becomes distracted. Will she be able to destroy the crystals in time to challenge Malegaunt?
Enjoy an Excerpt:
Ash wasn't so sure, and her breath caught in her throat. I feel like this is some dreadful portent. Still, she dusted off her cloak, throwing it over her arm. I'll have to find a spot for it to dry when we get back to the house. She fixed her chestnut hair up into a ponytail and followed Greymalkin over a carpet of snow, brushing snowflakes away from her pale face as she continued on. Things had been tense lately at the house in the deep woods and, though neither Will nor Terces had said anything directly, Ash recognized the strange signs: the knowing glances they gave each other, Will's frantic writing sessions, and Terces's new interest in the fighting arts. Terces had been a jester his whole life, so there was no reason on earth why he'd need to fight anyone. What in the world was going on? Ash knew that they were up to something. Why wouldn't they tell her what it was? If they were planning something, she wanted to help. The sense of not knowing was killing her. Still, she wasn't going to bring it up at dinner. Surely Will and Terces would tell her eventually…right?
About the Author: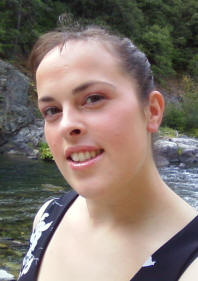 Leslie D. Soule is a fantasy/sci-fi author from Sacramento, CA. She has an M.A. in English from National University, and is currently working on the final book of her fantasy series, The Fallenwood Chronicles.
Website | Twitter | Facebook
Buy Fallenwood at Melange Books or Amazon.
Buy Forgetting Fallenwood at Melange Books or Amazon.
Buy Betrayer at Melange Books or Amazon.