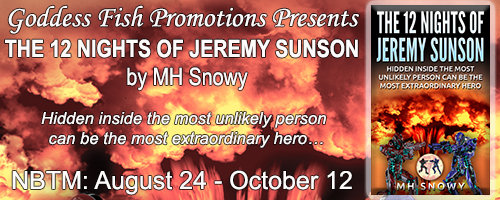 This post is part of a virtual book tour organized by
Goddess Fish Promotions
. MH Snowy will be awarding $20 Amazon or Barnes and Noble GC to a randomly drawn winner via rafflecopter during the tour. Click on the tour banner to see the other stops on the tour.
The hardest part about writing is…
The never-ending frustration that there's never enough time to write.
There, I've said it. Now I'll have to let you know what I mean.
For me, writing is an interesting process of constant detailed struggle in amongst enormous fun-filled worlds. I start with a scene, and then identify the theme I'm expressing.
For example, my first novella, In Harm's Way, started as a scene about Harm, the legendary warrior who performed amazing deeds, but who could never remember them; nor hope to repeat them when he could remember. Harm's story is about heroism and truth. Okay: theme tick.
From there, I build more scenes, develop the characters, and set out the whole structure of the story, before writing the events in detail. Phew! Does that sound like a lot a lot of work to you?
And here's my catch—due to my secret-identity, the main time I have to write is when I commute. Thank God for smart phones! For years, I've been writing stories on the train, one paragraph at a time. I tried writing at night, but that just left me spinning and sent my well-being down the toilet. Weekends, you say? I'll get to that.
After weeks (or even months) of train-rides, I will have finally written each scene, and the story as a whole appears before my eyes. A few weeks later the scenes even hang together and the what of the story is ready. But a what does not a story make. Eh?
You see, unfortunately, it doesn't end there. Writing coherent words is hard work. Writing words that flow and zing is even harder. Welcome to the how of editing! Good bye weekends.
I've been writing Jeremy's story for a while. The 12 Nights of Jeremy Sunson is the first novella, but a book in its own right. Jeremy's story began life from momentary lapses in memory—as in 'did I really do that?' In Jeremy's specific case, his confusion when game-hunters from the future blow up his apartment—and the evidence disappears the next day. To me, Jeremy's struggle to save the world, and avoid the assassins who crave Armageddon, represents the unlikely hero in all of us. Jeremy's an accountant on stress-leave: if he can make a stand, we all can!
In writing Jeremy's story, I've learnt that creating individual stand-alone novellas is more difficult than to tell the same stories as one novel. But if I waited until I completed a whole novel, I'd be writing for ages. This way, though harder to write, lets my stories out to the world earlier.
But it still takes time: the how can take almost as long as writing the story in the first place. Good thing it's so worthwhile. And the outcome after months of train-rides and hair-tearing weekends? The extracts and the previews on Amazon and Goodreads will give you an idea, but I'm quite chuffed.
Now, if you'll excuse me, the sequel to Jeremy's story is demanding more hair …
Hidden inside the most unlikely person can be the most extraordinary hero…

Jeremy Sunson is surrounded by crazy. Mrs. Abercrombie, upstairs, is widowed because her husband glued feathers to his arms, jumped off the building and tried to fly. His neighbour, Stuart, has gone mad since his wife died in a freak car accident— his only thread to reality the doomsday machine he's building and his daughter… and, of course, there's spacemen in Jeremy's living room.

Every night, in glorious Technicolor, there's a battle royal between two high tech assassins who continually blast Jeremy's apartment to shreds. Each man has one mission: Red wants to kill Jeremy, Blue wants to save him!

Though his therapist insists he's just having bad dreams—Jeremy knows better. It's time to fight. He's sick and tired of being sick, scared and tired! Armed with rare confidence and a baseball bat, this night, Jeremy fights like the crazy man he isn't!

But how can he ever imagine when he's won the battle, the war is only just beginning… over and over and over again?

The 12 Nights of Jeremy Sunson – ride a wave of laughter, fun and sci-fi fantasy all the way to Armageddon!
Enjoy an Excerpt:
"Dear me." Dr Smith snapped up his ever-ready notepad, pen poised to take dictation. "Another dream? That is terrible," he said with the grin of a Cheshire cat. "You must tell me all about it."
But Jeremy didn't have the energy to worry about Dr Smith's behaviour. In mournful tones he related the story, unable to understand the way Dr Smith's pen flew across the page, devouring every word that passed his lips. Jeremy shrugged—at least someone was getting a boost from his misery; though what that could be, he hadn't the foggiest.
"Incredible … I mean, how terrible for you," Dr Smith said, pen not pausing for a moment. "And they didn't interact with you at all?"
"No," Jeremy replied. "Though I'm pretty sure Fin scrunched his mouth at me."
"He did what?"
Jeremy's head snapped up. Dr Smith's expression made Jeremy gulp. "Ah, he … he scrunched his mouth at me. I think. Raised it a bit on one side."
Dr Smith jumped up and paced.
Jeremy followed the muttering figure with his gaze. "Does it … does it mean anything?"
Dr Smith stopped in his tracks. "Mean anything?" he said with a cry. "Why, it means everything!" He paced anew and then stopped. "Contempt, Mr Sunson. It means contempt."
Fantastic, Jeremy reflected, now even my dreams think I'm a loser.
But Dr Smith continued. "It means you are not acting as Fin expects you to. He—your dream saviour, the alpha part of your personality if you will—showed that you are not assisting him with your behaviour. He is trying to save you and you are not helping yourself. Battle, Mr Sunson! Your dreams are instructing you to battle."
About the Author:
Melindra Hattfield Snowy, a part-time writer and full-time dreamer, who of course prefers to be known as MH. She is the author of In Harm's Way, the first novella in Harm's story published by Pygaso Productions, described as epic fantasy meets The Truman Show.
MH has also penned several short stories including We Three Laws of Robotics Are and The Secret Invasion of George Kranskii which explains how road rage is result the result of an alien invasion.
When not writing or occupied with her dual-identity, MH walks through the mountains with her partner or tries to unravel the secrets of her great-grandmother, an adventuress who disembarked from the French steamer Laos in 1931 seeking to uncover rumours of Mayan temples deep in the heart of the Amazon jungle, and disappeared, never to be heard of again.
Website | Goodreads | Twitter
Buy the book at Amazon.