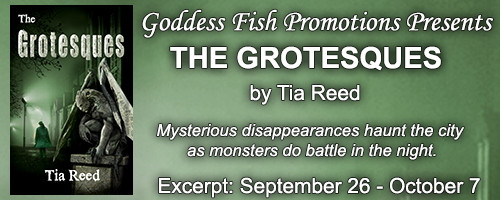 This post is part of a virtual book tour organized by
Goddess Fish Promotions
. Tia will be awarding a $20 Amazon or B/N GC to a randomly drawn winner via rafflecopter during the tour. Click on the tour banner to see the other stops on the tour.
Discredited journalist Ella Jerome isn't thrilled about working at Adelaide's fanciful tabloid The Informer. So when zoologist Adam Lowell seeks her help in finding his missing cousin, she's cynical of his claim a monster lurks near the Church of the Resurrection. The trouble is, solving the gruesome case could be her best shot at restoring her shredded reputation.

With her old instincts resurfacing, Ella combs the Port for clues. Experience tells her the only monsters are the human variety, and the bloodied stonemason certainly raises her suspicions. But when her investigation turns up everything from petrified remains to the headless carving of a dragon, the truth threatens to steal both her sanity and the man she's falling for.

After all, gargoyles can't be anything other than harmless stone. Or can they?
Enjoy an Exclusive Excerpt:
Ella opened the door. Her overweight editor had his feet on a battered desk, a bitten doughnut in one hand and a stack of papers in the other. When he saw her, Phil immediately dropped his feet, tossed the papers onto the desk and the doughnut on top of them. "Where have you been? You're late with your copy. When I said you could have time off, I didn't mean you could have a goddamn honeymoon."
"I need you to print this. Front page. Tomorrow." Ella held out the article.
Phil waved her in and took the printout. "So your source panned out?"
Ella felt a lump form in her throat. "He's missing."
Phil did not miss a beat. "Crap."
She was not sure if his concern was for Adam or his story. "I think I know where he might be. I mean, I've got a lead so I'm on my way out again."
Phil finished skimming the text and blinked like he was the one suffering from hallucinations. He threw her a puzzled look and reread. "You sure you want your name to this?" he said at last.
"I need my name to that. I need it to go to print. Tomorrow."
Now he really looked at her. "Do you believe it?"
"Would you believe me if I say it's the truth?"
"It doesn't matter. This isn't going to hurt business any. An original idea like this might even drum up some new customers."
"You'll get more once I chase down a few leads. In the meantime, I need some background."
"Debbie's got that covered. And I expect the next installment tomorrow." The lights flickered. Waterman tilted his head to the ceiling. "Goddamnit!" As if in response to his swearing, the buzzing fluorescent tubes cackled out. While the room darkened, light still poured in from the large window behind the desk. "Those vermin are costing me a damn fortune in electrical repairs," he said, standing.
"What vermin?" The regrettable words were out before she could think.
"Bats. Apparently, there's a whole colony in the roof." Waterman walked into the main area, leaving Ella staring at his back. The creatures were stalking her. She shook her head, hoping that thought did not make her even more certifiable.
About the Author: Tia Reed loves nothing better than burying her nose in a story of her own imagining, cuddling her bossy cat and rescuing chewed pillows from her hyperactive dog. She takes every opportunity to do all three when she is not teaching English as a second language. Her other hobbies usually take a back seat but include trying to tame her beast of a garden, hiking and travelling. The latter has thrown her many interesting, sometimes hair-raising experiences, which she loves twisting into stories. She was born in Malta, but lives in Adelaide, Australia.
Goodreads | Tyche Books | Facebook
Buy the book at Amazon, Barnes and Noble, or Smashwords.