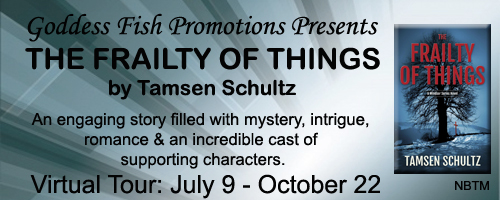 This post is part of a virtual book tour organized by
Goddess Fish Promotions
. Tamsen Schultz will be awarding a $30 Amazon or Barnes and Noble GC to a randomly drawn winner via rafflecopter during the tour. Click on the tour banner to see the other stops on the tour.
Independence. Kit Forrester is a woman who wears her independence like armor. Despite keeping secrets and hiding her past, she's built a life she loves and is accountable to no one. Until, that is, one of the world's most wanted war criminals sets his sights on her and she must weigh the risk to one against the chance of justice and closure for many—a decision Kit couldn't make on her own even if she wanted to.

Certainty. As a man who makes his living in the shadows of governments and wars, certainty isn't a part of Garret Cantona's vocabulary, and he's just fine with that. But when Kit walks into his life, he realizes he's never before been so sure about anything or anyone. Suddenly, he finds he's looking at the world, his world, in a different light. And now that he is, he's determined to protect it, and her, in whatever ways he can.

Frailty. No one knows better than Kit and Garret that an appreciation for what is, or what was, or what might be, can be born from the uncertainty and fragility of life. But when a hunt for a killer leaves Garret no choice but to throw Kit back into her broken and damaged past, even his unshakable faith in what they have together might not be enough to keep it from shattering into a million pieces.
Enjoy an excerpt:
"We need to talk," Caleb said. Kit didn't respond for a moment. She and her brother didn't talk. They never talked. Not anymore. There had been a time in their lives when that hadn't been the case. There had been a time when she'd idolized her older brother, when he'd looked out for her, when they'd gone fishing together, and when she had believed that he had an answer for everything.
But that time had long ago passed, and they hadn't been in each other's presence for more than a few days a year for over a decade. Kit started to speak but stopped short when a second figure emerged from the passenger side of Caleb's car.
She was glad her face was hidden in the shadows of her hat and scarf as Garret Cantona, her brother's right-hand man, straightened to his full height. Kit was tall, easily five foot eleven, but Garret's six-foot-three form dwarfed hers. Like Caleb, he wore jeans and work boots, but rather than a jacket, Garret sported a black sweater and a gray beanie. She knew the hat covered light-brown hair that, if it got too long, curled in ways that bothered him. And she felt, more than saw, his light-blue eyes—eyes rimmed with thick, black lashes—studying her.
"And I see you brought your Mini-Me," she added, forcing her gaze from Garret back to her brother in time to see a look of irritation flicker across Caleb's face.
About the Author: Tamsen Schultz is the author of several romantic suspense novels and American Kin (a short story published in Line Zero Magazine). In addition to being a writer, she has a background in the field of international conflict resolution, has co-founded a non-profit, and currently works in corporate America. Like most lawyers, she spends a disproportionate amount of time thinking (and writing) about what it might be like to do something else. She lives in Northern California in a house full of males including her husband, two sons, four cats, a dog, and a gender-neutral, but well-stocked, wine rack.
Facebook | Twitter | Amazon Author Page | Goodreads | Website
Buy the book at Amazon or Barnes and Noble.