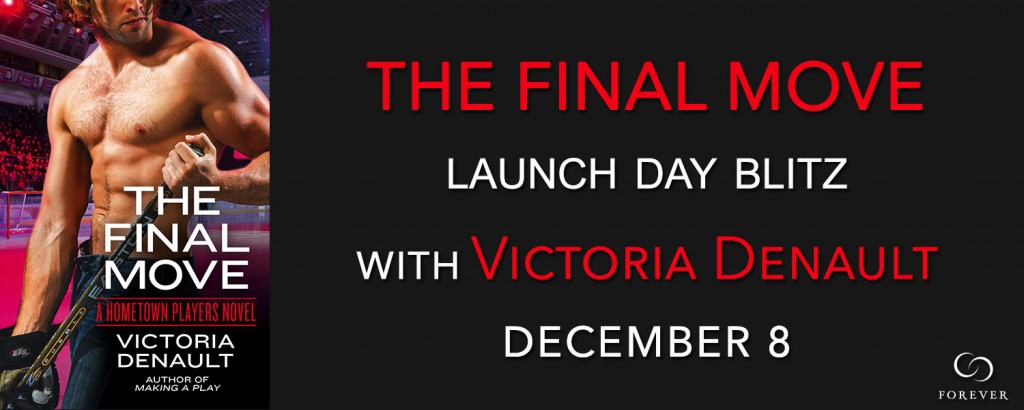 This post is part of a virtual book tour organized by the publisher to celebrate the release of the final book in the
Hometown Players
trilogy,
The Final Move
.
Released June 2, 2015

They say you only get one shot at making your dreams come true. Jordan is determined to take two.

Drafted by the NHL at eighteen, Jordan Garrison was headed for fame, and there was only one person he wanted to share it with—Jessie Caplan. He was crazy in love with her, and had finally told her so. They shared an amazing night . . . and then everything fell apart.

Jessie tries not to think about the night she gave herself to Jordan-or how he broke her heart. She tries not to think about it, but she does. Especially now, when she's staring into his sky-blue eyes for the first time in six years. After so much time and torment, she can't tell if she loves him or hates him. But Jordan has learned enough to know a connection like theirs is rare. He was lucky to find Jessie once. No way will he lose her again.

Released September 8, 2015

He'll do whatever it takes to win—on and off the ice.

Luc Richard is the hottest player in the NHL—and it has nothing to do with hockey. His racy relationship with his supermodel ex set the tabloids on fire but nearly put his career on ice. To avoid being traded, Luc agrees to take a break from the spotlight—and from women—and spend the off-season at home in Silver Bay, Maine. It's the perfect plan… until he reconnects with Rose.

Rose Caplan is tired of being shy, sweet, and safe. She's ready for passion, romance—and Luc. Having loved him longer than she can remember, she's finally ready to prove she's not the same innocent little girl he once knew. Off the ice Luc doesn't do games, but this new Rose makes him feel like playing a little dirty. If he's really got a shot at her heart then he's not just playing to win. He's playing for keeps.

Releases today!

Hockey legend Devin Garrison thought he blew his shot. But his relationship with Callie Caplan just went into overtime.

Sexy, rich, and one of the biggest stars in the NHL, Devin Garrison has always been the one who had it all. That is until his marriage falls apart and he realizes he has to start over. If he's honest, there has only been one woman who ever really excited him-Callie Caplan. They shared a night that was hotter than the late-summer sun, but in an instant-Callie was gone, pretending it never happened.

Callie Caplan isn't the wild child people think she is. It's true she's avoided relationships, but only because she's seen how crazy love can be. And her messy, imperfect life is crazy enough without opening her heart to a man-even one as picture perfect as Devin. But when fate brings them back together-just as they need each other most-Devin is determined to convince Callie that what she's feeling is real. And this final play may be their chance at forever . . .
Enjoy an excerpt from The Final Move:
I make my way down the hall into the kitchen and find her lying on the wicker couch in the little glassed-in porch that's attached to the kitchen and has French doors that lead onto the back deck. Her eyes are closed.
I wander to the fridge. "I'm hungry."
"That's because you were too busy being Mr. Perfect Beautiful Hockey God to chow down on all those yummy appetizers," she tells me without opening her eyes.
I smile. "Mr. Perfect Beautiful Hockey God?"
"Oh, shut up. You know it's true," she replies in a flat tone. "You should be the face of the NHL. They should put you on billboards in Times Square. You're hot and your charm levels are through the roof."
I'm laughing now as I grab an apple out of the fruit bowl and start devouring it. She falls silent and I worry she's going to pass out. I don't know how if she's just tipsy or full on drunk.
"Callie?"
"Mmm?"
"How was the barn thing different than daring Cole to kiss you?" I want to know. "I mean in both cases you were testing our limits."
"Uh-huh," she agrees in a sleepy voice. "But like I said I've never been attracted to Cole. I've thought you were drop dead gorgeous since I was ten."
I feel like someone dropped a piano in the center of the room. Or even more accurately in the center of my brain. It's like something just went boom and all my thoughts were blown clear out of my head.
She's been attracted to me since she was ten. Me? The sexiest, wildest, craziest, strongest woman I have known in my life – the very essence of everything I never thought would ever want anything to do with me – has been attracted to me for over thirteen years.
Wow.
She's quiet again. I put down the half eaten apple, walk into the little glassed-in room and stand above her. Her eyes are still closed. Her arms are above her head, anging over the arm of the couch. Her hair is fanned out on the cushion she's got her head on. The pale pink eye shadow on her eyelids is glittering in the dim light and her lips are pink and glossy like she recently licked them.
"Callie," I start softly. "That night I was on the road trip… did you do what you said you'd do?"
Her lids flutter but she doesn't open her eyes. "What are you asking me, Devin?"
"Did you warm yourself up to thoughts of me?"
"Did you take that cold shower that night?" she questions back, eyes still closed, body still motionless.
"No," I reply honestly. "I took a warm one the next morning and jerked off to thoughts of you."
I blame the champagne. I blame the bold, dirty words and the inability to stop them from coming out of my mouth on the champagne.
"Then we're even because I did it too," Her eyes flutter and her lips twitch, almost smiling. "And for the record, I'm going to do it again tonight."
Her eyes finally open just enough to peer up at me as I crouch down beside her.
"You won't have to tonight," I tell her and press my lips to hers.
About the Author:
Victoria Denault loves long walks on the beach, cinnamon dolce lattes and writing angst-filled romance. She lives in LA but grew up in Montreal, which is why she is fluent in English, French and hockey.