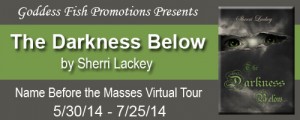 This post is part of a virtual book tour organized by Goddess Fish Promotions. Sherri will be awarding a $25.00 Amazon gift card to a randomly drawn commenter during the tour.
What, in your opinion, are the most important elements of good writing?

It depends on the type of writing. If it's nonfiction, I like it to be clear, concise, and written in correct grammatical form. When it comes to reading fiction however, I like for fictional stories to grip my attention right away in the first few chapters. I like the prose to be crisp and clean, not too wordy but not choppy either. I also have to connect with the characters. There have been many times when I pick up a book to read and I find that I cannot stand the main character's personality. If I cannot connect with the main character, I find myself not caring what happens to him or her in the course of the story. I usually stop reading at that point. Even with fantasy writing, the writing must be believable. If I am not convinced by the writer that a certain scene is plausible, I will often give up on the story. Redundancy is also a pet peeve of mine and this usually happens in a book series. I know from experience that you have to recap certain events in a book series, yet at times, it can become repetitive. Finding a happy medium is not always easy to do. One book series that I read gave a recap in each and every chapter. It was too much and made the scenes drag. In a series it is important to have a certain amount of closure at the end of each book to keep the reader satisfied but also wanting to read more.
Are you working on anything at the present you would like to tell us about?

I am currently working on book three in my Narcissus Legacy series. Book three, The Darkness Within, will be ready for publication by late summer or early fall. It continues the story with Connor, the older brother of Kaie in The Darkness Below. Connor is quite different from his brash and adventurous sister. He lives a low-key life. His favorite past time is surfing. His one true love is Genovefa, an ancient and cantankerous banshee. Connor hates conflict, and when he begins to have doubts about his relationship with Genovefa, he isn't sure how to handle it. Ignoring it doesn't work, and so he resorts to running away from his troubles, which leads to only more trouble when a new and mysterious enemy shows up. Connor becomes infected with something dangerous that will change him forever.
What are you reading now?

I am currently reading the second book in Dean Koontz's Frankenstein series. I read the first book a few years ago and I wasn't sure if I would be able to remember the plot enough to be able to pick up the second book and start reading it. Koontz does a good job at recapping the events in the previous book. I've been a Dean Koontz fan for a long time. Long enough to know that his favorite, obscure word is susurration. He uses that word a lot in his writings.
What is the hardest part about writing for you?

Describing fight scenes is the hardest part of writing for me. Writing dialogue and other types of scenes is fairly easy for me. Insert a fight scene however, and my brain locks up. It doesn't matter if it's a one-on-one fight scene or a full scale battle scene, I have to put a lot of thought into it, writing and re-writing the scene. I usually go ask my sons for advice. They write novels too and they are much better at describing fight and battle scenes. If my final draft of a fight scene meets with their approval, I'm pretty happy.
What is the most surprising thing you discovered while writing your books?

I often will not be sure how to end certain scenes or how to end the story itself. I think my mind must be working on the story even when I'm not aware of it because out of the blue the solution will present itself in a way that seems magical. Like, where did that come from? Or, oh, so that's how that's supposed to happen! It's almost as if the story is telling itself at those moments. Then there are certain times when music, or more specifically, the lyrics to the music I'm listening to gives me a solution to how to write a certain scene.
Do you hear from your readers much? What do they say?
I wish I heard from readers more often. I get monthly sales statements from Kindle, so I know people are buying and presumably reading my books. Few of them leave reviews unfortunately. What I do hear from the readers who do leave reviews or who contact me directly on my Facebook page has been encouraging to me. I love it when a reader says she is eager for the next book in the series to come out. It is most satisfying.
The most interesting comment someone made about my books was an attempt on his part to delve into my psyche and boil down my underlying theme in my books. More surprising, he had me pegged exactly, and I had never even considered my underlying motives before. I write fantasy adventure tales, but he said that at the core, my writing is about family. I guess I shouldn't be surprised since family life is central to my life. The importance of family comes out as a key feature in my writing as a result.
How do you do research for your books?

Google! The internet has made research profoundly easier than ever before. I rely on it to do the bulk of my research. I also purchase books and eBooks occasionally for the purpose of research. There are certain books which are regarded as key in certain types of fantasy genres. Lady Gregory's books on Irish mythology were recommended reading, as was London Labor and the London Poor by Henry Mayhew. Mayhew's book is especially recommended by those writing the steampunk genre of fantasy fiction. The Alexiad was another book recommendation for fantasy writers. I confess, I did not finish reading The Alexiad. Why? Anna Komnene, the author of The Alexiad, and daughter of Emperor Alexius I, worshipped her father. In her estimation he was perfect. Admirable for a daughter, I suppose. Reliable for a history reference, not so much. Last but not least, I also utilize Pinterest when I need more of a visual reference instead of a written one.
What is your favorite food? Least favorite? Why?
I love New Mexico Mexican food the best. I grew up eating this regional style of Mexican cuisine. New Mexico is best known for green chile peppers. Going without green chile is unthinkable. So, all of us New Mexican transplants have our friends or family buy fresh roasted green chile every year, bag it and freeze it, and ship it to us or hold it for us until we can visit the Land of Enchantment and pick it up ourselves.
My least favorite food? I don't like kidney beans in anything. Why do they get used so much in chili and soups? They're tasteless! There are so many beans that taste good too, like pinto beans or black beans for instance.
What is your strangest habit?

As far as I know, I am the only person who has the habit of thinking with her hands. My daughter was the one who pointed out this oddity about me. I talk with my hands; a lot of people do. I, for some reason, take it a step farther and use hand gestures when I'm thinking something over. It's embarrassing when someone catches me doing this.
What is the most embarrassing thing your mother ever did to you?

I think the most embarrassing thing my mother did to me happened when I was an adult with children of my own. We were having my twin sons' birthday party at my parent's house. My aunt and uncle came over with gifts for my infant sons. I had already thanked my aunt and uncle when my mom comes over to me and whispers in a loud tone, "Don't forget to thank them for the gifts." What? Am I a child that still needs to be reminded to thank someone for a gift?
Where are you from and what do you love best about your hometown?

I was born in Carlsbad, New Mexico. Later my parents moved to West Texas and then moved back to Carlsbad when I was nine. They didn't stay there long and we moved to northern New Mexico for four years, eventually making our way back to my hometown when I was fifteen.
What I love best about my hometown is the weather. I live near the Canadian border now. I do miss the dry New Mexico heat. Other than that, I have my memories of living there. It wasn't the town itself that made those good memories, it was the people who lived there at the same time that I did. I know most of them, like me, have moved away. If I went back there I'm sure I would find that things have changed quite a lot over the years. The town has grown some. Hopefully, the folks who live there now are making their own good memories.
How do you keep your writing different from all the others that write in this particular genre?

My writing is different because my brain is wired differently from other writers in this genre. I don't take strict stances on following a certain pattern for the fantasy that I write. For instance, some writers of vampire fiction would say that you have to stick as close to the Brahm Stoker version of a vampire for it to be true vampire fiction. I disagree. I like to take the legends and assume that any legend has a certain amount of fallacy to it. Then I decide what to keep and what to embellish with my own ideas.
Take for example the Vrykolakes. The original legend says that a Vrykolakas vampire went wandering about during daylight hours knocking on people's doors. The Vrykolakas would only knock once, and then wander away if there was no answer. As long as you didn't answer your door on the first knock, you were safe. If you did answer the first knock, you would find no one at your door. But, that night a Vrykolakas would sneak into your house and kill you. The legend doesn't say how it killed its victims, but they did not drink their victim's blood. Thus earning the name – the bloodless vampires.
I took a lot of liberty with this obscure legend. The door knocking thing is silly in my opinion, so I threw that out. I kept the part about them being the bloodless vampires. Then of course I had to explain to readers how they killed their victims without drinking their blood.
If you were stranded on a desert island and were only allowed to have five modern conveniences with you, what would they be?

I would need a solar adapter to provide electricity for my other four modern conveniences. Next, I would want my phone. I hope I can get 4G on my island. That way I can make calls, text, check my email, Facebook, blog, read eBooks, etc. I would need a good blender in order to make smoothies. I hope there are plenty of coconuts and pineapples on my island. A water filter would be nice and I am assuming my island has a fresh water supply. I absolutely must have a coffee pot. I don't need a cup; I'll drink it right out of the pot. I hope my island also had coffee beans that I can grind in my blender. If not, I'm going to have to call someone to come rescue me.
What group did you hang out with in high school?

I have mostly fond memories of high school even though I was known as the sweet, quiet girl. They were right about the quiet part anyway.
My sophomore year was spent trying to figure out who I would hang out with for the rest of my school journey. I was the new girl in town because my parents moved back to my hometown when I was fifteen. I bounced around from group to group trying to find out where I belonged in the high school social strata.
By my junior year I had it pretty well figured out. I hung out with the theater kids, even though I never was in theater myself. I attended all the high school plays to support my friends. I guess I was a patron of the arts.
What would we find under your bed?

I keep my Christmas wrapping paper under my bed. I'm not sure why I put it there since I keep all my decorations in a storage closet. Everyone in my family knows to look under my bed for wrapping paper though. Other than that you would find the power cord to my electric blanket and maybe a few dust bunnies.
Twenty years have passed since Keeva killed her grandfather, Delius. She drank in his powers and became the Queen of the Vrykolakes, known by the ancient Greeks as the bloodless vampires.

She and Severin have settled into some semblance of a normal life, living in rural North America with their two kids, Connor and Kaie. Their neighbors would never suspect that they are anything more than a typical family.

Aside from keeping their true identity a secret, everything seems to be going well for the small family.

Until their twelve year old daughter, Kaie, goes missing.

Are monsters ever afraid of the dark?

When Kaie awakens from a prolonged sleep, she is no longer a child, and she is no longer in familiar surroundings. In a realm where no sunlight penetrates the dark cloud layers, a place called The Forbidding awaits. Echoes of madness surround her. Something lurking in the Belows warn of her doom. Legend holds that whatever is born or brought into the Belows must remain there.

Kaie vows to find a way to return to her family, but first she must learn to face her darkest fear, if she is ever to escape from the darkness below.
Now enjoy an excerpt:
Here it was, her childhood nightmare in the flesh. Cold dark flesh. It thrashed back and forth, screaming so loudly that Kaie felt like her eardrums would burst. She held onto the sting blade and felt it sink deeper into the specter's flesh. It ripped downward into muscle and tendons, tearing as she slipped farther down into its throat.
Down she went into the beast's stomach. She was greeted by a numbing cold that crept upwards from her feet, making its way throughout her body, into her arms and hands, making it hard to hold onto the blade. She flexed her arms and felt the blade continue to slice into the creature's stomach.
She wasn't alone. The denizens of its stomach sprang to action at the bidding of their master. They were trying to pry the blade out of her hands. Their touch was freezing cold. She felt her hands slip on the hilt. They clawed and shrieked at her in anger. She fought back with her banshee fire and some of them responded by recoiling. With a thought directed at them she flung the nearest ones away and regained her grasp on the sting blade.
She was so tired. Something told her if she would simply let go, she would slip into a cold oblivion, be free from all pain and suffering, free…
No, it was a lie. With the remaining strength she had, she plunged the blade deeper and she saw it, pulsing away steadily. The creature's heart was a deep, dark chasm…but it pulsed, pumping great blasts of cold with each beat of its heart.
Sherri Lackey lives in Montana where the cold northern climate inspires her to write foreboding tales. She writes the way she cooks, and that is by using dashes of speculative fiction, a pinch of steampunk here, and a touch of urban fantasy there. She lives with her husband, Paul, in a house on a hill that she prefers to think of as an island. She has a faithful dog named Raymond, who likes to sit by her side while she writes, and a vampire cat named Penny who likes to sit on her shoulder purring or trying to nip at her neck.

Links:

Website: www.sherrilackey.com

Facebook: https://www.facebook.com/SherriMLackey

Amazon: http://www.amazon.com/The-Darkness-Below-Narcissus-Legacy-ebook/dp/B00D8F2Y8U/ref=dp_kinw_strp_1

Barnes and Noble: http://www.barnesandnoble.com/w/the-darkness-below-sherri-lackey/1117683898?ean=9781304133816