Long and Short welcomes Lauren Linwood, whose newest book Marked by Honor, the second book in her Knights of Valor series, released July 6.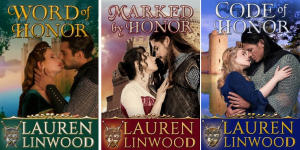 The Code of Chivalry vs. A White Lie
Most knights in the medieval era earned their knighthood through hard work and years of training. The night before their Order of the Knighthood Ceremony, they underwent The Ritual, standing or kneeling at the altar in a chapel in silent prayer—for ten hours!
The next morning they took their vows and made their oath in public. Any man who broke his knightly oath would be viewed as eternally damned since he had committed a crime against God. Knights swore allegiance to their lord and to the Church. They were to treat ladies with respect and defend them against those who wished them harm. They were to be brave, charitable, and always seek the truth.
So if they came upon someone who lied to them? They would not look upon that person favorably. Much less want to give their heart to them.
Thus is the dilemma in Marked by Honor.
I think we've all uttered a white lie at some point in our lives. Told a friend she looked great in that dress instead of letting her know the stripes made her hips look a bit wide. We've told someone how delicious a meal was even as we spit bites into our napkin. We tell our children there is a Tooth Fairy. We claim we whipped up those cookies from scratch for the school's bake sale when we actually bought them at the grocery store and slapped them on a plate.
White lies are harmless fibs that usually help us remain polite or tactful in a situation. They aren't meant to be harmful. We might tell one to shield the truth from someone we care about, so that their feelings are spared. We can even tell them sometimes to protect ourselves.
But if the truth is discovered by the party lied to, it could possibly change a relationship.
My heroine in MARKED BY HONOR tells a white lie that she winds up regretting. Yes, it's done to protect herself in a dangerous situation. She tells it to a stranger that she believes she will never see again. Yet she winds up spending a great deal of time in his company and falls in love with him—but her lie stands between them. And she has told this white lie to a knight who values truth above all things.
Lady Beatrice Bordel blames herself for the riding accident that cost her father his life when she was a child. Tragedy strikes again when her mother and grandfather die on the same day, leaving her homeless. The young woman decides to travel to visit her grandfather's closest friend, hoping she can use her domestic skills and lute-playing talent to find a permanent place in his household. Barely into her journey, a band of highwaymen accosts Beatrice and her sole servant. All seems lost—until Raynor Le Roux arrives.

As a knight of the realm, the code of chivalry guides Raynor's life. While returning to his family's home after many months absence, he rescues Beatrice, who tells a white lie to this handsome stranger. Raynor takes her to safety at Ashcroft, but his home has changed during his time away. No longer a thriving estate, Ashcroft has fallen into disrepair because his brother Peter is no longer interested in its welfare after his wife's untimely death. Raynor determines to restore his home before he escorts Beatrice north so she may unite with the man he believes is her betrothed.

The couple's growing attraction turns to love, but Beatrice's dishonesty stands between her and Raynor's happiness. Will she finally tell him the truth—and hope he forgives her deception—or will it be too late?
Enjoy an excerpt:
The anger that coursed through Beatrice came to an abrupt halt as Raynor pressed his mouth to hers. His scent, a mix of leather and sweat, filled her senses. Her arms, held tightly against her, fell limply to her sides. His lips brushed softly against hers, calling out to her. She opened her mouth to reply and found his tongue slipped inside. It began running along her own, teasing it, drawing away and returning in a game she hadn't known existed.
But was ready to play.
Instinctively, her arms rose and locked about his neck. Pulling him into her. Bringing him closer. He responded by wrapping his hands about her waist. He lifted her from the chair as if she weighed no more than a feather.
Beatrice leaned into his hard, muscled chest, taking in his heat. His tongue continued to plunder her mouth, over and over, till her mind was void of any thought but this moment. Tingles of pleasure rippled through her, dancing along her limbs in joy. His large hands splayed against her back, spanning the length and width of it.
And still he kissed her.
'Twas almost more than she could bear. She felt her insides melting like snow as when the pale winter's sun came out. Her knees weakened. She held onto him tightly, afraid to let go. Afraid he would stop. A low moan echoed in the room. Beatrice realized it came from her. From an intense longing for something she did not understand but wished to lay claim to at once.
Suddenly, she found herself pushed away, back into the chair from which she had started her journey. Raynor had put her there. He took a few steps back from her, his eyes wide.
In fear.
Something had happened that terrified him. Had he felt the intense feelings she experienced? What did they mean?
He opened his mouth, but nothing came out. He stared at her, shaking his head. He took another step back, retreating from her.
"My . . . my lady," he whispered, his voice low and hoarse. "I . . . am . . ."
She watched him struggled to find words. She longed to reach out and touch him. Stroke his cheek. Place her head again his chest. Hear his beating heart.
Raynor found his voice. "I am sorry for the distress I have caused you," he said brusquely. "'Twill not happen again. I give you my solemn promise."
Before she could reply, he spun around and exited the room, slamming the door behind him.
Beatrice brought her fingertips to her lips. Touched where his mouth had been locked to hers. Softly rubbed them against her swollen mouth, now tender to the touch. Everything she had ever thought she'd known had shifted as sands did when the tide rolled in and out.
The only thing she knew with certainty was that she had tumbled swiftly, hopelessly, and utterly into love.
With a man who thought she belonged to another.
About the Author:   Lauren Linwood's historical romances use history as a backdrop to place her characters in extraordinary circumstances, where their intense desire for one another grows into the treasured gift of love. Her romantic suspense novels feature strong heroes and heroines who unite to defeat a clever antagonist and discover a deep, abiding love during their journey.
A native Texan, Lauren is an avid reader, moviegoer, and sports fan who manages stress by alternating yoga with long walks. She plans to start a support group for Fixer Upper addicts—as soon as she finishes her next piece of dark chocolate.
Website |  Facebook |  Twitter  | Blog  | Amazon Author Page  |  Goodreads Author Page
Buy the book at Windtree Press,  Amazon UK, Amazon,  Apple , Barnes & Noble, Kobo, or  24Symbols