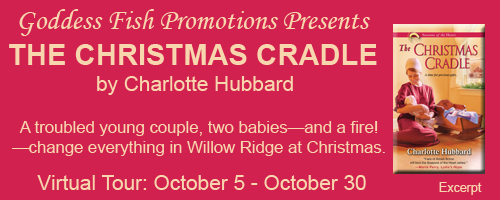 This post is part of a virtual book tour organized by
Goddess Fish Promotions
. Charlotte will be awarding $20 Amazon or B/N GC to a randomly drawn winner via rafflecopter during the tour. Click on the tour banner to see the other stops on the tour and read more of the book.
For the peaceful town of Willow Ridge, November presents an early holiday surprise. Stranded in the snow, 18-year-old Lena Esh and her boyfriend Josiah Witmer need more than a place to stay for the night. Lena defied her strict family and their judgmental beliefs to run away with Josiah and have his baby. But she's starting to wonder if he can prove as responsible as he is passionate. And she isn't sure how—or if—they can ever find a place to truly call home.

Expecting their own miracle baby, Miriam and Ben Hooley rally the town to help the young couple, and Lena draws strength from their unexpected support. Though trouble may come calling, in this season of joyous rebirth, a little child will lead them. And two couples will see their dreams of forever family come true…
Enjoy an exclusive excerpt:
Ben sat in the hospital waiting room, gripping the arms of his chair so hard his hands throbbed. A wall-mounted TV flashed scenes of well-dressed people who chatted jovially about their plans for tonight and Christmas day—about the toys that had been so popular this season that stores had run out of them and frantic English parents had searched online and paid outlandish prices to acquire them.
But what did those things matter? In his mind he still saw Miriam's pale, slack face and a lot of hoses and tubes attached to her as masked hospital attendants wheeled her toward the operating room. Andy had donned his scrubs and a mask, too. Before he'd disappeared behind an ominous pair of stainless steel doors he'd reassured Ben that everything would be fine.
But how could that be true? His Miriam knew how to have a baby without any such assistance. She'd been so calm and capable, so mentally ready to endure the long hours of labor—until she'd cried out with pain that had terrified him even more than it had rendered her helpless. Something horrific surely must be wrong, that Andy would check her over and so quickly summon emergency medical help.
What if she never woke up? What if the cord had wrapped around the baby's neck? What if the baby came out fine but his Miriam never recovered? How could he possibly raise a child without her? No, how can you possibly live without her?
His frantic thoughts taunted him as the hands on the clock refused to move. Ben knew he should pray—should focus on the fact that God was in charge and that everything would go according to His will.
But what if He calls Miriam home, thinking she belongs there now instead of with me?
Ben propelled himself from the chair and began to pace the perimeter of the waiting area. He was grateful that no one else was there to witness his lack of faith, his desperation—even as he yearned for a reassuring word about Miriam's progress, or for an angel to appear and tell him to fear not. That's the way angels had talked in the Bible, but he was pretty sure he'd be even more terrified if one of them did show up. He would immediately assume that the angel had come to escort Miriam out of this life and into the next . . .
About the Author: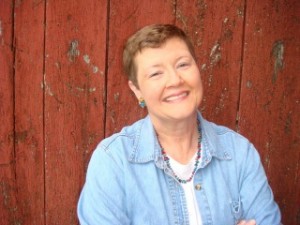 Drawing upon her experiences in Jamesport, the largest Old Order Amish community in Missouri, longtime Missourian Charlotte Hubbard writes of simpler times and a faith-based lifestyle in her Seasons of the Heart series. Like her heroine, Miriam Lantz Hooley, Charlotte considers it her personal mission to feed people. Faith and family, farming and food preservation are hallmarks of her lifestyle. She's a deacon, a dedicated church musician and choir member, and when she's not writing, she loves to try new recipes, crochet, and sew. Charlotte now lives in Minnesota with her husband and their border collie.
Website | Facebook
Buy the book at Barnes and Noble or Amazon.