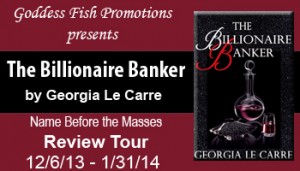 This post is part of a virtual book tour organized by Goddess Fish Promotions. The author will be awarding a rare, hand painted, Iranian perfume bottle carved from camel bone and depicting Persian lovers from Nys Bloom's collection to a randomly drawn commenter during the tour; a 1oz silver American Eagle coin, 2013, from the Barrington family vault to a randomly drawn commenter during the tour; an Amazon gift card worth $30.00 to a randomly drawn commenter during the tour and an author signed, print copy of the Billionaire Banker to a randomly drawn commenter during the tour. (Prizes are open internationally). Click on the tour banner to see the other stops on the tour.
Time is running out for Lana Bloom. She needs money desperately and fast. And the only thing she has to sell is her body. When she walks into that exclusive restaurant she does not know that the highest bidder will not be the rich man she has accompanied into the restaurant.

Utterly confident and breathtakingly handsome, Blake Law Barrington is the fourth generation of an illustrious banking family. He has everything he desires, and everything under control. As is the custom in the great, old houses, marriage is a time of consolidation and expansion. Blake is due to marry Victoria Montgomery, daughter of the Fourth Earl of Hardwicke.

If he had left that restaurant five minutes earlier he would not have seen the girl in the cheap, orange dress and the six-inch high, plastic platforms walk in. His carefully constructed universe would still be intact…and his terrible secret, safe.
Enjoy an excerpt:
Lana closes her eyes. She has drunk too much champagne. The whole situation has become farcical and impossible for her to deal with in her present condition. She feels the sting of defeat in her bones. 'What do you want from me?'
He leaves the door and walks towards her. Again that sensation that he is predatory animal. 'Well for a start…' He reaches her and suddenly jerks her towards him. She falls forward and is pitched against his hard body. Shocked she is filled with the scent that Rupert called old money and establishment. Difficult to define, but it reminds her of rosemary, not because of its smell, but because it is so clear and distinct. Nothing wishy-washy about it.
Everything takes on an unreal appearance. The fabulously wealthy interior. The man outside that door that wants to rape her for money. The frighteningly remote man in front of her that brings into her body sensations she has never experienced before. A pulse at the base of his throat is throbbing. She watches it curiously. She has never seen it in a man before. And then an arm comes around her, a fistful of hair close to her nape is grasped and tugged so her face is tilted up towards him. 'This,' he says and his mouth swoops down to possess hers. His breath smells like brandy or whiskey. Wicked, anyway.
Georgia Le Carre lives in England, in an old 19th century romantic cottage surrounded by a magical garden filled with fruit and walnut trees.

When she is not feeding words into her laptop, she is either curled up in bed with a box of chocolates and a good read, or lost in a long walk in the woods. Especially on moonlit nights. And often with the man of her dreams.

Facebook – https://www.facebook.com/georgia.lecarre

Twitter – https://twitter.com/GeorgiaLeCarre