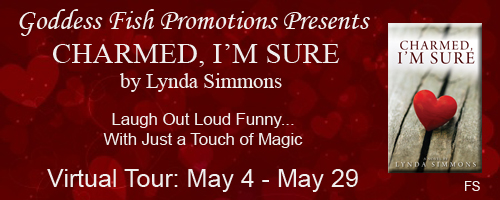 This post is part of a virtual book tour organized by
Goddess Fish Promotions
. Lynda will be awarding a $50 Amazon or Barnes and Noble gift card to a randomly drawn commenter via Rafflecopter. Click on the tour banner to see the rest of the tour, as well as the links to the previous episodes of the serialized novella, "The Ballad of Jimmy James."
The Ballad of Jimmy James
Serialized Novella by Lynda Simmons
Chapter Seven
Over by the turntable, half a dozen people my age are belting out the chorus. All of them tumblin' down, tumblin' down while three young men accompany them on air-piano. Throughout the shop, little kids, teenagers, men and women of all ages are smiling, laughing, clapping along, while to my right a trio of old guys compare notes on where they were and what they were doing in the summer of '71. And I have no idea when most of them came through the door.
"Are you okay?" the Portnoy's Complaint man asks.
His face swims in front of me. I steady myself with a hand on the counter, even manage a smile. "I'm fine, thank you."
"Are you sure? Because you look like you've seen a ghost."
Not yet, thank God.
"I just need some air."
"Good idea," Lucy says. "I can man the cash register."
Is she kidding?
"No need,'" I say, and reach under the counter. Grab hold of an ice cream container filled with pens, pencils and who knows what else. Dump the contents into the drawer under the cash register and slap the empty down on the counter. "Ladies and Gentlemen," I shout. "Today has officially become Pay What You Can Day." A few people look over so I repeat the announcement, then slide the ice cream container across the counter. "On your way out, just pop whatever you think your purchases are worth in the can, and have a nice day."
Applause erupts but I don't hang around for an encore. Just lower my head and walk out the door and into the sunshine. Putting my back against the window, I slide all the way down to the ground. Sit with my legs stretched out and my eyes closed; sucking in mouthfuls of fresh air and trying to think. But inside the shop, they've cranked the volume up so high that I can feel the beat through the glass. While it's been years since I've heard any of the songs on that album, I remember every word, every key change and every detail of a summer that should have been perfect.
I'm not surprised when Lucy sinks down beside me. Insult to injury seems appropriate right now.
"Want to talk about it?" she asks, and brushes away tears I hadn't felt until that moment.
I open my eyes and realize how close I am to the Loonie Bins and what a wonderful damper I've put on the shopping spirit. I don't blame people for giving the table a wide berth. Who wants to linger over books with a crazy man sitting there weeping.
"Come on, Jimmy," she says, her voice softer, more compassionate than I deserve.
And when this girl who came out of nowhere, and won't go back until she gets whatever it is she wants, takes my hand and holds it between her own, any fight I have left drains away; leaving me with nothing inside but a long story that is impossible to make short.
"I killed my father," I tell her, because it's best to get that out of the way, let it frame everything that comes next.
Her expression doesn't change, merely the tilt of her head. "Are you telling me you're a murderer?"
"No, but I'm responsible for his death, all the same."
"Let me be the judge of that." She settles back with my hand in her lap. "Okay, go."
Beside her, the door of the shop opens. Portnoy's Complaint steps out, and despite all the cell phones and iPods and Bluetooth ear pieces going by, it might as well be 1971 because all I can hear is Carole King's piano and all I can see is Susan, the only woman I have ever loved, as clearly as if she were standing in front of me.
"I fell in love with Susan when I was six years old," I tell Lucy.
"Did she love you too?"
"I believe she did," and the words start pouring out.
Met her in kindergarten. Blond hair, brown eyes, a smile like nothing I had ever seen before or since. We were instant friends, together all the time in the classroom, the playground. Everywhere.
It really is like a dam bursting with no time for framing or hedging. Nothing but words that keep coming and coming, pooling on the ground between us, waiting to swamp me, drown me, and for the first time in forty-four years, I don't care. Let me drown, let me die right here in the sunshine with Susan on my mind, instead of holed up in that dark and airless tomb my mother calls home.
"She didn't see me as more than a friend until grade ten," I continue. "I never did know what changed her mind, but suddenly we were a couple, as inseparable as ever."
Predictably enough, neither of our families approved. So we hopped into the old Galaxy 500 her father had given her for her birthday, plugged the new Carole King album into the tape deck and just drove. Heading west to Vancouver and a brand new life together.
I remember making love in a pup tent, and on the beach and once in a sleazy motel called the Hav-A-Nap outside Thunder Bay, where we zipped our sleeping bags together and slept on the floor to avoid that bed; the noises from the room next door drifting away on a sweet, sensuous cloud of pot and sex and dreams of a life together.
"We were both science and math nerds," I tell Lucy, and find myself smiling. "But she was always so much smarter than me. She wanted to be a doctor, a surgeon, and there was never any doubt in my mind that she could do it."
"What about you?" Lucy asks. "What did you want to be?"
"An astronaut." I laugh and glance over at her. "Susan was the only one I ever told because I knew she wouldn't laugh me out the door."
"Sounds like you two had a wonderful time."
I look down at our hands. "The best I've ever known."
"Did you make it to Vancouver?"
"Police caught up with us just outside Calgary." I lift my head and once again there are cell phones and people all around me. And Susan slowly, inevitably, fading away.
Laugh Out Loud Funny…With Just a Touch of Magic

One minute Maxine Henley is the happy bride-to-be and the next she's the girl who gets dumped over the phone. Max has never believed in magic and fairy's tales, but if wearing a love charm can warm her fiancé's cold feet, she's happy to stuff that little wooden heart next to her own and wait. The charm came with a promise that the right man will find her, guaranteed, but how can that happen when her teenage crush Sam O'Neal keeps getting in the way!
About the Author:Lynda Simmons is a writer by day, college instructor by night and a late sleeper on weekends. She grew up in Toronto reading Greek mythology, bringing home stray cats and making up stories about bodies in the basement. From an early age, her family knew she would either end up as a writer or the old lady with a hundred cats. As luck would have it, she married a man with allergies so writing it was.
With two daughters to raise, Lynda and her husband moved into a lovely two storey mortgage in Burlington, a small city on the water just outside Toronto. While the girls are grown and gone, Lynda and her husband are still there. And yes, there is a cat – a beautiful, if spoiled, Birman. If you'd like to read the legend of Birman cats click here. If you'd like a link to allergy relief, click here.
When she's not writing or teaching, Lynda gives serious thought to using the treadmill in her basement. Fortunately, she's found that if she waits long enough, something urgent will pop up and save her – like a phone call or an e-mail or a whistling kettle. Or even that cat just looking for a little more attention!
Website | facebook | Twitter
Buy the book at Amazon.