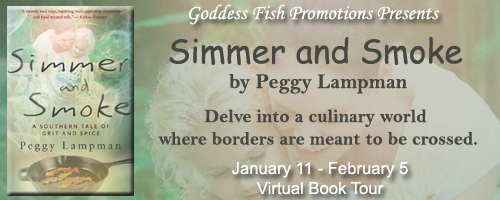 This post is part of a virtual book tour organized by Goddess Fish Promotions. Peggy Lampman will be awarding a $50 Amazon or Barnes and Noble GC to a randomly drawn winner via rafflecopter during the tour. Click on the tour banner to see the other stops on the tour.
Since earliest memory, I imagined that I would write a novel. No person or event inspired me; I started writing in my diary when I was nine years old. Writing was as cathartic to me then as it is to me now, a way to dig into the pain and root it out.
I grew up in Alabama, but went to school at the University of Michigan. There, I majored in communications/journalism; I wanted a way to earn a living yet continue to write. My first job out of school was writing copy for Hill and Knowlton, a public relations firm in Manhattan. New York beat me up, and I eventually moved back to my college town, Ann Arbor. There, I opened a specialty food store, had children, and my aspirations to write a novel were derailed. After selling my store, I got a food by-line in the local paper and then with a Michigan dot com. I also began a food blog that I update regularly.
After the transition from paper to digital, my salary was reduced, so I quit my job and wrote "Simmer and Smoke".
I researched the book living my life. My husband and I have relatives that live in "colorful" communities. I have drawn tremendous inspiration from these folks that I've come to love, and appreciate their giving me license to draw intimately from their landscape. I've worn dozens of hats in my life, have lived in big cities and small towns, and have studied and befriended various types of people. To know, first-hand, the people and community of your book, is the best research, in my opinion, for writing.
An inspiring scene is what triggered my first novel. One December afternoon in 2010, I was visiting my ancestral graveyard in Stewartville, a back-woods, Confederate flag-waving town in Alabama. As I watched a young woman and child wander down the road, I wondered how a young mother could escape a town of racism, poverty and crack houses. I had my story; that evening I wrote the first few pages of "Simmer and Smoke".
I enjoy reading literary fiction, particularly fiction set in the American South, and this has inspired my writing. Think authors like Sue Monk Kidd, Pat Conroy and Rebecca Wells. I also love Ann Patchett and Donna Tart. My favorite memoir is Patti Smith's, "Just Kids" and I'm currently reading her book "Woolgathers". I just finished Jonathan Franzen's, "Purity". It's filled with psychotic twists and turns and I was intrigued with the quirky mother-daughter relationship. Daniel Woodrell's work, particularly "Winter's Bone" that was turned into a movie starring Jennifer Lawrence, is quite inspiring. Ree's character reminds me of Shelby in "Simmer and Smoke".
Recently my agent, Wendy Sherman, approached me with a deal to buy this first novel that I will most likely accept. It is with Lake Union Publishing Company. I also plan to accept an advance for my second novel from them that is to be completed within the year.
Thank you very much for taking your valuable time to visit with me! If you enjoy stories with quirky characters embarking on a rollicking ride, I think you will enjoy my book. If you enjoy stories set in the American South, cooking and food-related talk, I'm fairly certain this read will be a slam dunk.
A single mother who dreams of becoming a chef.

A food writer who just lost the love of her life.

Two women discover what's worth fighting for in this deliciously rendered novel that illuminates the power of food, love, friendship and family on the human heart

1. ASSEMBLE INGREDIENTS:

Shelby Preston–a young, single mother trapped in a hardscrabble life in rural Georgia–escapes her reality as she fantasizes herself a respected chef in a kitchen of gleaming stainless steel and pans shimmering with heat. Mallory Lakes–an Atlanta newspaper food writer–may lose her job, and searches for her muse in a shot glass of illusion.

2. SIMMER:

Mallory secures her job by crafting a zealous doppelgänger to satisfy the expectations of an illusive cyber audience. This also mollifies the memories of her lover who recently bolted; no warning. Shelby persuades her mother to take care of her daughter so she can pursue her dream of going to chef school in Atlanta. She cooks them a special dinner said to bring good luck; Lord knows her family could use a pot of something good.

3. SMOKE:

Chasing desires and ambitions, the women's lives unravel down a path beyond the kitchen, then weave together in an unsettling culinary landscape of organic farms and shadowy borders–some borders not meant to be crossed. As Mallory combats her demons with booze and pills, and Shelby battles the odds stacked against her for becoming a chef, the women discover what's really worth fighting for.
Enjoy an excerpt:
Memos from the edge, self-help hieroglyphics, throwaway lines galloping off paper, most of them unfinished. These are the words I should have said to Cooper the day he left, bade farewell, adios, arrivederci—however you say goodbye. Itchy, my dearest friend, is returning a platter and will ignore them, assuming they are recipe scribbles. But if these tourniquets had a voice, their banshee wail would rant, rage and scream, shaking the foundations of Atlanta.
Dearest Cooper. What a splendid feast you made of me. A sprinkle of salt, a grind of pepper, you chewed me up then spit me out. Was I that abhorrent?
Visceral, grisly, teeth-gnashing words; much better script. I write, post, then return to my cutting board. Chopping furiously, I collect, examine, and discard words much too ordinary to assuage my grief. Words…words…I need more words; what words can I write that will ease the pain of what you've done?
About the Author:
Peggy Lampman was born and raised in Birmingham, Alabama. After graduating from the University of Michigan with a degree in communications, she moved to New York City, where she worked as a copywriter and photographer for Hill and Knowlton, a public relations firm. She moved back to Ann Arbor, her college town, and opened up a specialty foods store, The Back Alley Gourmet. After selling the business, she wrote under a weekly food byline in The Ann Arbor News and MLive. This is her first novel.
Goodreads ~ Website ~ Blog
Buy the book at
Amazon
.