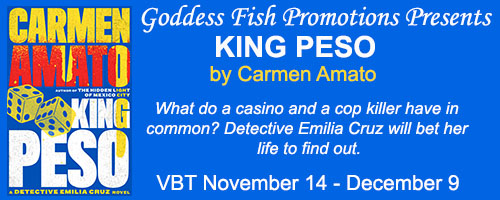 This post is part of a virtual book tour organized by
Goddess Fish Promotions
. Carmen Amato will be awarding a $50 Amazon or Barnes and Noble GC to a randomly drawn winner via rafflecopter during the tour. Click on the tour banner to see the other stops on the tour.
The Background of King Peso
KING PESO is the 4th novel in the Detective Emilia Cruz mystery series. Emilia is the first female police detective in Acapulco, taking on Mexico's drug cartels and culture of machismo.
We lived in Mexico at a time when the drug wars were really beginning to heat up. One Christmas Eve a junkie with a gun stumbled into midnight Mass and headed for the altar. Our priest dug through his robes, pulled out a few pesos, and pressed them into the man's hand. Several congregants gently propelled the drug-addled man back down the altar steps and out the rear door.
Christmas mass continued but we were all shaken. As if the addict had been a prophecy, Mexico's news grew worse in the new year: shootouts in major cities, multiple drug seizures, rising numbers of dead and missing, the murders of mayors, governors and journalists.
Now I'm back in the US showing what's going on in Mexico with a fearless style, an unforgettable woman, and a little salsa fresca from my own experiences.
KING PESO is the fourth book in the sensational Detective Emilia Cruz mystery series recently optioned for both television and film. Emilia is the first female police detective in Acapulco, where Mexican drug cartels battle for control and politicians are bought with blood money.

Three cops are murdered, execution style. Emilia worked with them all.

Her partner's wife is killed in a home invasion. Was he the real target?

Is Emilia the next?

She hopes to be assigned to a task force to investigate the killings, but is instead directed to a new police unit championed by Acapulco's ambitious mayor and overseen by a shady union strongman. But when Emilia stumbles upon a falsified report, she will conduct a private investigation, even as another murder victim carries a stark message for her.

Home is no refuge for Emilia; hotel manager Kurt Rucker has a shocking secret that could tear their relationship apart.

Unexpected help comes from a frightened attorney and a famous movie star, but each new clue to the murders unravels the one before. Meanwhile, Emilia's ongoing hunt for a missing girl, a continuing series subplot, leads to the infamous El Pharaoh casino, a place she knows only too well.

What do a casino and a cop killer have in common? Emilia bets on her partner, but his gamble could cost both their lives.
Enjoy an Excerpt:
"I think I'm on the task force," Emilia said. "Because I worked with all three victims."
She'd crossed paths professionally with all three of the murder victims, although none had been a close colleague. She hadn't even met Salinas, just talked to him a couple of times on the phone. But he'd been honest with her and done what he said he would do. A rare and rapidly disappearing commodity these days.
"Who else worked with all of them?" Kurt asked. "Silvio? What does he think?"
"Franco worked with Vega on the arson case, too." Franco Silvio was Acapulco's senior police detective and Emilia's perpetually surly partner. "But he never met Salinas or Espinosa. He wasn't invited to the meeting, either. None of the other detectives were."
"Even Loyola?" Kurt asked.
Emilia shook her head. Loyola, who was junior to Silvio, had been made acting lieutenant of detectives several months ago. He now rarely worked cases. "Not invited. He only knew Vega from the arson case."
"What are you telling me, Em?" Kurt paused. "That you're a target, too?"
"I don't know. Maybe." Emilia stared at the lights twinkling in the dark ocean as the unseen swimming dock bobbed. "The El Trio killer could be another cop. Someone on the inside who is being specific about their victims."
"I can't believe you waited to tell me, Em," Kurt said, exasperation and sudden anger in his voice. "You live here. If you're in danger, that means everybody in this hotel is in danger. I have to know things like this."
Emilia bristled. "I'm telling you now, aren't I?"
Kurt turned to look at the ocean again, elbows propped on top of the wall. "I guess what I'm trying to say is that I wish you were invested enough in us . . . in this relationship . . . to tell me things when they happen. Not a week later. Because you're thinking how things impact us. Not just you."
Emilia concentrated on the pinpoints of light out in the bay. Why did they keep having the same conversation and why was it always so hard?
About the Author:
Carmen Amato is the author of romantic thrillers and the Detective Emilia Cruz mystery series set in Acapulco which was recently optioned for film. Originally from New York, her experiences in Mexico and Central America inspire many of her books. For a copy of the Detective Emilia Cruz Starter Library, visit her website.
Facebook | Twitter | Pinterest
Buy the book at Amazon.