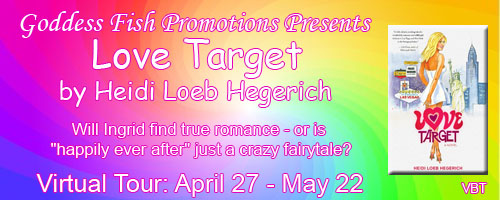 This post is part of a virtual book tour organized by
Goddess Fish Promotions
. Heidi Loeb Hegerich will be awarding $30 Amazon/BN GC to a randomly drawn winner via rafflecopter during the tour. Click on the tour banner to see the other stops on the tour.
The Background of Love Target
The background of LOVE TARGET is simple: It is the story of the first 35 years of my own life. However, it is a memoir novel — meaning that the times and locations the story is set in, and the events and primary people involved, are essential elements in the story.
If I boiled down the story into one sentence, it would read: A young German immigrant in swinging 1960s Las Vegas and New York works as a showgirl and aspiring model while being romantically pursued by an endless procession of powerful men — all the time yearning to settle down with one true love.
LOVE TARGET is a romance novel and a historical novel. To write it, I not only had to delve deeply into my memory banks to unearth faces and voices, incidents and feelings from decades past, but I had to do research to validate and authenticate the details used in scenes sketched in specific places and points in time. What did parades look and sound like in New Orleans' French Quarter during Mardi Gras of 1964? How did Bobby Kennedy look and talk when he was U.S. attorney general on the hunt for mobsters (and on the make for attractive women)? What brand and style of guitar did Elvis strum? How did hipsters dress at the Peppermint Lounge? And on and on and on.
I did change the names of certain characters and business establishments, and invented names for others, but they were all in keeping with the people and times they are set in. The result — I hope — is a novel that not only takes readers on a ride through a romantic odyssey, but also on a trip through Vegas, New York and other locales during the swinging 1960s and '70s.
I am confident that the story resonates with the ring of truth, because — after all — I lived it, baby! If readers come away with a strong sense of having experienced those eras the way I did, I have done my job as an author.
Teenager Ingrid Liebschreiber is devastated when her parents move the family from their native Munich to Los Angeles in the late 1950s. Homesick, she accepts a neighbor's offer to get her a job as a showgirl in Las Vegas.

Intent on earning enough money to return to Germany, she must grow up quickly in the neon jungle – where she is pursued by high rollers and headliners, including a vacationing Elvis.

Life's twists and turns land Ingrid in New York in the Swinging 1960s – where she is romanced by Armand: a strong, quiet, handsome businessman in "construction." Most girls dream of Mr. Right, and Ingrid's hard-won independence is challenged when she falls in love.

Will she find true romance – a man who can love her as much as she loves him? Or is "happily ever after" just a crazy fairytale?
Enjoy an excerpt:
The witch stared past me, lost in thought. Then she shook her head.
"I don't know," she began, haltingly. "There will be a man, a husband. Somebody that you've known. Somebody" — her voice rose — "with dark hair! And . . . eyes that are lighter. Maybe blue."
"I don't know who this man could be," I said to the witch.
"Trust me," she said confidently. "Do you have any photographs in your wallet of who this man could be?"
I didn't have a photo of David. But it didn't matter, since he was married.
I fished out a photograph of Armand.
The witch held it up in her crooked fingers in front of her hooked nose. She twisted her neck, turning her head this way and that, peering curiously at the photo from different angles.
She handed it back.
"You should have never been with this man!"
I shrugged. "I wish I knew who this mystery man could be."
"It is not important," the witch said. "You will know in good time. You can bring him into your life. And I want you to do something."
She rummaged on a shelf and removed several objects.
"Take these two candles. Write an affirmation on a slip of paper saying that you will be with this man with dark hair that you've known. Then put the paper between the candles, and melt the candles together. Light each one, and when they're soft, mold them together."
I took the candles. Well, it couldn't hurt to try. Might even be fun.
About the Author: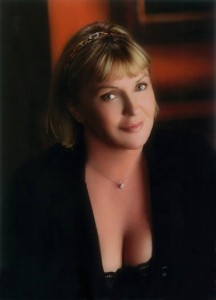 Heidi Loeb Hegerich has lived in places as varied as Munich, Las Vegas, Miami Beach, New York, Los Angeles, Squaw Valley and Reno. She has worked variously as a showgirl, business executive, entrepreneur, interior designer and real estate developer. She has traveled to six of the seven continents, and vacationed in spots as different as the French Riviera, the Andes and Afghanistan. She counts among her hobbies weight training, shooting assault rifles, and racing sand rails; she found skydiving entertaining but not as much of a rush as other pursuits.
A philanthropist for the arts, among other causes, Hegerich is now embarking on her own artistic quest as an author. The novel Love Target is her first book.
Website | Facebook | Twitter
Read Robin Leach's book review in Las Vegas Sun newspaper.
Buy the book at Amazon.