This post is part of a virtual book tour organized by Goddess Fish Promotions. Rachel Woods will be awarding a autographed print copy of Flawless Danger to a randomly drawn winner via rafflecopter during the tour. Click on the tour banner to see the other stops on the tour.
Background of the book
At it's heart,
Flawless Danger
is a story about a thief. But, not a cat burglar or a stick-up artist or a carjacker. The thief in
Flawless Danger
is a particular type of con woman, one who charms men with the intent of drugging them so she can steal their valuables.
The main character of Flawless Danger, Spencer Edwards, employs a scam she calls, ironically enough, "dating". This scam involves going out to dinner with a rich, and preferably very old, man, then going back to his place and putting several drops of GHB in his nightcap. Once the wealthy gentleman is unconscious, Spencer searches his house, looking for expensive items she can fence.
The idea of the beautiful con woman drugging her hapless mark came from several true stories I'd read about several years ago, stories that intrigued me.
One was about a dangerous flower grown in South America called "burundanga", also called the "devil's breath". The article detailed how women would crush the flower to a fine powder and then blow it into the face of a rich tourist. The flower would render the tourist disoriented and highly susceptible to suggestion and persuasion. Often, the victim would be directed to empty his bank account. Once the effects of the flower wore off, the victim wouldn't remember what happened.
The second article was about a man who had the misfortune of sitting next to a beautiful woman in the bar at the Washington D.C. hotel where he was staying. They had a few drinks, then the beautiful woman suggested they go up to his room. After several more drinks, the man passed out. When he woke up a few days later, he couldn't remember anything and his $30,000.00 Rolex watch was missing! Later, he found out that the woman had drugged him.
Of course, the scheme of drugging men for their valuables is alive and well. Recently, I went on the Internet to search for the article about the guy who got scammed in D.C. I didn't find it, but I found a slew of other articles about women who "date" men! One of the most fascinating articles was about a woman who " … accompanied a man from a bar to his Pompano Beach home, drugged him into unconsciousness and robbed him of three handguns, his diamond-encrusted Rolex and three 3.5 carat marquise diamonds."***
Wow. Kinda sounds like my character, Spencer Edwards.
I guess it's true what they say—the truth is more interesting than fiction!
*** http://www.sun-sentinel.com/local/broward/fl-sex-trafficking-victim-story-20151227-story.html
Trying to rectify the mistake that unleashed his dark past, Sione runs to the rescue of a beautiful woman staying at his resort, saving her from a brutal attack … The sly beauty who doesn't want a hero is no damsel in distress, considering the suspicious circumstances she seems involved in. He should stay away from the beautiful liar, but something about her makes him want to forget his doubts and do anything—even if it means relying on his violent instincts—for a chance to be with her.
Enjoy an Excerpt:
"Ms. Edwards."
Spencer froze, still bent at the waist, staring at the floor, trying to ignore the prickly heat rising up her neck and the sound of Sione's voice, which gave her a warm shiver.
Standing, struggling to cover herself with the sarong, Spencer took a step back as Sione walked into the dressing room, filling it with his size and strength, crowding her, and a sudden attack of claustrophobia battled with a warm sensation starting deep below her navel and snaking southward toward the center of her thighs.
"Where is the sales lady?"
"I think she's helping another customer," he said.
"Another customer," Spencer mumbled, still trying to cover herself with the swatch of pink fabric. "That figures."
"You need a different size or something?"
"I don't know how to tie this thing." Spencer shook her head. "I've tried and tried."
"Let me help you," Sione said.
"No, no," She said. "You don't have to do that, just … I think you should leave."
Smiling, Sione grabbed the sarong from her.
A strange sound erupted from her, something between a squeal and a shriek, as she stood there in her lace bra and matching panties.
"It's actually very easy." He moved behind her.
Flabbergasted by his blatant audacity, she shook her head.
Sione maneuvered Spencer's arms and then wrapped the sarong around her. Shell-shocked, she stood stiff as a board as he worked with the sarong, twisting the ends, bringing them up and behind her neck, and tying them together.
"Okay, there you go." He turned her toward the mirror.
"Hmm," Spencer mumbled, turning to the side, admiring his handiwork, vaguely wondering how he did it and how he knew how to do it.
"You really know how to put one of these things on."
"I know how to take one off, too."
About the Author: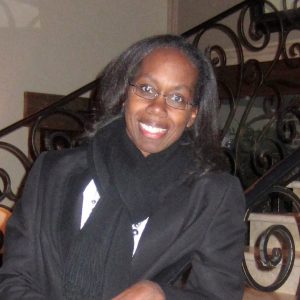 As a pre-teen, a young Rachel quickly tired of the Sweet Valley High Series and moved on to work by Sidney Sheldon, Jackie Collins and Dominick Dunne, which was just the spark necessary to fuel her love of writing. Her first stories were written on a Brother typewriter during long summer days in Texas, where she always had an extra typewriter ribbon and correction tape handy.
Rachel later studied journalism and graduated from the University of Houston where she published articles in the Daily Cougar. She is a freelance writer and blogger with a penchant for melodrama and a frequent traveler to beach locales. Many of her stories take place on the islands, which she has visited around the world.
Rachel writes complex, multicultural stories centered on strong women in jeopardy, fighting for love and their own lives. When not writing, this read-a-holic can be found listening to audiobooks, reading the Book of Jeremiah, or scouring soap opera blogs. Rachel resides in Houston with her three sock monkeys.
Website | Facebook
Buy
Flawless Mistake
at
Amazon
or
Barnes and Noble
.
Buy Flawless Danger at Amazon or Barnes and Noble.