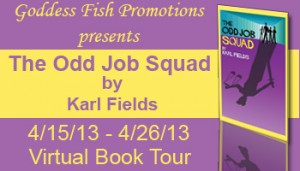 This post is part of a virtual book tour organized by Goddess Fish Promotions.  One commenter from each stop will win a box of "Pinks," which are pink fortune cookies that Ander, the main character has a fondness for. One $25 Amazon gift card given to one random commenter at the end of the tour.
The '180' that saved my story
 I got the idea for The Odd Job Squad shortly after reading a newspaper article about a local middle school's approach to bullying. By and large, the kids thought it was a waste of time, and one student said kids needed to find their own solutions. Based on that, the idea of an anonymous revenge club was born.
As I started writing, I felt like I had some great elements to work with: a secret club, middle school drama, some pretty inventive pranks and San Francisco, one of my favorite cities anywhere. Despite all that, about halfway through the first draft, I realized something was very wrong: one of the four boys in the club was getting lost. He lacked a purpose in the story and, even though I liked him, I was on the verge of going "you're fired" a la Donald Trump. But before I actually cut him from the story, an idea hit me: what if he was a she?
I'm not going to claim it was an instant Eureka! moment, but I did think it was an idea worth exploring, and as I did I began to like that direction more and more. I revised and rewrote, and found that that one change opened up so many possibilities. There's the obvious romance angle with Ander, the story's narrator, but because of some of what is going on in Shooter's life, it allowed her to become Ander's, and even the story's, conscience.
Changing Shooter from a boy to a girl helped elevate the character from the shadows to one of the stronger characters, which, in retrospect, the story clearly needs. Ander needs someone who is his equal to force him to question his actions and whether he should be making different decisions. And while I've heard the conventional wisdom that girls are less fussy about a character's gender than boys when they pick a book to read, I have to believe that Shooter's inclusion helps broaden the story's appeal.
I've wondered how The Odd Job Squad would have turned out if Shooter never existed. When I explain the premise to someone, it's clear that it has a hook. And the story wasn't bereft of enjoyable characters before Shooter came along. But without question, she makes the story better, and the best possible story is what every writer strives for.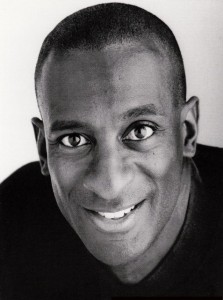 Karl Fields is a writer of fiction for teens and young adults. His other interests include jazz, golf and collecting flash drives, the more unusual the better. He was an army brat and by the seventh grade, he had attended six different schools on three continents. His first book, The Odd Job Squad, is about the exploits of three eighth graders who operate an anonymous revenge club at their school. He recommends that you not attempt the stunts portrayed in this book. His second, Instant Preplay, is about a boy who discovers that his DVR records shows before they air. He recommends that you get one of those if you can.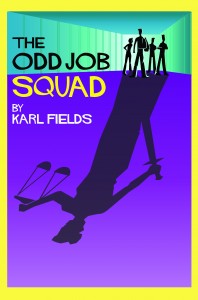 Thirteen-year-old Ander Cartwright is an expert on two subjects: fortune cookies and payback.
Especially payback.
When he's not struggling with algebra, Ander is the leader of an anonymous revenge club that operates within the walls of Marina Middle School. Got a beef with a classmate? Shoot Ander's crew an email and, if your case if legit, they'll deliver some retribution on your behalf.
It's not easy to right wrongs and stay under the radar at the same time. That's why Ander developed three simple rules designed to keep him and his friends from blowing their cover.
But when Ander spots the opportunity to settle an old score of his own, he ignores his own rules, setting off a chain of events that threatens to blow his cover, and it'll take all the butt-kicking, detention-dodging skill he can muster to keep a lid on his secret.