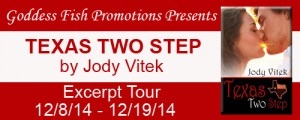 This post is part of a virtual book tour organized by
Goddess Fish Promotions
. Jody will be awarding a $25 Amazon or B/N GC to a randomly drawn winner via rafflecopter during the tour. Click on the tour banner to see the other stops on the tour.
You first met Chad Rogers and Chloe Atwood in Florida Heat, now you get to read their story.

Old family ties broken, childhood pain healed and true love revealed—one step at a time.

One phone call sends Chad Rogers back to the one place he's been avoiding—home. Being at his mother's side after she is shot, he faces the younger brother who tormented him during childhood and his ex-lover, Chloe Atwood.

Chloe Atwood is engaged to a family friend. Chad Rogers steps back into her world, spinning it off its axis. She sees him in a new light this time around, leaving her to question if they can have a future together.
Enjoy an exclusive excerpt:
As she stepped into the bright sunlight, a man wearing a Dallas Cowboys leather jacket neared. A jacket in this heat? And the piercings. She'd never understand people who put gauges in their ears to leave a gaping hole. When he approached the bottom step, she stepped down into the center of the stairs to block his entrance. He didn't belong there.
"Can I help you?" she asked politely, something instilled in her brain at a young age.
"Move, lady!" He spoke with defiance.
"I think you have the wrong building." Although her tone was authoritative, a sudden stab of anxiety hit her gut.
Fingers spread wide, his hands grabbed her shoulders. "I said move!" He shoved Chloe down onto the step as he sprinted into the building.
A sickening wave of terror welled up from her belly. Her breath quickened as she sat where he forced her on the step. Her eyes darted around for help, but she saw no one. She frantically stood and rushed back inside. She passed through the second door into the play area. Children were lying on the floor crying with their mother's trying to comfort them.
The guy's nostrils flared as he stalked toward Chloe. He pulled a small woman by the arm in a tight grasp.
"No, no. Please, Tony, don't do this!" The women wiggled in his hold.
"Bitch, I told ya you'd never get away from me. Quit your crying." He yanked her arm, and she cried out in pain.
Chloe stood paralyzed.
He put his hand in his coat pocket. "Lady, I told ya to move." He pulled a gun from the coat.
"Chloe, get out of his way!" Linda yelled from somewhere close by.
She couldn't move. Her pulse roared in her ears, and her breathing came quickly. Caught in a nightmare, Chloe was tackled to the floor as gun shots rang out twice. Her breath rushed out of her lungs.
"Now look what ya've gone and made me do, Bitch! I'm gonna give ya something to cry about later."
Something crashed against a wall. Chloe couldn't see anything lying on the floor.
"Move your fat ass!"
With another slamming noise, Chloe assumed it was the entrance doors to the shelter.
She blinked in surprised shock at the horror of what had just taken place. "Linda, you can get off me now. He's gone." Linda wasn't heavy, but the extra weight made it difficult to breathe.
No response.
About the Author: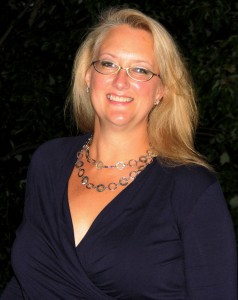 Born and raised in Minnesota, Jody has remained close to home living with her husband of twenty plus years, three children and a cat named Holly. Growing up, she enjoyed reading V.C. Andrews' the Dollanganger series, starting with Flowers in the Attic, S.E. Hinton, and Stephen King to name a few. Today her tastes run across the board in fiction and non-fiction, in all genres.
She has traveled throughout the United States, to the Bahamas and Cancun, Mexico. Between watching her son's soccer games, maintaining one of the many scrapbook albums, gardening and being the COO of the Vitek household, she writes contemporary romances.
Website: www.JodyVitek.com
Email: info@jodyvitek.com
Facebook: https://www.facebook.com/pages/Jody-Vitek-Author/142820225824162
Twitter: @JodyVitek
Buy the book at Amazon or Barnes and Noble.