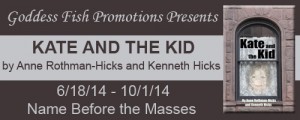 This post is part of a virtual book tour organized by Goddess Fish Promotions. Anne and Kenneth will be awarding a $40 Amazon/BN GC to a randomly drawn winner via Rafflecopter during the tour. click on the tour banner to see the rest of the stops on the tour.
Ten Things You Might Not Know about Us
1. We love to travel. Recently, we have visited ancient sites in Turkey (Ephesus and Troy) and Egypt (the pyramids at Giza and the Valley of the Kings at Luxor). We are planning a trip to Rome and Venice in the fall, then a cruise to more ancient places along the Adriatic and the North Coast of Africa. You may be seeing a pattern here.
2. Our family is very important to us. We have three children whom we adore and of whom we are very proud. Our eldest son is an actor who also conducts tours in Manhattan and Brooklyn. His younger brother is a teacher of high school English and drama in the New York City public schools, and also writes and directs plays. Their even younger sister is a tutor for many high-end tutoring companies and is an actress and singer. Did we mention how proud we are of them?
3. Ken has been a lawyer for almost forty years in New York City. Anne was an editor and since then a full-time mom. Both Anne and Ken never stopped writing. Ken would do his in fits and snatches on weekend mornings, and Anne found time here and there and anywhere during the week. The experiences both have gained from being parents, as well as while working in publishing (she), and in law (he), have found their way into the novels.
4. We have lived in New York City for over forty years. We have enjoyed the museums, theatre, opera, orchestras, movies and restaurants, and all the rest that New York has to offer. It is a fascinating place where we can walk around the same neighborhood again and again and always count on seeing something different. Kate and the Kid is set in New York City, and much of the action occurs in Central Park and the various playgrounds nearby in which we spent a lot of time with our own children. New York plays a big part in three of our other books, including Mind Me, Milady (a mystery/suspense novel), Things Are Not What They Seem (a 'tween suspense/fantasy story), and Praise Her, Praise Diana (a suspense novel). An intimate knowledge of this complex place helps us to ground the plot incidents.
5. Cape Cod is a favorite spot of ours. For several years we went to Wellfleet, which is one of the prettiest towns anywhere. During the last few years we have moved north on the Cape to Truro and rented a house in the dunes that is wonderfully peaceful and beautiful and that allows us to hear the surf every night before we drift off to sleep. We have read our books for children at the Truro and Eastham libraries and also displayed photographs of local picture stones there.
6. Even though there are loads of restaurants of all kinds in New York, we enjoy cooking and have tried with varying degrees of success to imitate the variety of styles that we enjoy – Indian, Chinese, Thai, Italian, North African and Middle Eastern.
7. We go to the gym three mornings a week together, usually arriving at 6:00 a.m.. Anne supplements the gym time with yoga and aerobics classes. Ken likes to play tennis whenever he can. We also enjoy many long walks through the City's various neighborhoods and take in all the arts that we can. Never a dull moment!
8. Photography is a major interest of ours. While on the beaches of Cape Cod we looked closely at stones and saw that many had beautiful miniature pictures on them, which we photographed and put together in a book that is available on the iBookstore. We also have published a book containing images of hearts that we have photographed on the streets and sidewalks of New York City and which is similarly available on the iBook store. Examples of these and other photographs can be seen on our Pinterest page.
9. We have used photography and the wonders of Photoshop to illustrate a book for children called Stone Faces, which is about a young girl, Alice, whose parents are getting a divorce. Alice is feeling lonely and depressed until she finds a stone on the beach at Cape Cod that begins to talk to her and becomes her friend. Through a series of adventures she starts to come to terms with the divorce.
We have also planned a picture book called Country Mouse, which has images from the sidewalks of New York City and another book called Splotch!, which will rely more on text with some pictures appearing as necessary throughout.
10. We are also interested in the history of New York City, and in our novel Mind Me, Milady, one of the main characters, Susan, seems to be remembering an earlier life when she was an indentured servant at the time of the Battle of Manhattan during the Revolutionary War. McGown's Pass, in the northern section of Central Park, is the site of a culminating scene in this book.
KATE AND THE KID is about a young woman (Kate) who has just lost her job and had a major fight with her boyfriend (also arising from the trauma of being fired). At this very low point in her life, Kate is tricked into taking care of a sweet but emotionally damaged six-year-old girl (Jenny) who only communicates with adults through a doll she calls "Miranda." As a result of an eventful night of babysitting, Kate begins to bond with Jenny, which causes a whole new set of complications with the people in Kate's and Jenny's lives. This book tells the story of how Kate and Jenny help each other to heal, grow, and navigate the difficult and sometimes dangerous world of New York City.
Enjoy an excerpt:
Like any kid sleeping in an unfamiliar place, Jenny was up at first light. She crept into the living room and sat cross-legged within a few inches of Kate's sleeping form. When Kate stirred, Miranda's plastic face was pressed gently against her cheek.
Smack.
"Hi, Katy!" Miranda said in her high-pitched voice.
"Hi, Miranda!" Kate replied in the deepest basso tones she could manage without harming her vocal chords.
Jenny giggled. Miranda danced with delight on the mattress.
"Say it again!"
Kate sat up, swinging her legs over the side of the bed.
"Hi, Miranda! Wasamatta?"
Jenny giggled harder than before, but Kate noticed that Jenny had changed her clothes again. Her pink shirt had a bright yellow flower on it, which matched smaller yellow flowers on her pink shorts. Miranda wore a new matching outfit also, yellow with a touch of pink.
"Girls," Kate said very seriously now. "You didn't go out on the fire escape again, did you?" The answer was obvious, both from the downcast look on Jenny's face and from the fact that Miranda also turned away in apparent shame. "Please, no more walking on the fire escape? Okay? Please? Will you promise me that?"
"Yes, Katy," Miranda said sweetly. "And Jenny promises too."
About the Author: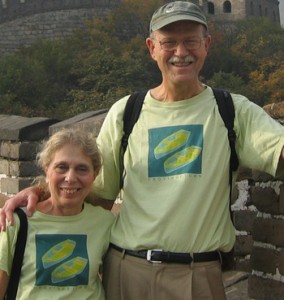 Anne Rothman-Hicks was born in New York City and, except for a brief exile to the suburbs imposed by her parents, she has lived there all of her life, the latter part of which she has shared with her co-author, Kenneth Hicks, and their three children.
Website ~ Facebook
Buy the book at
Amazon
.