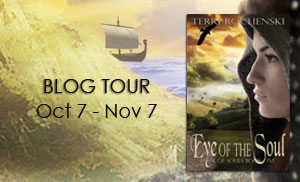 This post is part of a virtual book tour organized by the author. Terri will be giving away one of two prize packs consisting of a signed paperback, notebook, pen, and signed bookmark. The Rafflecopter is at the end of the post.
Ten things most people don't know about me
Oh boy, what a topic! Most things peeps don't know about me are probably things I don't WANT them to know.
Ha!
Anyhoo. Let's see what I can come up with. Just PLEASE … don't judge me because of my upbringing on a farm in the middle of no-mans-land with three brothers!!!
1. As a kid I had a pony named Trixie. Poor horse got ridden a LOT, but I didn't care for her as well as I could have due to being a KID.
2. I raised laying hens and sold eggs to our neighbors.
3. I owned a .410 shotgun as a teenager and wasn't afraid to use it. *clearing throat*
4. My older brother had me clean and skin all the small game he shot. YOU PROMISED NOT TO JUDGE!!!
5. I've gone deer hunting a time or two.
6. I know how to ride a dirt bike, and I love it!
7. I'm not very patient. This one I learned in my 30s after having kids who took (and STILL take) FOREVER to do things.
8. I enjoy cutting and stacking firewood. It brings back great memories from helping my pop when I was a kid.
9. I'm not a big animal lover, but some do taste quite yummy.
10. I've yet to regret a single day of my life, for they have all shaped me into who I am today.
About the Author: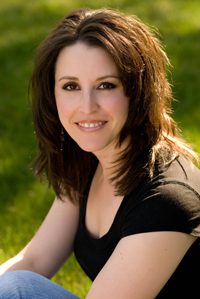 Terri started writing stories in the 8th grade, when a little gnome whispered in her brain. Gundi's Great Adventure never hit the best seller list, but it started a long love affair with the fantasy genre.
Today she enjoys an escape to Middle Earth during the rare 'me' moments her two young daughters allow. When not potty training or kissing boo-boos, she can be found on her back patio in the boondocks of New Hampshire, book or pencil in hand.
Website / Blog / Facebook / Twitter / Goodreads
Escape.

That should be Hyla's first thought as her people are chained and imprisoned for no imaginable reason.

Instead, Hyla finds herself traveling through a land void of Natives, with human soldiers pillaging in desperate pursuit of her, and in search of the mystical Pool of Souls—home to the one man who can save her people.

Or so she believes.

Led by her faith in the deity Fadir, Hyla is met along her journey by Jadon—a human male and fierce King's warrior, and his childhood best friend Conlin—one of the few Natives aware of his Fadir-given Talents.

Protected by Jadon, guided by Conlin, and with an unfailing belief in the purpose of her pilgrimage, Hyla carries on.

Like her, though, another searches for the Pool, and should he gain access first, everyone she loves, and everything she knows, could be lost.

Forever.