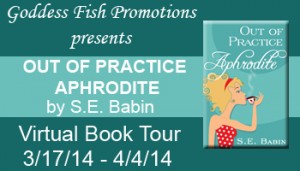 This post is part of a virtual book tour organized by
Goddess Fish Promotions
. The author will be awarding a chocolate/coffee/wine-themed gift basket (US only) to a randomly drawn commenter during the tour. Click on the tour banner to see the other stops on the tour.
Ten things our readers probably don't know about you
I always find it tough to answer questions about myself, so I really had to think about these!
1. I spent several years serving in the military. One of my more memorable moments was doing PT with the ASOS squadron. I had to lift a telephone pole with a partner. It was both exhilarating and hilarious because I transferred there from the personnel flight…where our PT was slightly (a lot) more vanilla. After that session, it was an effort to even walk.
2. I once got the brilliant idea of staying in a youth hostel in Austin so I could save money on the writing conference I was attending. It was nightmarish. I was the only American there (and probably the oldest). I didn't sleep a wink because an Australian decided to eat potato chips and play on her laptop at 2 a.m. However, I met another Australian lady who was just as fed up as I was so we decided to get a hotel together. She didn't murder me and we still keep in touch, so I'd say it was a success!
3. I once convinced my best friend to go on a whirlwind weekend trip with me. I was supposed to go to Kentucky with a family member, but we had a huge blowout and I had a non-refundable ticket. I'm the type of person who turns lemons into lemonade, so I decided to fly into the Ohio airport and drive all the way to Asheville, North Carolina. That's about 5 ½ hours. I took Crystal with me. We had the best time in the world even though we were completely exhausted when we got home.
4. I have five degrees – an MA in Criminal Justice, a BA in English, an AAS in Education, an AAS in Information Management, and an AAS in Human Resources.
5. I hate running with an all consuming passion. If you see me running, the Zombie Apocalypse has just begun.
6. When I was in Recruiting school I had to give a three minute speech while my class threw ping pong balls at me.
7. When I was in high school, I was running to my Journalism class and slipped and fell on the concrete. It was one of those epic falls that took me a minute or so to get up from. When I could finally stand without excruciating pain, I looked up and saw an entire classroom staring out the window at me. They opened it and began to whistle and applaud.
8. I have no shame about the things I love, even if other people make fun of me about it.
9. My favorite flower is the lily.
10. I am married to an engineer and have three wonderful kiddos who keep me on my toes.
Abby's major screw-up brings the wrath of Zeus upon her head. He offers her a choice – work for him or spend the rest of her days hanging out in Hades with her ex-husband. For Abby, this choice is a no-brainer, especially when Zeus says the only thing he wants her to do is make a love match.

She's the Goddess of Love. What could go wrong?

Everything.

Abby stumbles into an ex-lover, a dead demi-god and the realization that a crucial relic has been stolen right out from underneath Zeus' nose. Eris, the Goddess of Chaos and Discord, is behind the theft and murder and the faltering powers Abby is trying to keep secret. With Zeus breathing down her neck, she'll need to keep her wits about her as she races against the clock and Zeus' imposed two-week time period.

Of course, this is easier said than done. Not only is she struggling with a budding attraction to a sexy lawman and feelings for long-time friend, Hermes, she's also trying to keep everyone out of the path of a vengeful goddess while saving the Earth and Olympus from the reign of a tyrant. What's a goddess to do when the fate of the world rests upon her fashionable shoulders?
About the Author: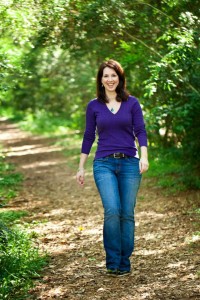 Sheryl has had a book in her hands pretty much from the time she could hold things with her hands. Her love of reading turned into a curious exploration to see whether or not she could write her own. Beginning with random, terrible poetry and a slightly popular reimagining of Beowulf's Grendel in her high school English class, Sheryl ended up spending way too much time in the library, killing any chance of her becoming a cheerleader or anything even remotely cool.
Sheryl has a fondness for humorous, lighthearted stories but also secretly covets bad-ass leather wearing chicks who curse too much. It helps if they're funny, too. She writes a little bit of everything but is currently focusing on light paranormal mysteries. Visit her at http://sebabin.com/, Twitter – @hungrybiblio, or Facebook. Buy the book at Amazon.