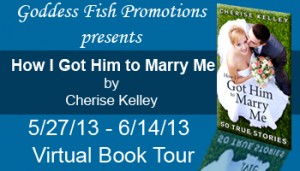 This post is part of a virtual book tour organized by
Goddess Fish Promotions
. Cherise will be awarding a $25 Amazon or BN.com gift card to a randomly drawn commenter during the tour. Click on the tour banner to see the other stops on the tour.
Ten Things You Might Not Know About Me
by Cherise Kelley
10) Before I married Scott in 1994, I had single
women friends. Almost all of them were asking themselves and each
other, "How do I get him to marry me?" Their boyfriends all wanted to just live with them and not commit to marriage. My book answers that
question, how you can get him to marry you, but OK, OK, I'll talk about other things! 🙂
9) I am a ventriloquist, a real one who makes the sounds in the back of her throat by moving the muscles she uses to swallow with, not a fake one who talks out of the side of her mouth.
8) Off and on since 1989, I have been a high school substitute teacher.
7) For eight years, I investigated who was at fault in car accidents as a claims adjuster with Farmers Insurance.
6) I lost 90 pounds between May 2011 and March 2012. I blogged my weight loss at Size 12 by St. Patrick's Day: what I ate each day, what kind of exercise I got, and how much weight I lost (or gained).
5)  I have my BA in English from UC Berkeley.
4) I have two dogs named Raffle and Oreo, who inspire my Dog Aliens novels.
3) I grew up in Southern California, where I enjoyed swimming in the ocean every summer.
2) In my early twenties, I sang and acted at the Renaissance Pleasure Faires in Agoura, Novato, and DeVore, California.
1) I am a born-again Christian.
About the Author: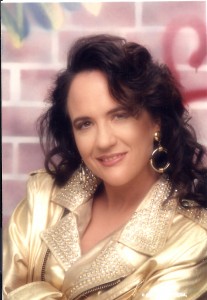 When Scott asked me to be his girlfriend, I surprised him by saying, "No." We were on the phone, as we were every night. I could tell he was hurt, but since we were on the phone and not together in person, we had to talk, and that was a good thing.
I explained, "I'm 30 years old. I've already had the last boyfriend I am ever going to have. In the future, I am going to have a husband, not a boyfriend."
He surprised me by taking this in stride. "I understand," he said. "You do realize I am in the Navy and all that entails?"
"I was born in the Navy!" This was true. My dad was in the Navy.
Four months later, he took me on a date to the top of the Space Needle in Seattle.
He passed me a little black velvet box under the table, and whispered:
"Babe, will you marry me?"
"Do you mean it?"
Yes, that's what I said. Not very romantic, was I?
Buy the Book:
Amazon.com
Cherise Kelley's Goodreads Profile
He likes it. Now get him to put a ring on it!
Learn from these 50 stories of women who have been there!
Sandy's boyfriend Jack wouldn't even bring up the 'm word'. She started leaving her things in his apartment, including some tampons in his bathroom. It worked! Too off guard to make excuses like "Living together is just as good as being married," Jack said, "People will start to think you're my wife!" "Well, how about it?" Sandy asked Jack.
Crystal got Paul to skip just living together by refusing to move across the country until she had a marriage license, signed and dated.
Read these full stories plus 48 more, ranging from the heartwarming to the hilarious!
You don't have to interview 50 married women to find out how they managed to get that ring on their finger. The author has done that for you. All 50 were married after 1990, so this is modern information for our changing times. Read and find out how you can get him to marry you and not just live together!