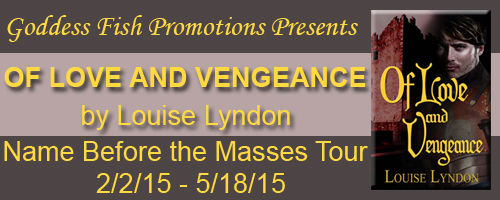 This post is part of a virtual book tour organized by
Goddess Fish Promotions
. Louise will be awarding a $15 Amazon or Barnes and Noble GC to a randomly drawn winner via rafflecopter during the tour. Click on the tour banner to see the other stops on the tour.
10 things most people don't know about Louise Lyndon
1. I have been fired from two jobs! Yes, I can admit that. Mind you I was only in my teens and one of the jobs I was fired from was that of a dishwasher in a café, the other was working in pub. I am pleased to announce I have not been fired from a job since.
2. This is a bit morbid; I often have a fear of dying in my sleep and no one discovering my body for weeks.
3. I did not willingly wear a dress until I was in my early twenties. I much preferred jeans and trainers. Yet, ironically now I prefer dresses and don't think I even own a pair of jeans!
4. My sister and I share the same birthday. And now, we are not twins. We are born on exactly the same date, but three years apart. I was her birthday present! And yes, even in my forties I still long to have my own special day!
5. On New Year's Eve I often fall asleep before the clock strikes midnight. In fact, the most recent NYE was the first NYE in ten years I didn't fall asleep. I'm such a party animal.
6. At times I'll buy a cheesecake from The Cheesecake Shop and tell myself I'll cut it into pieces and freeze it. Well, I get as far as cutting it into pieces but it never makes it to the freezer.
7. I have to sleep with a fan on. Even in the dead of winter. I can't sleep if it's quiet so the hum of the fan helps me to sleep.
8. I once slept in my lounge room, on a blow up mattress, for two weeks because there was a spider in my room. I HATE spiders.
9. I have a very dry sense of humor. You either get it or you don't, and it has gotten me in to trouble more times than I can count.
10. I have depression. Yes. And I am not ashamed to admit it. It is something I have been dealing with for many many years and I think mental health issues are not spoken about nearly enough. I think there is still too much stigma attached to mental health illnesses and this needs to be changed.
Forced to marry Lord Aymon to ensure her young nephew's survival, English Lady Laila vows undying hatred for the Norman she holds responsible for the deaths of so many innocents. Discovering Aymon has committed an act of treason gives her the chance to seek vengeance he deserves. But can Laila let Aymon die at the hands of the king once she learns the truth?

A hardened Norman warrior, Lord Aymon has lived through atrocities no man ever should. With the invasion of England over, all he wants is a quiet life and a wife who will give him heirs and obey his every command. Instead, he finds himself wed to feisty and outspoken Laila. But when she learns the truth of his treasonous act, can Aymon count on her to keep his secret?
Enjoy an excerpt:
Laila heard them long before she saw them. Their angry, frenzied shouts and thunderous roars filled her ears. With her hands tied securely behind her, she was dragged up the lane toward Tyburn Gallows, where she was to be hanged for a crime she did not commit. The mob sounded blood thirsty. Large. Frightening.
There was no sign of Aymon. Or Hugh. Had they left her alone to die?
Her chin trembled and her nails dug into her palms.
She suddenly fell to her knees and screamed until she tasted blood at the back of her throat. She kicked out and tried to crawl free as her hair was almost torn from the roots as she was pulled up and shoved along the lane.
Her eyes burned with her tears.
"I am innocent!" Laila screamed.
They came around a corner, and that's when she saw them. There must have been a least two thousand men, women, and children, hungry for her blood. And when they saw her, they erupted into a wild fever of roars and cries for a slow and painful death. Their thirst had been piqued, and now it must be sated.
Laila was shoved into the center of the clearing.
She glanced wildly around in a desperate search for Aymon's towering, bulky frame. She could not see him.
But what she could see was the Tyburn Tree. The gallows she was to be hanged from. The executioner, hooded, stood beside the tree as he waited patiently for her. Laila's mouth suddenly went dry.
About the Author: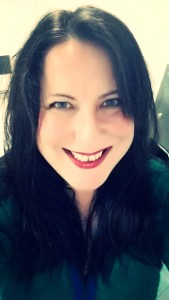 Louise grew up in country Victoria, Australia, before moving to England, where for sixteen years she soaked up the vibrancy of London and the medieval history of England. She has since returned to Australia and now lives in Melbourne.
She has been writing the moment she picked up a copy of Diana Gabaldon's first Outlander novel twenty something years ago. She thought to herself, 'this is what I want to do' – not travel back in time, but become a novelist! She has always had snippets of dialogue and scenes floating around in her head with characters screaming at her to bring them to life.
In 2013, Louise won first prize in the Crested Butte Sandy Writing contest – Historical category for her story, The Promise, which is now called, Of Love and Vengeance.
When not writing, she can be found covered in mud, crawling under barbed wire and hoisting herself over twelve foot walls – under the guise of competing in Spartan races all over Australia.
Website | Blog | Facebook | Twitter | Pinterest
Buy the book at Amazon, Barnes and Noble, or The Wild Rose Publishing.