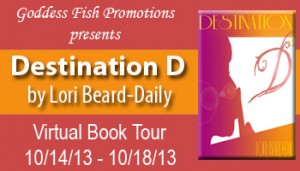 This post is part of a virtual book tour organized by
Goddess Fish Promotions
. Lori will be awarding a $10 Amazon GC to a randomly drawn commenter during the tour. Click on the tour banner to see the other stops on the tour.
10 things most people don't know about me
1. I am known as a "cut up." I love making people laugh and telling jokes.
2. I don't enjoy cooking, but I have a lot fun making a meal that looks like I spent all day in the kitchen, but only took 15 minutes to make.
3. I write some pretty interesting poetry. Most of them deal with relationships and love.
4. When my kids were little, I would make up rhyming songs to help them memorize their address, phone number and homework. They still use the techniques and they are all teenagers!
5. When I was a little girl, I wanted siblings so I would pretend that they lived in the attic and would tell people that when they came over. They would always give my mother the strangest looks when I said this.
6. I used to be a flight attendant. That is why some of the airline chapters seem so real in Destination D.
7. When I was 16 years old, I drove my mom's car through two feet of water and when I tried to stop the car, the braks wouldn't work. So, I thought if I stood on top of the brakes that would stop the car. It didn't.
8. When I was about 11 years old, I wanted to do a bike trick. So, I decided it would be good to see how far I could go with my eyes closed. I did great for about a block and then suddenly when I decided to open up my eyes, I found myself moving at uncontrollable speed down a hill. I couldn't hit the brakes fast enough, so the only way to stop the bike was to drive it into a ditch. The ditch was filled with mud, water and bugs. This was the first and last time that I did a bike trick!
9. I am a very sensitive person and cry very easily at sappy movies and sad stories that I see on the the news. I have great empathy for people, and love to help people out of negative situations when I'm able to.
10. I enjoy speaking in public. The more people in the room, the more exciting it is for me. It's fun to speak on topics that are controversial. I also write my own material.
About the Author: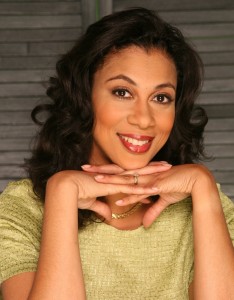 An accomplished playwright and marketing/public relations executive, Lori Beard-Daily is a graduate of Spelman College with a bachelor of arts degree in English. Lori has written stage plays: Trunk of Fate, Daddy's Girl, and Civil Unrest, two of which were directed and produced by the late theater thespian, Carol Mitchell-Leon. A native of Milwaukee, Wisconsin, Lori and her husband Bryon Daily live in Atlanta, Georgia, with their three children: Erin, Erica, and Eric.
https://www.facebook.com/DestinationD
https://twitter.com/bearddaily
http://destinationdthebook.com/
Book Video: http://destinationdthebook.com/book-trailer/
Interview with Writer's in Focus: http://www.youtube.com/watch?v=g7_rjeGH9bY
A broken promise from their school days at Spelman College takes three successful friends in Atlanta to an unexpected destination of discord, duplicity, and denial. Their personal demons drastically alter their friendship and their life's destiny.

The first friend leads a secret life of multiple personas that allows her to escape her own reality and ease into a life of deception long before her true identity is discovered.

At the pinnacle of her career, the second friend is self-driven, sexually suppressed, and highly explosive . . . blowing up at anyone who crosses her path. Her domineering ambition drives her into a collision course with herself and steers her in an unexpected direction that becomes life-altering.

The third friend is a single mother seeking refuge from a regretful past that has finally caught up with her present. Just when she thinks her future is solid, it begins to crumble as her fate is altered by a past romance that resurfaces . . . resulting in an unexpected resolution.
Buy the book at Boutique of Quality Books, Amazon, BN.com Print, or BN.com eBook.