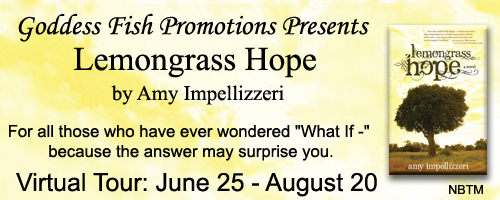 This post is part of a virtual book tour organized by
Goddess Fish Promotions
. Amy Impellizzeri will be awarding a signed copy of the book (US Only) and a $15 Amazon/BN GC to a randomly drawn winner via rafflecopter during the tour. Click on the tour banner to see the other stops on the tour.
10 Things You Don't Know About Writers
1) They read reviews.
Even if they say they don't. They do.
2) They LOVE to read. The best writers read a lot. All genres. Every genre. In fact, they have to actually – and reluctantly! – take a hiatus from reading when they are in the throes of a writing project.
3) They need thesauruses.
In an early version of Lemongrass Hope, my editor found 147 instances of people
"whispering." PLEASE NO MORE WHISPERING she wrote in exasperation. I've heard
similar stories from writers whose characters can't stop sighing, glancing, gasping, and more!
4) They would still write whether or not anyone actually reads their work.
(But they like it better when you do!)
5) They don't do it for the money.
Very few authors get crazy rich writing books. (This does not apply to E. L. James or J. K. Rowling.)
6) They do often work in their pajamas.
Or in my case, in my never-actually-been-to yoga pants.
7) They have day jobs.
Emerging and new authors often have to supplement income with freelance writing, copy-editing, or day jobs that have nothing to do with writing at all. The day I stepped down from my VP position at the start-up company I loved, to write full-time, was bittersweet, but also a HUGE gratitude moment for me.
8) They eavesdrop.
Fiction writers – especially when in the middle of a work-in-progress – are almost always living with characters in their head. When they overhear some funny or juicy piece of conversation in the coffee shop, you can be sure I (ahem, they!) are jotting down notes to incorporate into their work at some point.
9) They change (and sometimes forget!) character names.
In Lemongrass Hope, Celeste had about three different names in the initial manuscript before I settled on Celeste. I was constantly "finding and replacing."
I've heard many stories of writers forgetting the names of the characters and switching them inadvertently halfway through the initial manuscript before the editors get hold of it.
10) They grow sour cherries, pears, and grapes on the side.
(Ok, that one might just be me.)
Set in the past, and present, LEMONGRASS HOPE is a captivating and unpredictable love story, with a dose of magical realism and time travel. LEMONGRASS HOPE weaves together ordinary lives and events to tell an extraordinary tale of connection, loss, renewal, and of course, hope. As Kate Sutton's decade-long marriage to Rob erodes and unravels, Kate fears that the secrets she guards from the world, including Rob's emergency room proposal, and a whirlwind love affair from her past, have always doomed her fate. When Kate unwittingly receives a glimpse at what her life could have been had she made different choices all those years ago, it is indeed all she could have ever wanted. A confirmation of her greatest hope … and her greatest fears. Read the book hailed by New York Times Best-selling authors and reviewers, including Jacquelyn Mitchard, Oprah's very first book club selection author.
Enjoy an excerpt:
"It seems you did not actually read my amazing piece on all of this in Time Travel, Inc."
Kate laughed. "Is that for real? The real name of your magazine?"
"Well, yes. Seems it caused a bit of confusion with my Botswanan guide, as well. He saw me faxing some notes back to my editor and asked if I was really writing about time travel."
"So you told him yes, naturally."
"I actually did." Ian looked only mildly sheepish when he said this.
"Anyway, that Botswanan guide invited me to drinks the next day. They make a drink down there from the fruit of the marula tree. It's known to cure disease and do all sorts of things. So, over this decadent marula tree booze, my guide told me a story of a mystic in the delta who swears that through some combination of the fermented marula tree fruit and Botswanan agate, he can make things happen."
"What things?"
"Well, time travel, of course."
For a moment, Kate thought Ian was mocking her, or perhaps was a complete lunatic, but then he burst out laughing. "I know, crazy right? That's what marula drink will do to you. At any rate, I have spent the last six months trying to convince my editor that there is another story down there in the delta – something about the mystic and the agate and the marula. And I've finally succeeded. If nothing else, I'm going to treat myself to one helluva marula drunk."
Kate stopped eating and blinked hard at her plate of curry. She could not help but wonder what it would be like to drink marula booze in the Botswanan delta with this handsome man who seemed like he just might believe in time travel.
And who was making her want to believe as well.
Watch the book video:
About the Author: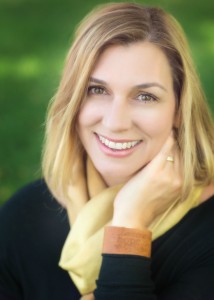 Amy Impellizzeri is a reformed corporate litigator, former start-up executive, and best-selling author. In 2009, she left her 13-year litigation career to write and advocate for working women, later joining the executive team of the award-winning website, Hybrid Her (named by ForbesWoman as a "Top Website for Women" in 2010 and 2011). Through her work at Hybrid Her, and as Vice President, Community & Content, for its later re-brand, ShopFunder, Amy worked closely with hundreds of creative and inspiring entrepreneurs and fundraisers, writing and marketing their stories to new audiences.
In October 2014, Amy transitioned to full-time writer, with the publication of her first novel, Lemongrass Hope (Wyatt-MacKenzie 2014), which debuted as an Amazon best-seller (Romance/Fantasy and Romance/Time Travel). Oprah's very first Book Club Selection author and New York Times #1 Best-Selling Author, Jacquelyn Mitchard, has called Lemongrass Hope a "fine and fresh thing – a truly new story." Lemongrass Hope was featured by Library Journal and Foreword Reviews Magazine, and has been a favorite with Book Clubs and numerous Book Bloggers (including as the #1 favorite reviewed selection in 2014 by The Literary Connoisseur). Lemongrass Hope was recently selected as an INDIEFAB 2014 Book of the Year Finalist (Romance) by Foreword Reviews Magazine.
Amy's first non-fiction book, Lawyer Interrupted (ABA Publishing 2015), is due out Summer 2015. Her essays and articles have appeared in The Huffington Post, ABA Law Practice Today, The Glass Hammer, Divine Caroline, Skirt! Magazine, among more.
Website | Facebook | Twitter
Buy the book at Amazon or Barnes and Noble.