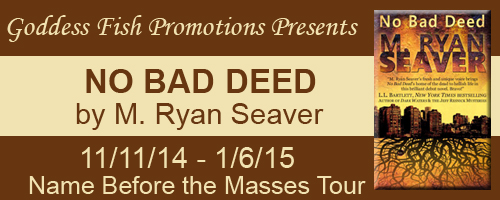 This post is part of a virtual book tour organized by
Goddess Fish Promotions
. One reader will receive a $25 Amazon or Barnes and Noble gift card. Click on the tour banner to see the other stops on the tour.
Ten Things You Don't Know About M. Ryan Seaver
1) While I'm perfectly happy writing about violence and mayhem, in my real life, I'm a big baby. Horror movies terrify me, as does just about anything that jumps out at you and goes Boo. Even talking about most medical procedures will send me borderline catatonic, and I can't have blood drawn at the doctor's office without looking away.
2) I come from a literary family. My mother is mystery writer P.B. Ryan, author of the Nell Sweeney Mystery Series, and her twin sister, Pamela Burford, is the author of the Jane Delaney Mysteries. My younger sister, Leigh Ryan is an audiobook narrator, and voices Nell Sweeney herself. We make for quite the interesting bunch at family gatherings!
3) I can sing! I was a choir nerd all through high school, and was in all the school musicals. I took private singing lessons for seven years, and now squander every ounce of my training singing show-tunes in the shower and belting at karaoke.
4) I like to act out the various characters' dialogue while I'm writing, out loud. In particular, I loved talking out the scenes between John and Mireille, although my French accent is atrocious.
5) My husband and I got together because of the Evil Dead movies. He and I met in college, and were casual friends…but I had a crush, and didn't know how to tell him. We were both fans of the Evil Dead films starring Bruce Campbell, so I suggested we have a screening, just the two of us. I figured if he felt the same way, he'd make a move, and if he didn't, we'd watch some movies we both liked, no harm, no foul. Little did I know, one of my friends had already spilled that I liked him. My plan wasn't fooling anybody! We made it about twenty minutes into the first movie before he put me out of my misery. We've been together ten years now, and we've still never gotten through all three films.
6) Family lore says that we are descendants of Little John, Robin Hood's trusty side kick. I don't know how much stock I put in that story, but it's a great ice breaker at parties.
7) I love thunder and lightning. The louder and brighter the better! Once, when I was about ten, I had a terrible bout of insomnia…three nights in the sweltering heat of summer, and no sleep. On the third night there was the wildest lightning storm I have ever seen—Howling wind that whipped the trees in my yard back and forth, lightning so bright and so frequent that it looked like daylight, and thunder that shook the house. The next morning I mentioned it to my family, but no one else had woken up. As terrible as those sleepless nights were, I've always been able to look back and think, Well at least I saw that.
8) As a kid, my parents had a tape of the Talking Heads Stop Making Sense concert. It was at the end of one of my tapes (Care Bears), and every time I saw that big white suit, I just assumed I was watching more children's programming. I was an adult before I realized that I'd spent my formative years rocking out to Talking Heads.
9) John Arsenal has bad knees because I have bad knees. In other words, any time John complains that his knee is sore or makes crackling sounds, it's probably because I was having a bad knee-day.
10) The villain for my next John Arsenal mystery is based on a nightmare I had. I actually woke up screaming! Once I calmed down though, I was elated. There's nothing quite like meeting one of your characters face to face, even if it is only in your sleep.
Private detective John Arsenal can't tell you what terrible crime he committed to wind up in a sweltering urban hellscape, surrounded by thieves, drug addicts and murderers—only that it was very bad, and now he's being punished. That's because in Hell—or Brimstone, as the damned prefer to call it—your identity, your memories, even your name, are stripped away from you.

John is relatively comfortable in his damnation, working easy cases and making himself at home in the grimy squalor of the afterlife. That is, until a mysterious woman appears in his office, begging him to find her missing sister, and promising him the impossible in return—a glimpse of his old life, before Brimstone.

To track down the enigmatic Sophie, John must delve into Brimstone's darkest recesses, where murderous children run wild in packs, and a strange and terrifying new drug promises to deliver the user to the heights of ecstasy, but at the risk of being snuffed out of existence altogether. All the while, John must grapple with the vivid nightmares that have haunted him since his arrival in Brimstone, and confront the thing he desires and dreads the most—the truth of what he did to deserve damnation.
Enjoy an excerpt:
In the center of camp, one kid was beating with a slow, irregular tempo on a sort of makeshift drum, patched together out of skins stretched over an old rubber tire. He wasn't playing it so much as he was testing it, tapping this spot and that, checking it for tone. He stood and stalked around to the other side of the drum, lanky and capable looking, and older than the rest, maybe twelve. I watched him working from a distance, and when he spoke, he didn't bother looking at me.
"What do you want, mister?"
He was still slender like a kid, but tall, and he was working hard on the voice of a young man, or at least had been before whatever had ended his life stuck him in permanent adolescence. He had a smattering of painful-looking acne studded across both cheeks, and the beginning of a patchy beard coming through here and there. It looked like he had made some sort of attempt at shaving at one point, and I felt the stirrings of one of those troubling old half memories as I looked at him—the adolescent frustration of trying to pull a blade across pimply, broken skin.
I stepped closer to the kid and his work, and noticed the other kids glancing cautiously up at him. Him, not me. The captain, I decided. Any conversation I was going to have on this trip, I was having with him.
About the Author: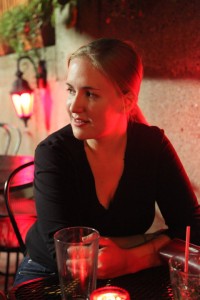 I was raised in Rochester, New York, in a house that was constantly full of writers. On nights when my parents and their friends were holding court in our living room, I would practice the fine art of evading the little kids in the next room, setting up camp among the grown-ups, and being quiet long enough that they would forget I was there, and that it was past my bedtime. All my best dirty jokes were picked up this way.
I studied theatre performance at Northeastern University, where I spent a little time onstage, and a lot of time reading plays. I fell in love with Sam Shepard, Arthur Miller, and Nicky Silver. Exposed to plays day in and day out, I honed my ear for dialogue, and learned firsthand that if the writing doesn't ring true, no amount of brilliant acting would make it right. I wrote my first play (terrible, melodramatic, with characters whose names did absolutely nothing to mask the real people they were based on). I showed it to no one. It's probably still on my computer somewhere.
John Arsenal and Brimstone came to me during a bout of unemployment, in between searching desperately for a job, and baking more bread than was sane or reasonable for my two person household. The idea came to me in my sleep, demanding to be written, and that's how the prologue of the book came into existence: In my darkened apartment in Boston at one o clock in the morning, my eyes barely able to focus on the computer screen long enough to get the words down. Sleep has continued to be the place where John Arsenal and I meet up to put the pieces of his story together. I've never been prone to insomnia, but John, it seems, is, and has never cared much for my sleep schedule.
In my life before Brimstone, I've worked as a telemarketer (I'm sorry) administrative assistant, waiter (badly, briefly), clerk and occasional story-time reader in a children's bookstore, and professional hawker of everything from magazine subscriptions to national television advertising. I was better with magazines. I now live in Chicago with the love of my life, and my snarling, seven-toed demon-cat, Clara. No Bad Deed is the first book in the John Arsenal mystery series.
Buy the book at Amazon