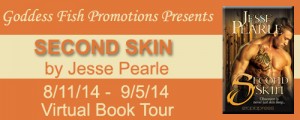 This post is part of a virtual book tour organized by
Goddess Fish Promotions
. Jesse will be awarding a $25 Amazon GC to two randomly drawn winners via rafflecopter during the tour. Click on the tour banner to see the other stops on the tour.
Ten Things We Would Be Surprised to Learn About Jesse Pearl
1. My true love of writing began with fan fiction based on my favorite RPG video games. I'm a huge fan of Mass Effect, Dragon Age, and The Witcher (among others, but those are my top three). My novel, Second Skin, actually started out as a Mass Effect fan fiction based on an original character I created (that would be Sam in all his glory).
2. I'm a huge dragon nut and have another project I'm working on that is a series of paranormal erotica novellas featuring dragon shapeshifters. I even make it a point to include little dragon easter eggs in my non-paranormal books. There's one somewhere in Second Skin. See if you can find it!
3. I play tabletop D&D with my husband and friends on a weekly basis. The last character I played was a Dragonborn Sorcerer named Saskia.
4. I'm about to turn 42 in a little more than a month, which I believe is a fortuitous number.
5. I have this odd superstition/belief that years that end in the number 4 are years of positive change for me. 2014 has been a fantastic year so far – I quit my desk job of 15 years to write full time and couldn't be happier. 2004 was the year I met my husband. 1994 was the year I got off my ass and went back to college to earn my degree (BFA in Fine Art, summa cum laude). I'm eager to see what 2024 has in store.
6. The first story I wrote that wasn't for a school assignment was about a princess and a unicorn. I never did finish it. (I was about 12 years old, I think.)
7. I pretty much grew up on horseback, but horses rarely appear in my books.
8. When I was a kid, I wanted to be an architect when I grew up. Now I get to design and build entire worlds on a page. Writing is a much cooler profession, I think.
9. My great-great grandmother was born in Transylvania. When she was a young woman, she was stung by a bee and succumbed to anaphylactic shock to the point that her family believed she was dead. Luckily, her fiancé, a medical student studying in another city, arrived at the wake in time to revive her before they buried her alive. This is how vampire myths get started, I think.
10. The only time I've left the Continental U.S. was to visit the Bahamas, Hawaii, and Baja California. I've never been anywhere that required a passport to visit. Someday I'd love to visit Rome, to see the architecture and art I loved so much when I studied art history in college.
Obsession is never just skin deep.

Sam Blanco's greatest desire is to escape his abusive father and violent neighborhood the only way he can—by earning money as a tattoo artist for a street gang. He's befriended their leader, the deadly Leo Reyes, and gained a measure of safety under their protection. But just when things are going right for the first time in Sam's life, Leo's girlfriend, Pilar Flores, walks in and requests a tattoo in an unusual location. Sam obliges, but the experience leaves them both reeling. Unable to focus for days, Sam finds himself craving Pilar's touch, but she's exactly the kind of trouble he doesn't need.

Pilar Flores is her father's daughter. Being the daughter of a drug lord is not an easy role to fill, but she aspires to live up to the title and make her father proud. But her father has no plans to allow her into the business, and Pilar hates being sidelined. She hates that Leo is away for days on end, and she especially hates being treated like an incompetent female by every man she sees. Except for Sam. She decides to take control of her life the only way she knows how—through seduction. But she's not prepared for how eager and passionate a lover Sam is, or how deeply she's drawn to him. Even though she knows their ill-fated affair can't possibly end well…
Enjoy an excerpt:
"So you just leave the pictures in here until they're done or what?" Benny asked, flipping through the loose-leaf leather-bound book that Sam always kept with him wherever he went.
"Yeah, if I'm finished working on them I might take them out, give them away or what not. But it's hard to know when I'm done. Some take a while."
Sam set out the pieces of his machine in the usual, methodical order to begin assembling it once his client arrived. Something niggled at the back of his mind, however—somewhere behind the image of Pilar tied to her bed, her sweet dimples challenging him to do exactly the thing he planned to do as soon as he finished his drawing.
"Motherfucker," Benny muttered under his breath.
A hot rush of panic infused Sam at the same instant he realized what he'd done…or failed to do.
"Like this one?" Benny turned the sketchbook around.
Sam's stomach lurched when he saw the detailed nude sketch he'd made of Pilar Sunday morning. He'd spent enough time rendering her face that there was no mistaking who she was.
"Tell me you just drew her face from memory on some other girl's body."
Sam was sure he had a deer-in-the-headlights look when he said, "Not exactly…"
Benny gaped at him then looked back at the drawing. After a second more of studying it he just shook his head.
"Man, you are something else. I seriously think you must have a death wish. Or one huge pair of cojones."
Sam had lost the ability to speak. His brain frantically attempted to process the implications of his friend seeing the picture of Pilar. Fuck, fuck, fuck, this wasn't supposed to happen. You're a fucking idiot, Sam.
About the Author: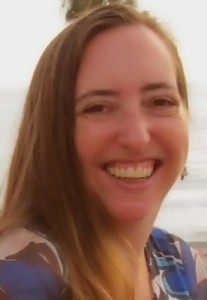 Jesse Pearle grew up in the mountains of Western North Carolina in a place where there was no danger in dancing naked in the moonlight at the top of a mountain. Always possessed of a creative mind, but never quite the right amount of focus, she wandered for decades. She received a degree in fine art which she put to poor use working an uneventful desk job for an engineering company when she started writing her first really ambitious piece of fiction. She lives in sunny Southern California with her ever supportive husband and four attention-whoring cats.
Website ~ Facebook ~ Twitter
Buy the book at
Amazon
,
Barnes and Noble
, or
All Romance eBooks
.