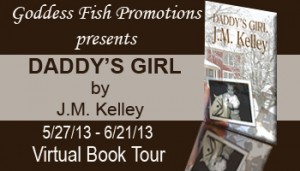 This post is part of a Virtual Book Tour organized by Goddess Fish Promotions. J.M. will be awarding a gift basket of some of her favorite things, including a $25 gift card from Amazon and a signed copy of the Foreign Affairs anthology from Turquoise Morning Press to a randomly drawn commenter during the tour. Click on the tour banner to see the other stops on the tour.
*****
Ten Things People (Possibly) Don't Know About J.M. Kelley
I am addicted to candles. Seriously addicted to them. As I am writing tonight, I am wallowing in a cloud of beach-lavander-sweetpea-summer rain-coffee-chocolate fumes. If anybody walked into this place right now, they'd probably pass out.
My brother gave me a guitar. I don't know how to play guitar. But, by God, I have a guitar, and an amp, and lots of purple picks.
I am a weather geek. I try to keep it to myself because, frankly, there are few weather geeks in my social circles. My big goal in life is to catch a fabulous lightning bolt with my camera. I've been trying for three spring/summer storm seasons now. Mother Nature is determined to not cooperate with me.
I write romance. I can barely bring myself to say hello to men in real life. I am that romantically challenged.
One would think that my attraction to awkward men would balance out with my own awkwardness. It does not. Regardless of that, there's nothing more adorable to me than a hapless man.
I am incapable of walking in high heels. It's a broken neck just waiting to happen.
I have found out the hard way that it is nearly physically impossible to read Howl out loud without accidentally biting your own tongue at some point.
Somehow, I manage to wear a hole through my right work shoe over the same toe, every single time I buy a new pair. I don't get it. It's like I have raptor claws instead of toes.
The first time I decided to write a novel, I was about thirteen years old. Unfortunately, after about forty pages, I realized I'd actually just recreated a Sweet Valley High story…only a much worse version.
I know how to shoot a gun, and I can do it well. (Maybe this is why I am still single.)
About the Author: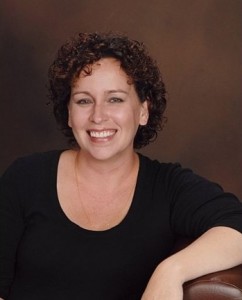 Three years ago, native Pennsylvanian J.M. Kelley packed her bags and moved south. Now, the wannabe Carolina Girl can't speak a single sentence without adding the word y'all at the end of it, and regards a blast of snow flurries as a doomsday-level event. When the day job allows, and when she can pull herself away from George Takei's Facebook fanpage, she likes to go on writing jaunts to her favorite lake, or a local coffee shop with delicious shakes and questionable Wi-Fi connections.
J.M. Kelley is a proud recipient of a Carrie McCray Memorial Literary award, and is a member of The South Carolina Writers Workshop and Romance Writers of America (PAN). Readers interested in more information may visit her website at www.jmkelleywrites.com.
Email: readers@jmkelleywrites.com
Website: http://www.jmkelleywrites.com
Facebook: https://www.facebook.com/pages/JM-Kelley/108021242585994
Twitter: https://twitter.com/AuthorJMKelley
Sometimes, returning home isn't about confronting your past; it's about discovering your future.

Janie McGee, the black sheep of her family, is free-spirited, uninhibited, and never one to stay in the same place for too long. When Janie learns her father, Joe, is gravely ill, she reluctantly returns home to rural Pennsylvania to care for him. Joe's neighbor, David Harris, sports a pocket protector, collects coins, and is addicted to Antiques Roadshow. Everything about him rubs Janie the wrong way, from his nerdy wardrobe to his enviable friendship with Joe. And to make matters worse, her father thinks they're perfect for each other, proof positive of how little Joe knows his own daughter…or so Janie thinks.

A shared devotion to the elder McGee begins to close the gulf between Janie and David, but a burgeoning romance opens the door to new problems and unexpected consequences neither could foresee. Joe, however, remains steadfast in his resolve to show Janie that Daddy knows what's best for his little girl. Can Janie finally open her heart to David while watching the first man she ever truly loved fade away?
Buy the book at Turquoise Morning Press Amazon Barnes & Noble Kobo Smashwords AllRomance Omnilit