This post is part of a virtual book tour organized by the publisher. Enter to win the choice of several prize options via the Rafflecopter at the end of the post.
A day with Pete Barber (behind the scenes)
This is particularly difficult to answer just now because my "behind the scenes" is utter chaos. We're in the throes of moving from a small farm nestled in the foothills of Western North Carolina, where we've lived for ten years, to a town about three hours east, close to Raleigh-Durham. The area around my writing desk resembles a fort hastily constructed by a gang of enterprising children. Surrounded by stacked boxes, I have to weave my way through a cardboard corridor to make it to the kitchen for a snack. If I die in here, I might not be found for days!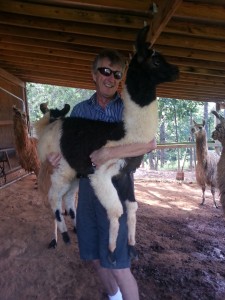 Before this moving-madness hijacked my life, first thing in the morning, I'd go down the pasture, let out the chickens, and feed them our left-over-food scraps from the previous day. Chickens are marvelous creatures. You put scraps and a little cheap feed in one end, and eggs come out the other. They're busy and fascinating (and extremely difficult to catch in an open field). In winter the livestock would need to be fed—we raised llamas on the farm. Every summer we sheared their fiber and my wife processed it and spun it into yarn. Sadly, our move has forced the sale of our livestock. The pastures are as empty as a church on Tuesday afternoon.
Ten Things People Might Not Know About Me
1. In my early twenties, I toured Europe in a Ford Camper-van on two dollars a day. Well, to be precise, when I left England (where I was living at the time) I had budgeted four dollars a day. But two weeks after I reached France, the British government devalued the British currency, and suddenly my traveler's checks were worth half their face value—that was not a good day.
2. I worked for an Israeli software company for many years. The first time I visited Israel, I managed to fit in one day of sightseeing in Jerusalem. This was in the 80s, when cameras used film, and I snapped off thirty six pictures of the Old City: The Wailing Wall, The Dome of The Rock, The Via Dolorosa, the Souk, etc. Wonderful memories, but that's all I have because there was no film in the camera 🙂
3. In my teens, I sported a huge afro and had my sister sew inserts into my jeans so they flared to eighteen inches.
4. Although born in the UK, I became an American citizen in 2005. My wife is American, and no one in our US family even got close to passing the citizenship exam I took.
5. I worked on Wall Street for six months helping my company at the time file an Initial Public Offering. Once it was over, I held a check for $23 million dollars—I held it for about two seconds :-).
6. I'm always hopeful when I watch a Modern Family rerun that it might be an episode I haven't seen before.
7. When I was six-years-old, I was hit by a large truck as I crossed a busy road. I lost six pints of blood before they patched me up—six-year-olds only have six pints of blood—yup, it was that close.
8. My left leg is one inch longer than my right (see #7) my femur was smashed and as it mended, the gaps calcified and extended the bone. Incidentally, the surgeon assured me this is very difficult to do on purpose. I've always refused to wear a built-up shoe, so my spine is as crooked as a dog's hind leg.
9. I was raised in Liverpool, England, which makes me a "Scouser." It's a nickname derived from the Irish stew (lobscouse) that bubbled in most working class homes years ago. It's still in use today—the term Scouser, not the stew :-).
10. When she was sixteen, my mother–who was an uneducated kitchen maid and quite a looker–ran away from home to marry my father. The love-match was against the wishes of my father's family, who were quite wealthy. His dad offered my mom one-hundred pounds sterling to get the hell away from him and never come back. In today's value, that was around $20,000. That I'm writing this post shows she declined the offer. His family cut them off without a penny. I've never met anyone from my father's family. Sadly, my father died when I was two, so I never met him either.
Well, here's something else you might not know–finding "ten things" was a daunting exercise. But I made it.
Thank you so much for inviting me to visit Long & Short Reviews, and for making me write about parts my life that I haven't visited for a very long time.
Love is a dangerous drug.

Lab assistant and avid climber Amber Wilson is no stranger to risk. But she feels invisible around her handsome boss, Mark, until she accidentally doses him with an irresistible aphrodisiac that leaves him with a suicidal hangover. Abruptly fired, Amber and Mark partner up to research the source of the drug—a rare New Zealand mushroom—in hopes of refining it for safe use.

On their way to New Zealand to collect fungi samples, Amber is blindsided by a deep and intense romantic connection with Mark. Their new business plan is endangered by ruthless Maori mobsters who control a mushroom scheme they're killing to protect. As the body count rises, Amber struggles to salvage her and Mark's dreams, but when she risks her heart and acts alone, both of them could end up paying the ultimate price.




Born into a blue-collar family in Liverpool, England, Pete immigrated to the US in the early 90s and settled in North Carolina.

After surviving near death experiences at ages six and eighteen, he led a haphazard life, putting bread on the table as a plumber, computer programmer, salesperson, marketing executive, hotel operator, real-estate developer, and llama breeder.

Pete loves chickens and dogs, and writes fast-paced fiction that makes people think.
Pete's debut thriller–NanoStrike–has a 100+ 5-STAR reviews on Amazon US. Love Poison, a suspenseful romance was published September 2014.

Amazon: http://www.amazon.com/dp/B00N02AE9M/&tag=redadeppubl-20

Barnes & Noble:  http://www.barnesandnoble.com/w/love-poison-pete-barber/1120272081?ean=2940150427464&itm=1&usri=2940150427464

Kobo: http://store.kobobooks.com/en-US/ebook/love-poison

Apple: https://itunes.apple.com/us/book/id914386167

Google: https://play.google.com/store/books/details/Pete_Barber_Love_Poison?id=ibpkBAAAQBAJ

Goodreads: https://www.goodreads.com/book/show/22538869-love-poison?ac=1

Author page on RAP:  http://redadeptpublishing.com/pete-barber/