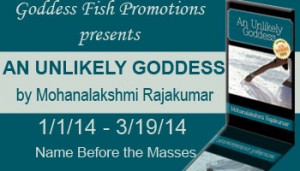 This post is part of a virtual book tour organized by
Goddess Fish Promotions
. Mohanalakshmi will be awarding a free ecopy of An Unlikely Goddess to one randomly drawn commenter at every stop, and a Grand Prize of a $50 Amazon GC will be awarded to one randomly drawn commenter during the tour. Click on the tour banner to see the other stops on the tour.
Ten Things People Don't Know
By Mohanalakshmi Rajakumar
Many of my friends give me a hard time for having the phone in one hand and a baby in the other; usually something is being posted to a social media site. Now with integrated apps I can post the same content to Instagram, Twitter, and Facebook.
Here are things I haven't ever posted online:
1. I don't know how to ride a bike. It's true by the time I sat down to try it was too late – 12 – I knew the power of gravity.
2. The longest I ever lived anywhere is my current city, Doha, for 8 years.
3. I was a psychology double major as an undergrad but should have known that English was my first love all along.
4. One of the scariest moments of my motherhood was when my son got stuck — in the changing table on the airplane. Now it's funny but for the few moments he couldn't move, I was terrified.
5. I never read any of the Harry Potter books. Not even the one. But I'm grateful for JK Rowling and what she's done to revive reading for all ages.
6. My name means beautiful Goddess of Wealth (Lakshmi is the Hindu Goddess of wealth and can also be spelled Laxmi).
7. I will listen to anything on NPR over watching news on televion. BBC Worldservice is a close second.
8. Naming our children was harder than naming any of my books.
9. We flipped a coin to decide the eldest son's first and middle name.
10. Our second son was called El Segundo (the second) all thorough out the pregnancy and even into the first week of his life because we were in a standoff (eventually my husband surrendered).
Enjoy the book video of An Unlikely Goddess:
About the Author: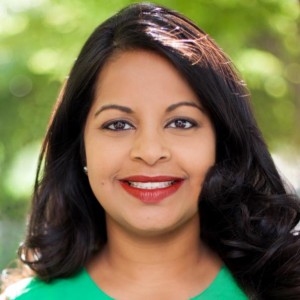 Mohanalakshmi Rajakumar is a South Asian American who has lived in Qatar since 2005. Moving to the Arabian Desert was fortuitous in many ways since this is where she met her husband, had a baby, and made the transition from writing as a hobby to a full time passion. She has since published seven e-books including a mom-ior for first time mothers, Mommy But Still Me, a guide for aspiring writers, So You Want to Sell a Million Copies, a short story collection, Coloured and Other Stories, and a novel about women's friendships, Saving Peace.
Her recent books have focused on various aspects of life in Qatar. From Dunes to Dior, named as a Best Indie book in 2013, is a collection of essays related to her experiences as a female South Asian American living in the Arabian Gulf. Love Comes Later was the winner of the Best Indie Book Award for Romance in 2013 and is a literary romance set in Qatar and London. The Dohmestics is an inside look into compound life, the day to day dynamics between housemaids and their employers.
After she joined the e-book revolution, Mohana dreams in plotlines. Learn more about her work on her website at www.mohanalakshmi.com or follow her latest on Twitter: @moha_doha.
Sita is the firstborn but since she is a female, her birth makes life difficult for her mother who is expected to produce a son. From the start, Sita finds herself in a culture hostile to her, but her irrepressible personality won't be subdued. Born in India, she immigrants as a toddler to the U.S. with her parents after the birth of her much anticipated younger brother. Her father's academic ambitions take the family all over the United States, as he chases grant funding at universities in several states. His financial challenges make life at home stressful for Sita, her mother, and younger brother – but the women of the family bear the brunt of his frustrations – both physically and emotionally. Hers is a South Indian family, from Tamil Nadu, one of the most conservative states in the subcontinent.
Buy the book at Amazon.