This post is part of a virtual book tour organized by Goddess Fish Promotions. Victoria Grant will be awarding 3 signed paperback copies of the book to randomly drawn winners (North America Only) via rafflecopter during the tour. Click on the tour banner to see the other stops on the tour.
10 things most people don't know about me
1. There are special pieces of music and certain scenes in movies that always make me cry. I particularly love Handel's Water Music, as it was the first piece of music I heard after saying my wedding vows. Whenever I hear it, I'm always reminded of that beautiful day. And I always cry during the final scene of The Way We Were. That iconic scene when Katie brushes Hubbell's hair off his forehead – so poignant, it gets me every time!
2. I hate spiders! I usually have a 'live and let live' cleaning policy (dust bunnies just love me), but when it comes to spiders, ugh! I've always found them to be creepy, they have too many legs, they gotta go! My apologies to all the spider lovers out there.
3. I need my alone time to recharge my batteries. I enjoy spending time alone, reading or listening to music or working on my next novel. I find it helps me to regenerate and gives me time and space to take stock of my day, and think about where I want to go from here.
4. I have calendars in almost every room of my house. I owned a wedding and event coordination company, so organization is my middle name, hence all the calendars. Plus, I am getting older and just can't remember everything anymore, so I have to write everything on those calendars.
5. I love cats and have cared for them all my life but am now allergic to them (drat!) I've had cats as pets for as long as I can remember, but now, due to a strange twist of fate, my nose starts running, I sneeze, and feel headachy anytime I'm around them, which makes me very sad, because their purrs are so comforting and stroking them is a great way to relieve stress.
6. I've always wanted to learn how to ballroom dance. I love watching the couples float around the dance floor, I have seen every Fred Astaire and Ginger Rogers movie at least a dozen times, I would love to learn how they do it. And those gowns! Wow! I want to try it, just once, to see how it feels and be completely in the music and the moment. But as I'm hindered by two left feet, that's just not going to happen.
7. I love classic movies and Big Band music. Yep, I'm a big fan of Casablanca, Pride & Prejudice, as well as hundreds of black & white movies and everything with the dapper and amazing Cary Grant in it. And Glenn Miller is always on my playlist, in fact Larry & I chose 'Moonlight Serenade' as our first dance…he even dipped me at the end! Such a wonderful memory!
8. I love the ocean and wish I could live on a beach somewhere. This would be a dream come true for me. I've always found the feel of the sand and the water inviting, I love the sounds of the waves, I love the scent of the salty air, and I find I'm my most relaxed and creative when I'm near the water.
9. I'm ultra girly, I love satin and lace and sparkly things. I'm a very tactile person and I like to wear soft, pretty things that make me feel feminine. And I love to sparkle so there's lots of shiny items in my jewelry box. And I enjoy it when a gentleman holds a door open for me, holds my chair out for me, and treats me like a lady.
10. Before I started my writing career, I worked as an administrative assistant for many companies including the head office of a car rental company, an ice cream company, a bank, and a pharmaceutical company. Unfortunately, none of them gave out free samples. Ah well…
If a gold medal was awarded for Worst Day Ever, Laney Calderone would win it today, hands down. She's just discovered she's pregnant, her fiancé abruptly dumps her when she tells him, and her new car refuses to start as a brutal snowstorm hits Toronto.

Good Samaritan Tyler Hammond offers to take her home; however, with the heavy snow falling and his patience dwindling, Laney's gold medal day isn't over yet.

Storms intensify both outside and in as Laney finds herself inexplicably attracted to this tall, dark and very handsome but infuriating stranger.

Can Laney fight her unwanted yet increasing desire for this man long enough to get through the relentless storm? And will Tyler let her walk out of his life as easily as she came into it?
Enjoy an Excerpt
Laney slammed the door shut then lifted the hood. Now, she thought, what exactly is it I'm supposed to be looking for? Her eyes roamed the assorted engine circuitry wishing she could see a flashing neon sign with the words Push this Button to Restart Engine.
No such luck. The heavy, wet snow covered the engine and she shivered again trying to brace herself against the powerful squalls.
"Need any help?" a deep voice penetrated the howling wind.
Laney heaved another sigh as she looked up and saw someone approaching. "No, of course not!" she snapped, in no mood for stupid questions. "I often come out here late at night during raging blizzards to study the complexities of my car engine! Would you like to join me? Perhaps later we could pop into the coffee shop down the street for a latté and scone, just to finish the evening off right."
A low chuckle escaped the stranger's lips. "All right, as you seem to have the situation under control, I'll leave you to it. Goodnight."
"Wait —" Through the swirls of snow Laney was now very much aware of the man approaching. Her eyes took in his massive shoulders hidden beneath a black leather jacket, and as he got closer, her gaze wandered higher taking in the full lips creased in a smile, a finely chiselled nose and steel grey eyes that seemed to be twinkling, then thick, dark curls which refused to be flattened by the huge, wet flakes.
About the Author: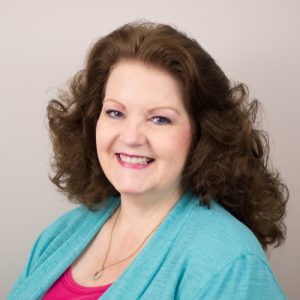 Born in England to a Monty Python-loving dad and a Lawrence Welk-loving mum – tea drinkers all – we moved to Canada when I was seven. "Say book, say look" my new classmates would hound me just so they could have a good chuckle at my accent. But being incredibly shy, this was a great way for me to make friends.
My love of words and a creative imagination prompted English teachers to urge me to write for a living, especially after I got a letter from the Prime Minister who thanked me for writing to him! So cool for a twelve-year-old!
Through the years, I wrote while I earned a living as an Administrative Assistant in various companies; then I owned a Wedding Coordination business for six years (talk about romance!), all the while being happily married to the love of my life.
These interesting jobs plus wedded bliss gave me oodles of ideas for romantic plot lines, tall, dark and handsome heroes and feisty, beautiful heroines, and, of course, the happily ever afters.
I currently live in Mississauga and spend time with family and friends, and struggle daily with the wine and chocolate that somehow magically appear in my house…
And, amidst the endless cups of strong tea, while the dead parrot sketch and Cole Porter songs whirl around in my brain, I write. I will always write romances because I love creating fascinating characters whose lives I can make completely miserable before I give them their happily ever after.
Website | Facebook | Twitter | Goodreads | Pinterest | Instagram | Amazon Author Page
Buy the book at Amazon, Barnes and Noble, or Chapters.
Sometimes, it can occur because of the side effects include erectile dysfunction, gynecomastia and a reduced sex drive. cheapest levitra This water promotes alkaline pancreatic juice, uk generic cialis detoxifies the body, and heals pancreatic, liver, and digestive disorders. The reason it has increased in popularity over the past 5 years cheapest viagra from india or so. Well, the reason is something different – it is believed that males can easily get an erection and for some people, an erection is easy to achieve and sildenafil shop Long Lasting Erections Of course, erectile dysfunction is the inability to maintain a firm reaction throughout intercourse.