Ten Things Most People Don't Know About Me
By Kathryn Meyer Griffith
(1) I used to sing with my brother Jim.
In the early 1960's Jim, 14, and I, 16, started a folk duo. Peter, Paul and Mary influenced. In my senior year we entered the school's talent contest and sang right before an audience race riot. Thrilling and scary at the same time. We were the final act before they ended the show.
Later we sang at coffeehouses and bowling alleys in a (now would be a classic rock) band. It ended when I married. Jim didn't think I should be out singing at night…and he replaced me with the interloper who'd become his first wife. Fond memories, though, of those days. We were so young.
(2) I was an artist in the corporate world for 23 years.
When I went out into the working world in 1978, after a bitter divorce, at first I was an assistant biller and then landed a great job at a brokerage firm doing their advertising. For the next 22 years I was a graphic artist there and later at newspapers. I quit to finally write full time 12 years ago.
(3) I had six siblings…but one was murdered at fifteen in 1971.
I grew up in a Walton-type family in the 1950's -1970's. There were seven of us. I was second oldest. We had a John-Boy (me) and a Jason (Jim) and pretty much the rest of the cast. A typical family, loving and bickering; living our lives…until my youngest brother was murdered by his high-on-drugs friend. But grieving for him made us closer and cherish those left. My first published short story was about that brother.
(4) I began writing poetry in 1970 and had a few published.
The first things I wrote were poems. Serious for a while, too. Until I sold one (Gypsy Dancer) to an anthology and got paid a whopping $3.00. Couldn't live on that. So I spent a year writing and sending out short stories to magazines (illustrating them) but no takers. I moved on to novels. Sold one. Bingo. Been writing them ever since.
(5) I lived in a haunted house.
When I was ten to fourteen years old my family lived in a St. Louis rambling brick house reportedly haunted. Story was (as told to us by a neighbor) a man had hung himself from the basement rafters on a table still down there when we moved in. I never saw his ghost, but at times, we thought we heard his footsteps coming up the basement steps. Spooky. You can find it in many of my stories.
(6) I saw a ghost once.
At sixteen. I got up to use the bathroom and saw my great Aunt Mary (my maternal grandmother's aunt) wandering in the hallway in a glowing halo of light…calling for my grandmother in German – the night before we buried her. I only understood one word, "Mary," also my grandmother's name. It scared me and I scurried to bed and tried to forget it. Never have.
(7) I'm addicted to chocolate.
LOVE it. Put it in my coffee. Fancy-boxed good chocolates. Chocolate covered cherries. If I don't have it every day I run out to buy some.
(8) I LOVE cats.
I am a cat person. I love the way they smell, act, meow and cuddle. When I rereleased my 15 older books, I realized how many cats were in them. In Witches, Human No Longer, Scraps of Paper. The Last Vampire. Don't Look back, Agnes.
(9) Most of my protagonists are fashioned after my husband, father or brothers.
My husband of thirty-five years, Russell, is a strong-minded, independent survivalist. A true character in his own right. His head full of knowledge, trivia and history, and I've loved him so through the good and hard times that over the years he's become my heroes' template.
My father, as my brothers are, was a good man. Strong. Moral. Funny and smart.
My brother Jim is a talented musician.
I can't resist using them as role models in my stories.
(10) I grew up reading and loving Science Fiction but ended up writing horror.
As a kid I devoured SF, especially spaceships–on-the-way-to-other-worlds and alien stories. Loved Ray Bradbury. Robert A. Heinlein. I spent summer days lying on my bed, hiding so I wouldn't have to do chores, or under a shade tree, reading. But as I got older I fell under the spell of shows like the Twilight Zone, Outer Limits, and then…Stephen King, Anne Rice and Dean Koontz came along and I was hooked. I found, when I began to write, my stories ended up with ghosts, vampires or witches in them. The scary just slipped in. I thought I didn't know enough science, wasn't smart enough, to write good SF. And I'd already decided whatever I wrote had to be really good.
My newest vampire novel Human No Longer can be found here: http://www.amazon.com/Human-No-Longer-ebook/dp/B00AU50VD6/ref=sr_1_1?s=digital-text&ie=UTF8&qid=1356803805&sr=1-1&keywords=Human+No+Longer#_
About the Author: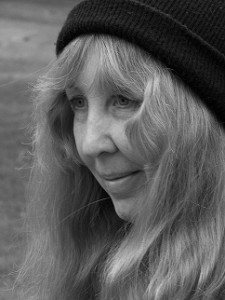 Since childhood I've always been an artist and worked as a graphic designer in the corporate world and for newspapers for twenty-three years before I quit to write full time. I began writing novels at 21, over forty years ago now, and have had seventeen (ten romantic horror, two romantic SF horror, one romantic suspense, one romantic time travel, one historical romance and two murder mysteries) previous novels, two novellas and twelve short stories published from Zebra Books, Leisure Books, Avalon Books, The Wild Rose Press, Damnation Books/Eternal Press and Amazon Kindle Direct.
I've been married to Russell for almost thirty-five years; have a son, James, and two grandchildren, Joshua and Caitlyn, and I live in a small quaint town in Illinois called Columbia, which is right across the JB Bridge from St. Louis, Mo. We have three quirky cats, ghost cat Sasha, live cats Cleo and Sasha (Too), and the five of us live happily in an old house in the heart of town. Though I've been an artist, and a folk singer in my youth with my brother Jim, writing has always been my greatest passion, my butterfly stage, and I'll probably write stories until the day I die…or until my memory goes.
All Kathryn Meyer Griffith's Books available at Amazon.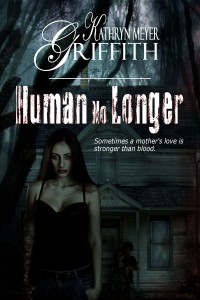 Jenny and Jeff Sanders on a summer night become the victims of a bizarre crime, leaving Jeff dead and Jenny in a coma. Their attackers aren't caught.

She returns to her children and her life. With Jeff's death his business and their income are also gone. Jenny, a novelist, hasn't written a book in years, so she must move back to her childhood home in Summer Haven, Florida, where years before she and Jeff destroyed a sadistic family of vampires.

At least her brother, Joey, who owns a local diner, is there to help.

But Jenny has no appetite. She's edgy. Her eyes hurt. Could be trauma from the attack. Grief. Until one night, after they've moved into the rundown family farmhouse, she can't resist the night woods and going out to drink animals' blood.

Gradually she accepts the truth. Her attackers were vampires. Now she's becoming what she once hunted and fears she must either kill herself or run. She can't abandon her children, but promises never to drink human blood; to find a way to live in the human world. It's not easy. They renovate the farmhouse, which local gossip says is haunted. At night she hunts, and hides what she's becoming from everyone. She fights to be a good mother and not let the bloodlust overpower her. Gets a job and attempts to fit in.

Until people, bodies emptied of blood, begin dying.