This post is part of a virtual book tour organized by
Goddess Fish Promotions
. Charlotte will be awarding an eBook of The Black Door, a signed print copy of Seven Dirty Words with a bookmark, and a $10 Amazon gift card (£10 Amazon gift card if UK winner) to a randomly drawn winner via rafflecopter during the tour. Click on the tour banner to see the other stops on the tour.
Ten Things Most People Don't Know About Me
Well first of all, I should say thank you so much for hosting me and my new contemporary erotic romance novel, The Black Door. I thought I'd use this time to tell you ten things that most people won't know about me.
1. I didn't start off writing romance. I've written a lot of poetry, and when it came to writing fiction, my passion was crime. I self-published my first novella in 2010, and most of the comments I got were with regards to the sex scenes. It wasn't until I read a certain trilogy that I considered writing to the romance genre. I think I've found my niche now.
2. I was a veterinary nursing assistant and freelance pet health care writer before being published. I've had over 800 articles published on the web and in magazines, worldwide. I can't say I was a vet nurse because I didn't finish my qualification, but I worked in vet surgeries as either a student nurse or veterinary assistant for several years before having children.
3. I am terrified of chickens. The big red hens anyway. And I generally don't like birds. My phobia started when I was about 3 and got pecked by one (a red hen). Ever since, I've been wary of birds and their beaks, and will never forgive a certain vet for making my cry by putting me in the same room as a duck and trying to get me to stroke it.
4. I met my husband on the internet. And I hate admitting to it. But yes, the fact is that my husband and I met through Lycos chat rooms. We'd been chatting for 2 years before we finally met, and have now been together for 11 years, married for 8.
5. I was gothic as a teenager. Thick black eyeliner and lipstick, baggy trousers, Spiral Direct tops, bullets chained together for necklaces and bracelets, numerous piercings – the whole caboodle. The piercings have now been downed to just two earrings in each ear, but sometimes I contemplate the idea of having all of them redone.
6. I have a tattoo on my left wrist. It's an infinity loop with three hearts to represent the eternal love I have for my husband and two children, and I had it done in July 2014.
7. My daughter, Rebecca, is named after one of my favourite books – 'Rebecca' by Daphne Du Maurier.
8. I have Irlen's Syndrome and have to wear purple lensed glasses to read or use the computer. It's a bit like dyslexia, but is my eyes not my brain causing the problem, is how it has been described to me! Basically what it means is that when I see black writing on a white background, the words begin to jumble up and I find it difficult to concentrate. I also get migraines (proper migraines, not a bad headache – flashing lights, sickness, the lot) if I'm not wearing my glasses when I use the computer.
9. I have broken my nose more times than I care to count. I think it's about 7 or 8 now. Mainly through horse riding – being head-butted by the horse, falling off, I got kicked in the face once… But also through being stupid like not switching on the light and walking into the wall. Or not ducking when getting out of a horse trailer and smacking my face into the doorframe.
10. My hair hasn't been its natural colour since I was 14. Naturally I am a dark red. NOT ginger! More a chestnut-y colour. Or I was. I found my first grey hair when I was 14 and have been dying it ever since. I've been pretty much every colour you can think of too, but tend to stick to dark brown / red.
Imogen Pearce is a single mum of four children and fast approaching 40, she works at Ryedale Incorporated where she has to battle a younger and smarter generation to get to where she wants to go. If that means taking on the account of Cherry and Sean Rubin's adult shop, then she will. But what happens when Imogen discovers the private club that they run at the back? And what happens when she realizes she knows quite a few members?
Enjoy an excerpt:
We sat down on a pair of large leather sofas and prepared to play our usual game of 'who says what'. I looked around and spied a young woman with a laptop open, and a tall, skinny, something hot by her arm. The woman was in her late twenties, perhaps early thirties, with pale skin, dark hair that had been let loose around her shoulders, and a slick of crimson lipstick.
"She's a writer," I said, leaning close to Caroline so that nobody could overhear. "She's writing a hot, steamy, romance where the two main characters are having a clandestine affair, and it's all based on her life."
Caroline tried to hide her giggle by taking a sip of her drink before hunting out a new victim.
"Okay, him," Caroline said, pointing towards a man standing at the counter. "He works in a bank, but is trying to remain discreet and blend in with us common folk, not give away his fabulously wealthy background. He's having an affair with a married man, and secretly likes to wax his legs."
The man turned around. "Oh no," I said, adding a few choice curses under my breath.
"What's the matter?" Caroline asked, watching as I tried to shrink into the sofa and blend with my surroundings.
"That's my boss," I whispered.
About the Author: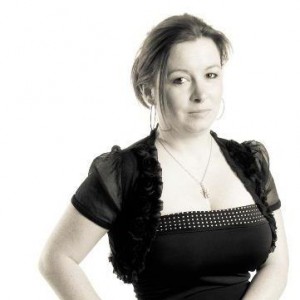 British author Charlotte Howard, was born in Oman and spent much of the first part of her life flitting between Oman, Scotland, and England. Now settled in Somerset, Charlotte lives with her husband, two children, and growing menagerie of pets.
Her career as a writer began at an early age, with a poem being featured in an anthology for the East Midlands. Since then Charlotte has written many short stories and poems, and finally wrote her first full-length piece of fiction in 2010.
During what little spare time she has, Charlotte enjoys reading and writing (of course), spending time with her family, and watching action movies whilst eating curry and drinking tea.
Charlotte is an active member of Yeovil Creative Writers.
Website ~ Blog ~ Facebook ~ Twitter
Buy the book at the publisher, Smashwords, Amazon US, or Amazon UK.