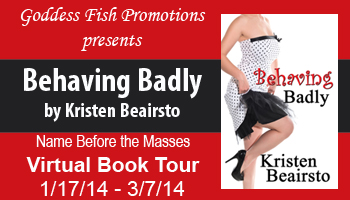 This post is part of a virtual book tour organized by
Goddess Fish Promotions
. Kristen will be awarding an eCopy of Behaving Badly to five randomly drawn commenters during the tour, and a Grand Prize of the complete set of all 5 of Kristen's ebooks to one randomly drawn commenter during the tour. Click on the tour banner to see the other stops on the tour.
10 Things Most People Don't Know About You
1. I love to read the romance genre, but my two favorite books are considered classic literature — Pride & Prejudice and The Scarlet Letter.
2. I'm a huge gearhead. Love, love, love classic cars! My favorite are American muscle cars. All time fav is 1965 Mustang. 🙂
3. I like the idea of living in the country, but I need to live within 20-30 driving minutes of a mall. Retail therapy must always be within easy reach. 😉
4. The Beatles are my favorite band of ALL TIME! My favorite Fab Four is George. No Doubt is my #2 favorite band.
5. My current obsession is makeup. I'm having a blast experimenting with different colored eye shadows and other products.
6. I was born and raised in metropolitan southern California, but I've fallen in love with the back woods of Oregon and am moving there with my family in April.
7. I've finished 5 half marathons. That's 65.5 miles!
8. Growing up, I was very competitive in the sports I played. One of the nicknames I earned was The Black Wall in softball because I was a catcher who wasn't afraid of blocking home plate and my catcher's gear was all black.
9. I may be girlie, loving makeup, having my nails done, and all things clothing, but I also won't hesitate to play in the mud, sweat, or dive into a car engine — just give me time to kick off these cute shoes, pull my hair back, and don't laugh at my hot pink cheetah print gloves. 🙂
10. I'm a total science nut! I love outer space!! I could lay on a blanket on the ground staring at the stars on a clear night for hours if I could.
About the Author:In between her to-be-read pile and trying to bring the characters in her head alive, Kristen spends as much time as she can with family and friends. Much to her husband's dismay, she enjoys collecting purses, shoes, and jewelry. During those rare times she's not working at her day job, rushing her daughters somewhere, watching movies with her husband, and trying to meet a deadline, she can usually be found energetically cheering for one of her favorite New York sports teams.
As with just about every other writer on the planet, Kristen grew up an avid reader. She started with young adult before she technically hit the age range and moved on to sci-fi classics by Isaac Asimov and Ray Bradbury. At fifteen, her best friend gave her a book she just had to read! The book was Honest Illusions by Nora Roberts. Always a sucker for a happy ending, she was a goner and fell in love with the romance genre. Having started writing novel length stories at the age of eleven, Kristen's stories all took a romantic turn from that point on.
You can connect with Kristen through her website www.KristenBeairsto.com, Facebook www.facebook.com/AuthorKristenBeairsto, or Twitter www.twitter.com/AuthorKBeairsto.
Delaney Pierce is desperate, no, determined, to rebuild the family business, Manners Matter, after the disaster her own mother brought down on it, and her, a year ago. With two crazy aunts living life moving from one misadventure to the next and her younger sister waitressing to help make ends meet, she pins her hopes on her commission to curb the undesirable habits of Cyrus Chapman, one of New York's premier businessmen and one of the city's most eligible bachelors.

Her resolve to succeed with Cyrus is immediately put to the test during her very first meeting with him and she realizes that no matter how much she prepared for all that was Cyrus, it all paled in comparison to the real man. Things only get worse when he starts hinting at wanting more than a professional relationship.

But Delaney can't entertain the idea of having more than a professional relationship with Cyrus. After all, that's something her mother would do and she's not about to start emulating that woman now. However, fighting her attraction to Cyrus becomes harder and harder the more she's around him and she finds herself wondering if she's become so wrapped up in trying not to be her mother that she's forgotten to just to be herself.
Buy the book at Amazon, Barnes & Noble, Smashwords, or Kobo.