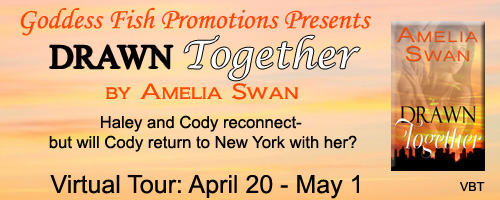 This post is part of a virtual book tour organized by
Goddess Fish Promotions
. Amelia Swan will be awarding a $15 Amazon or Barnes and Noble GC to a randomly drawn winner via rafflecopter during the tour. Click on the tour banner to see the other stops on the tour.
Ten Things Most People Don't Know About Amelia Swan
1. A lot of people know that I'm vegan and that I like cooking, but I also like to come up with my own recipes. Eventually, I want to start my own vegan recipe blog. I'm just really bad about measuring stuff out when I cook. That's the hardest part about trying to get the blog started.
2. Romance novels aren't the only books I like. As an English major in college and a former high school English teacher, I also enjoy the classics. I've always been particularly interested in the American literary canon. I consider myself an amateur Walt Whitman scholar. I also really like comic books and YA novels. My husband and I share an Audible account, and we go through a lot of fantasy and dystopian YA stories.
3. I talk about my cat and dog a lot, but I rarely mention my fish. I've had two goldfish for over five years. They're names are Betty and Dawson.
4. Back when I was in high school, I used to make fun of my mom for reading nothing but romance novels. I had no idea I'd be writing them a decade later.
5. Jessica Sorensen is my favorite romance writer, but Kurt Vonnegut is my favorite novelist.
6. Amelia Swan is a pen name, and it rhymes with my legal name.
7. I have a number of tattoos, one of which is a swan on the back of my neck. I got it on the day my first book was released to celebrate.
8. I want to eventually write some YA books in addition to romance. Under a different pen name, of course.
9. I love playing fantasy football. My team name is The Cat's Pajamas.
10. Drawn Together is probably my favorite book I've written yet.
Hailey Sommers is only home from New York for a few months. So when she reconnects with the one guy she can't forget, will she be able to walk away…again?

Hailey can't wait to get back to New York City. There she's a hip children's book author with a healthy social life. Being back in her hometown of Medford only reminds her of the less-than-cool girl she used to be. Until she runs into Cody, her old partner-in-crime in high school art and the boy she lusted after all four years.

Cody West has everything he could want in Medford, except Hailey. When she left for the big city, there was a hole in his life no other girl could fill. But he's not sure he wants to open himself to the pain if she leaves again.

A chance encounter at the town coffee shop reignites the chemistry between the pair and is almost enough to make Hailey forget how much she wants to return to the city she's grown to love. Almost. Wanting it all, Hailey plans to bring Cody back to New York with her. The only catch is that she's not sure he'll agree…
Enjoy an excerpt:
I looked up from my netbook screen and there he was: Cody West. The boy I'd lusted after throughout high school. The boy who'd changed my life and didn't even know it.
He'd grown up since I last saw him at Jessica Mitchell's graduation party. His sandy hair still cascaded down his forehead, but it no longer perpetually hung down over his big brown eyes. Four years of high school football had kept Cody in shape back when I knew him, but four years of college football had added a little bit of bulk to his lean frame. At least, I assumed he played in college. I knew that he headed off to Temple with a sports scholarship.
Rocking back onto his heels, Cody scanned the glass pastry case, probably looking for something sweet to accompany his coffee. He tossed his hair to the side as he inspected the contents of the case. He always liked sweets. He and I used to pass bags of candy back and forth while Mrs. Cole, our art teacher, wasn't looking. After taking a sip of my cappuccino, I smiled at the memory, glad for the first time that I was back in Medford.
About the Author: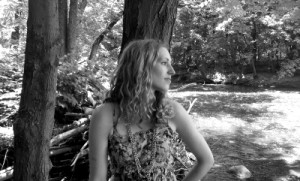 Amelia Swan writes contemporary, erotic, paranormal, and new adult romance. She's interested in characters that are smart, sincere, and somewhat artistically inclined. All of her heroines are girls she could totally see herself being friends with.
Website | Facebook | Twitter
Buy the book at Amazon, Barnes and Noble, or iBooks.
a Rafflecopter giveaway
ww.goddessfish.com">Goddess Fish Promotions.