Long and Short Reviews welcomes Adriana Anders who is celebrating the release of her debut novel Under Her Skin which is being released by Sourcebooks on February 7. Enter the Rafflecopter at the end of the post for a chance to win a copy of the book.
10 things most people don't know about Adriana Anders
1. I once got slapped across the face by a nun.
2. I used to do voices for dubbed movies and video games (which led to writing for video games, which helped lead to fiction.)
3. I went to college to be an opera singer—for a semester.
4. I cuss too much—although I've had to zip it since having kids.
5. I never turned in a paper on time in high school or college. Not once.
6. My first ill-fated marriage lasted three months.
7. Because of a skin condition, I don't have any tattoos of my own. Much to my regret.
8. I found my first romance on the sink in the library bathroom.
9. I am a TV addict. I had to stop cold turkey when the writing got serious.
10. I'm a huge, embarrassing fangirl when it comes to my favorite romance writers. It's so bad that I either: 1. Can't talk to them at all (not even on social media) or 2. If I get to meet them, I make a total fool of myself and I have to escape immediately.
Battered by a life determined to tear him down
This quiet ex-con's scarred hands may be the gentlest touch she'll ever know.
…if only life were a fairy tale where Beauty was allowed to keep her Beast

Ivan thought the world was through giving him second chances. Who'd want a rough ex-con with a savior complex and a bad habit of bringing home helpless strays? Everyone in Blackwood, Virginia knew he wasn't good enough for the fine things in life; they knew he was too damaged to save. He just needed to keep his head down, work himself to the bone, and pretend he was content with the lot he was given.

Until she came into his life. Until she changed everything.

Until he realized he would do anything, fight anyone, tear the world apart if it meant saving her.
About the Author: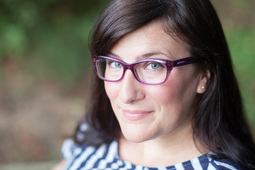 Adriana Anders has acted and sung, slung cocktails and corrected copy. She's worked for start-ups, multinationals and small nonprofits, but it wasn't until she returned to her first love—writing romance—that she finally felt like she'd come home. Today, she resides with her tall French husband, two small children and fat French cat in the foothills of the Blue Ridge Mountains, where she writes the dark, gritty, steamy love stories of her heart.
Website | Twitter | Pinterest | Facebook
Buy the book at Amazon, Barnes and Noble, or iBooks.