Leave a comment for a chance to win a print copy of Kiss of Steel, the first book in the London Steampunk series (US and Canada only please)
Ten Things I Love About Steampunk
Steampunk is a movement, with various outlets (fashion, music, literature etc.), but today I'm going to talk about what I love about the genre I write in, and more specifically steampunk romance:
1. Exploration. When I think of the Victorian era (which could be set in the Americas, the Orient or the Empire), for me it was a time of great exploration. Again, whether that's exploring the globe, exploring technology or simply exploring societal guidelines, the one thing that springs to mind is adventure. Steampunk is all about the adventure – and yes, it's not always limited to history. Sometimes it can be futuristic as well, but that spirit of adventure lingers.
2. The fashion. Corsets, garters, top hats, pith helmets, military-style uniforms, sexy boots… Hoo-boy, the romance writer in me can have a lot of fun with this.
3. Tea. Seriously, this is a significant part of the Victorian era and I regularly immerse myself in Twinings or a delicious Darjeeling just to capture the mood before I write.
4. Mechanical men. Or men with mechanical parts. And no, I'm not saying which parts though the mind does boggle.
5. Goggles. No self-respecting steampunk hero or heroine can be without them. Whether they're used to identify forensic evidence, view the opera (see My Lady Quicksilver, book 3, coming out in October 2013) or bracing the head of an explorer as he sets off on his airship, I love them.
6. Equality. It's not uncommon to find an intrepid heroine in what is usually a male-dominated role in your steampunk. Pirate captain? Detective? Aeronaut? Even if your heroine wears a corset and bustle, she's still not the usual simpering miss. She's often out to change the world – or her role in it – armed with a parasol and a good fortifying tisane. This also applies to multi-cultural characters or LGBT. Steampunk is liberating.
7. The aesthetic sensibility of most steampunk creations: clockwork is sexy. Silk, lace, brass; it's all about the appearance of a creation.
8. The weapons. Where else (apart from Star Wars) can you have a ray-gun? Or, in my case, a steam-driven pistol that fires fire bolt bullets, meant to explode on impact.
9. Science. I'll be honest. I like my science with a dash of mad, a touch of laboratories and the faintest hint of Frankenstein. I studied Biology for two years: I know it's more about data, statistics and endless calculations. But in my steampunk, I want something a little freaky, a little horrific.
10. The possibility… Steampunk is all about what could have happened. After all, da Vinci designed a 'helicopter', why can't we assume that someone actually created it? And that it worked?
So take all of those things, combine them together, give them a little shake and what do you have? My London Steampunk series. You can start with the first book, Kiss of Steel, with its devilish hero, codes, cures, a heroine determined to protect her family from a vicious duke and blood-drinking, or, if you're after something with a virgin hero, a flirtatious debutante out to change the world, verwulfen warriors and political plots, you could try Heart of Iron, which is in stores this month!
For a sneak peek at the London Steampunk world, I'm offering an e-novella called Tarnished Knight (set after Kiss of Steel and before Heart of Iron) for free download for the month. See here for details.
Want to win a copy of Kiss of Steel to start you on the adventure? Just let me know in the comments what parts of the above list interest you the most.
HEART OF IRON BY BEC MCMASTER – IN STORES MAY 2013
In the mist-shrouded streets of London's dreaded Whitechapel district, werewolves, vampires and a clockwork army are one step away from battle…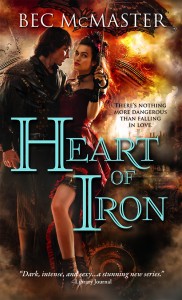 NO ONE TO TRUST…
Lena Todd is the perfect spy. Nobody suspects the flirtatious debutante could be a rebel against London's vicious elite—not even the ruthless Will Carver, the one man she can't twist around her little finger.
Will Carver, is more than man, he's a verwulfen and he wants nothing to do with the dangerous beauty who drives him to the very edge of control. But when he finds Lena in possession of a coded letter, he realizes she's in a world of trouble. To protect her, he'll have to seduce the truth from her before it's too late.
"Deftly blends elements of steampunk and vampire romance with brilliantly successful results…darkly atmospheric and delectably sexy."
—Booklist, starred review for KISS OF STEEL
 ABOUT THE AUTHOR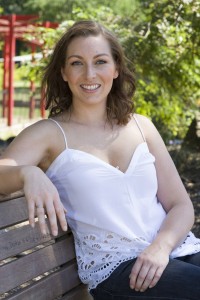 Award-winning author Bec McMaster lives in a small town in Australia and grew up with her nose in a book. A member of RWA, she writes sexy, dark paranormals and steampunk romance. When not writing, reading, or poring over travel brochures, she loves spending time with her very own hero or daydreaming about new worlds. The third book in the London Steampunk series, My Lady Quicksilver will be in stores in October 2013. Read more about her at www.becmcmaster.com or follow her on Twitter @BecMcMaster.
To purchase Heart of Iron: