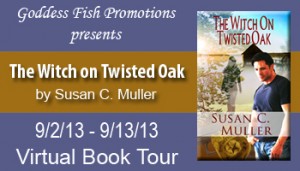 This post is part of a virtual book tour organized by Goddess Fish Promotions. Susan will be awarding a $20 Amazon gift card to a randomly drawn commenter during the tour. Click on the tour banner to see the other stops on the tour.
As an author, we always learn things from the books we write. Here are ten things I learned from writing The Witch on Twisted Oak.
1. If you feel the need to celebrate the Winter Solstice by dancing around a bonfire without any clothes on, it might be wise to check the area for a Boy Scout troop campout first.
2. Sometimes the thing you resent most in your life can become your biggest asset.
3. It's possible Mother doesn't always know best. But don't tell her I said so.
4. Nightmares aren't as scary if you wake to find someone you care about has his arms around you.
5. A pine needle is a little thing unless it's caught in the open toe of your cast and you can't reach it. Then it becomes an insurmountable object.
6. Sometimes you have to let go of the past if you want to build a future.
7. If you're in the woods with a man you don't know well, and he pulls a gun out of his boot, find out if he just wants to teach you how to shoot before you start screaming.
8. There are things in this world you can't explain. Just accept them.
9. Running naked through the woods with your girlfriend may sound romantic, but is actually quite painful.
10. If you find a woman who loves you, likes the same things you do, and makes you laugh, maybe the fact that she's a witch isn't so important.
What lessons have you learned from books, and I'm not talking about algebra or the periodic table? Comment for a chance to win an Amazon gift certificate and a copy of The Secrets on Forest Bend, the prequel to The Witch on Twisted Oak.
A powerful psychic is brutally murdered. Secrets are revealed. An old enemy is out for revenge.

Detective Ruben Marquez is thrust back into his childhood memories when he investigates a gruesome murder that occurs only feet from his mother's home. Is the killer somehow connected to his own past? Is the beautiful, mysterious daughter of the victim, someone he can trust? Or is her revelation that she's a witch a sign he should stay clear. But how can he, when it appears she's next on the murderer's to-do list.

In the ultimate test of courage, he uses himself as bait to protect all he holds dear . . . his career, his family, and the Witch on Twisted Oak.
About the Author: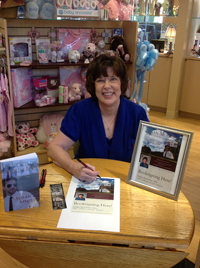 Susan C. Muller is a fourth generation Texan. She attended Stephen F. Austin State University where she majored in Business Administration. She started her first novel at age eleven, but it wasn't until after she had worked many years and raised a family that she returned to her first love, writing. She is a member of Northwest Houston RWA, Kiss of Death online RWA, and The Houston Writers Guild. Her novel, The Secrets on Forest Bend, has won several awards.
Susan and her husband, Sid, live in Spring, Texas with their rescue dog, Buster, a 120 pound black lab of advanced age. They have two children and four grandchildren. They love to travel and have been fortunate to see much of the world. Her favorite places include Kenya, New Zealand, and the Galapagos Islands. When not writing, she can be found doing volunteer work at a local hospital. She loves to read, travel, snorkel and take long walks.
Website: http://susancmuller.com/