"Raw and Graphic from the outset, Stein's tales within her tale form the backbone of the story". RT Book Reviews, 4 Stars
"I devoured this like a chocolate bar…This is a book I feel I will read over and over again." Lucy Felthouse, author of the Edge series
Telling Tales
By Charlotte Stein
Sourcebooks Casablanca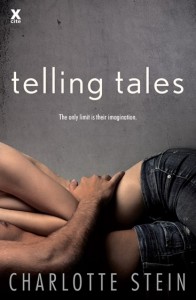 Allie has held a brightly burning torch for Wade since college. They were part of a writing group together, and everything about those days with him and their friends Kitty and Cameron fills her with longing. When their former Professor leaves them his rambling mansion in his will, it's a chance for them to reunite. But there's more than friendship bubbling beneath the surface.
As secrets are revealed and relationships rekindled, the stories get dirtier and the stakes get higher. And now Allie's realized that she isn't quite sure who she wants…fun-loving Wade, or quiet, restrained Cameron. Neither have been honest about their feelings, and now they have the chance to act on all of the tales that ignite their most primal desires.
Buy the book at Amazon or Barnes and Noble.
About the Author: Charlotte Stein: Award-winning author Charlotte Stein writes short stories, novellas, and novels. Her first novel, Control, was recently called "a non-stop crazy-hot sex book." When not writing, she can be found watching terrible sitcoms eating jelly turtles. She lives with her husband and their imaginary dog in West Yorkshire.
Allie and her friends have the chance to get away from the world and reconnect when their professor bequeaths his mansion to them. What is YOUR favorite getaway locastion and who would you like to share it with? One commenter will win a print copy of TELLING TALES (US/Canada only).