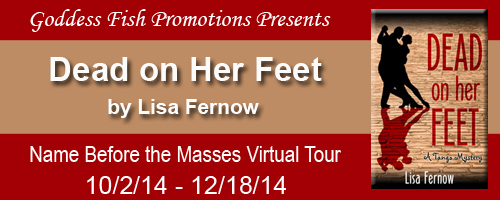 This post is part of a virtual book tour organized by
Goddess Fish Promotions
. Lisa will be awarding a $30 GC to winner's choice of online bookseller to a randomly drawn winner via rafflecopter during the tour. Click on the tour banner to see the other stops on the tour.
Guest Blog
I see that many of the books you feature here include romance novels, as well as mysteries, so I thought it might be fun to talk about where tango fits in all of this!
As a social tango dancer I have trained with masters from around the world and braved the nightclubs of Buenos Aires. Here is a scene from one of my favorites, El Beso – which means The Kiss. You can see that the dance floor is very crowded, and people are dancing in close embrace, where you are basically hugging your partner.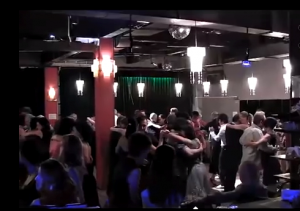 When I go to the milongas (tango dances) in Buenos Aires, it's always exciting because the dancers are usually highly experienced. Many have been dancing 365 days a year their entire lives.
When an Argentine milonguero takes you in his arms, you know it. First, he understands he is there to take care of you. His paramount concern is to make you feel safe and give you a good dance. Second, he is there to take charge. That doesn't mean he bosses you around, not at all. Tango is a conversation; it's give and take. But I love a man who projects a confidence that says, "I know the music, I know the tango, I know where everyone else is on the floor, and now I want to know you. Let's share a moment together."
It's impossible to reveal anything but your most authentic self when you are dancing to some of the most heartbreaking, soulful, passionate music on earth with a partner who knows what he's doing. And I always marvel how different each man is. At this point in my life I have probably danced with several hundred men, almost all of whom were complete strangers. Since my Spanish is very basic, I can't communicate in words. But after one tanda (set) I feel I know everything that matters. Is he kind? Tender? Sensitive? Demanding? Full of longing? Playful? And he knows all he needs to know about me.
When you have a transcendent connection there is nothing like it. Well, I suppose great sex or religious ecstasy would come close 😉
I noticed a lot of the books covered in this blog are rated according to heat level so I would just like to say that most readers would probably rate Dead on Her Feet as sensual. Tango is about emotion, intimacy and passion – and it is certainly sexy – but it's not sexual. What happens on the dance floor stays on the dance floor. Otherwise the passions you experience can spill over in dangerous ways. That's why I couldn't resist setting Dead on Her Feet in the tango community.
So, what are you reading now that really sweeps you off your feet?
What happens when a dancer violates the tango code?

Tango instructor and chronic rule-breaker Antonia "Ant" Blakeley has no respect for authority. So when a much-hated member of the Atlanta tango community is stabbed in the middle of the dance floor, leaving her troubled nephew Christian first on the list of suspects, the last thing she wants to do is use her tango expertise to help the police work out how someone could have struck the fatal blow, unseen. As someone who has experienced police incompetence first hand Antonia doesn't trust them to find the real killer. So she lies to give Christian an alibi, and the coverup begins.

Unfortunately for Ant, former marine Detective Sam Morrow is on the case and he will do whatever it takes to solve the crime. He's not about to let Antonia hijack his case. As both Ant and Sam investigate (or in Ant's case, interfere), the two sleuths are about to find out the more antagonistic meaning of "it takes two to tango."
Enjoy an excerpt:
"Tango can be about many things—seduction, longing, nostalgia, intimacy, tenderness— you get the picture. Whatever the music and the moment inspires. This song isn't one we normally dance to but I happen to think it's a beautiful piece, especially if you understand the words. It's called 'Uno.' One." Uno, oh yeah, she thought.
"He gave away his heart to a woman who betrayed him and now he can't love the way he used to. That's life and death stuff." She was pleased to see Christian nodding, solemnly. "For this exercise I want you to move with whatever emotion inspires you. No partners. Walk around the room in the line of dance, counterclockwise, everyone, remember? Don't worry about steps, the idea is to get used to feeling the music and transmitting it through your bodies."
Antonia started the track, savoring the instrumental opening. When Sosa finally started to sing the yearning in his voice punctured her heart as it never failed to do. The class shuffled around the room, some self-consciously, others with more abandon. One of the Emory students seemed to be channeling Martha Graham, in a good way.
Something out of the corner of her eye caught her attention: a stranger, not that much taller than she was, standing in the doorway. His military bearing, neatly trimmed mustache, and close-cropped sandy hair would have conveyed unyielding strength if it hadn't been for the fact that his eyes were pale blue and his nose had been broken at least once. He would have been just her type if she were interested in a relationship.
About the Author: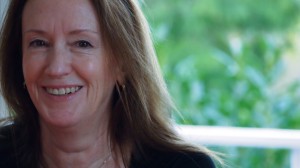 Lisa Fernow grew up on the classic mysteries of Ngaio Marsh and Elizabeth Peters. Lisa has danced Argentine tango since 1996, studying with such legendary masters as Cacho Dante, Susana Miller, and Brigitta Winkler, as well as other inspiring instructors in Atlanta, Seattle, and Portland. Lisa's short story,Death of a Tango Dancer was featured in King County Library's Take Time to Read program. She lives in Seattle, Washington. Dead on Her Feet is the first book in a planned series set in the tango world. Read more at www.LisaFernow.com.
Blog | LinkedIn | Facebook | Twitter, or Pinterest | Goodreads.

Buy the book at Amazon or Barnes and Noble.