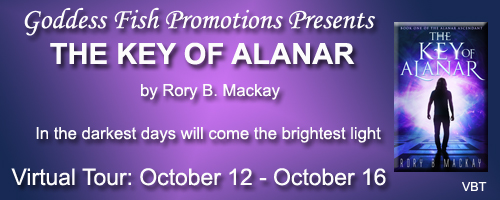 This post is part of a virtual book tour organized by
Goddess Fish Promotions
. Rory B. Mackay will be awarding signed copies of both his novels, Eladria and The Key of Alanar, (International Giveaway) to a randomly drawn winner via rafflecopter during the tour. Click on the tour banner to see the other stops on the tour.
Taming the Muse – The Art and Science of Creative Inspiration
by Rory B Mackay
I'm in love with creativity. I've been creative from a young age and find the act of bringing thoughts, ideas and stories to life to be one of the downright coolest things in the universe! Growing up I was forever writing, drawing and compiling comic books featuring my own characters—usually with a somewhat quirky, comedic edge. Looking back at my youthful output I was uncharacteristically sardonic for my age. But although my style gradually changed, my love of creating never diminished in the years that followed.
The idea for my latest novel, The Key of Alanar, dates back a great many years. I was still in high school when inspiration struck, and although I can't remember what ignited that particular spark, it was strong enough to create a fire that has burned brightly throughout the two decades that followed.
Some creative ideas don't have much force or power behind them. Like fleeting thoughts, they quickly pass through the mind. We might take note of them, but generally they don't have sticking power. Some creative ideas, however, come exploding into our mind—and it's impossible to ignore them. They someone root themselves deep in our consciousness and refuse to go until we've committed to fulfilling them; to taking those ideas and sparks of inspiration and bringing them to concrete, tangible life. These ideas don't just want to be born and clothed in words—they demand it.
I believe there are two components to creative inspiration: the mundane and the magical. Given my romantic and borderline hippie tendencies, I tend to relate most to the latter, but both are worthy of consideration.
Environment plays a huge effect in shaping our development not only as human beings, socially, psychologically, emotionally and intellectually, but also creatively as artists and writers. Our culture inevitably plays a huge role in shaping our work, and so does the work of other writers and creators. The basics of storytelling were already laid out for us, having been in place for countless centuries, along with an increasing diversification of different genres, each with their own sets of norms, predilections and 'rules'.
On a 'mundane' level, it's impossible for any author to claim that their work hasn't been inspired on some level, whether consciously or unconsciously, by numerous other authors. I'm certainly aware that my work has been influenced by so many things I've been exposed to over the years: from my favorite books, to films, television shows and even nonfiction works I've read. Nothing exists in isolation and creativity basically feeds on itself. It has been said there are no new ideas out there, only different combinations of elements in perpetual motion like a great kaleidoscope of creativity.
I tend to find myself reflecting more on the magical, mystical side of creative inspiration. Where do ideas really come from? Indeed, where does anything actually come from? Thoughts just appear in our minds, rising up like clouds from the sea of consciousness, passing by and dissolving into nothingness or into other cloud-like thoughts. If you stop to examine it, most of the time it's not even really us doing the thinking; the thinking is just doing itself. So too with creative ideas. In my experience, ideas and inspiration tend to appear out of nowhere. Certainly, I can try brainstorming and actively chasing inspiration, and sometimes that can be fruitful. But the best ideas just seem to arise when my mind is in a fairly quiet and receptive state. Many creative people claim that their best ideas and greatest breakthroughs come to them when their mind is on other things; perhaps when they're driving or in the shower.
I've found that the muse is most generous when I'm in the right state of mind. I have to be feeling fairly relaxed, my mind might be focused, but there's no tension or grasping. It's an almost zen-like state of being intensely alert but relaxed and without any straining or stress. I can usually get a feel for when an idea is about to come through. I know now that my best bet is to simply get myself into a peaceful, focused state, grab a pen and paper and be receptive to whatever ideas start to flow. That's how I came up with the plots for all of my novels. It was almost like watching a movie unfolding in my head. I simply watched what images and ideas came to mind, and wrote them down. It's an exhilarating feeling when creative ideas arise like this, with such spontaneity and ease. It truly is a feeling of being in the zone!
Of course, that is only the beginning. After the fun part, the free flow of ideas and inspiration, comes the grueling slog of sitting down and actually writing! Writing can often be a great test of endurance and commitment. It's a labor-intensive job without a doubt, and often quite a lonely one, too. But it's also one of the most rewarding things imaginable, to take that initial seed of an idea, and stick with it, allowing it to germinate, grow and flourish into something remarkable!
Lasandria. An ancient, advanced civilization, consigned to oblivion by the greed and power lust of its own people. The coming apocalypse heralds a new evil that will ravage the world of Alanar for an entire age. Yet on the eve of Lasandria's destruction, the ethereal overseers of the mortal realm grant a dispensation—a promise of hope for the future.

That hope lies with an orphaned teenager named David, born some ten millennia later; a boy whose isolated and uncertain existence leads him on a journey upon which hinges the fate of not just his world, but countless others.

On the run from a brutal military force, David's quest is one born of shattered dreams and tainted by the thirst for revenge. As an inter-dimensional war that has been waged since the beginning of time threatens to consume his world, the dark force that destroyed Lasandria lurks in the shadows, ready to take possession of the one thing that will either save Alanar or destroy it — David.
Enjoy an excerpt:
Prologue: The End
Year of Atania, 4999
It took only seconds for an entire civilization to perish.
Ardonis watched as the shockwave tore through the city in every direction. The golden metropolis was laid to waste with devastating ease: the buildings collapsing into smoldering ash, scattered by the wind; the crowd of thousands incinerated in the blink of an eye.
Fire and cinders spiraled from the rubble as a rising cloud of smoke devoured every last trace of daylight. The only illumination came from the object of the city's destruction—the gateway. Towering above the ruins, its metal pillars stood miraculously unscathed, at the centre of which the pulsating whirlpool of blue-violet light continued raining down sparks of electrical charge.
His city was gone, but Ardonis knew that the worst was yet to come. He watched with a sense of dread as an object emerged through the portal: an airship puncturing the thin membrane between universes, shooting into the sky above the rubble. Closely followed by another, and then another, the black metallic craft soared over the ruins like carrion birds in search of prey.
A stream of ground troops followed; wraithlike reptilian creatures with gnarled, distorted faces, armed with rifles and blades. The metal-clad soldiers marched through the gateway, spilling into the dead city like an infestation.
Ardonis knew it was no coincidence these demonic creatures had arrived in the aftermath of such carnage. He watched them feed off the destruction around them; ingesting it as though death itself was a vital nourishment. He could sense their hunger. Finally freed after eons of captivity, they were ravenous and would not stop until their hunger was satisfied.
It wasn't just Ardonis's beloved city that had fallen. His entire world had now been thrust into an unending age of terror.
Alanar was dead.
About the Author: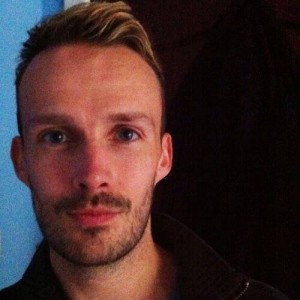 A natural born writer, thinker and dreamer, Rory Mackay was born in Glasgow, Scotland in 1979. Since then he has lived most of his life in the North East of Scotland, a place he finds scenic and inspiring, if a tad cold. With a lifelong passion for creative writing and art, Rory knew from a young age that he had stories to tell and adventures to share. As he grew up and became interested in philosophy and metaphysics, he came to realize the potential of literature and art as a means of sharing ideas, posing questions and exploring the nature of reality in a way that is accessible yet compelling and challenging.
Rory is also an animal and nature lover, music junkie, social and environmental activist, cake enthusiast and generally rather chilled out guy. He sells his art online and writes blogs on creativity, writing, philosophy, spirituality and whatever else inspires him. He has written his own commentary on the classic Chinese text, the Tao Te Ching and is planning a self-help book as well as a new series of fantasy books called The Dreamlight Fugitives.
Website | Blog | Blog | Twitter | Facebook | Goodreads
Buy the book at Amazon or Amazon UK.