TAKING ON A LEGEND
It requires a certain amount of moxie to take on a legend. When I got the idea for a book based on Robin Hood, I told myself I must be crazy. After all, it's been done –sometimes in a campy style, sometimes badly and sometimes very well indeed. But ever since the time of that master storyteller, Howard Pyle, Robin Hood has been an institution. Quite frankly, I'm not famous for my moxie; and anyway, how could such a well-known story possibly be improved?
But here's the thing about inspiration: when it strikes out of the blue like that, it often refuses to be denied. My Muse kept talking at me and we argued back and forth for a while.
Me: "I couldn't possibly do justice to a tale about Robin Hood. People already know too much about the story. Nobody would want to read a rehash of the same old thing."
My Muse: "So change it up a bit. But write it."
Me: "I'd be a laughing stock. My editor won't even want to know. She'll call the men in the white coats."
My Muse: "What do you care what people think of you? Didn't you give that up after the first hundred rejection slips? Write it!"
Me, whining now: "But everybody already knows all the characters. There's nothing new to add."
My Muse: "So tell the story of what came after the part people know. Make up a whole batch of new characters. Just WRITE IT!"
At that point, my old friend What-If took over the discussion. I don't know how many times What-If has gotten me out of a writing jam. He's my go-to on those rare occasions when I get a brief onset of writer's block. He's prompted entire historical series with that simple question, "what if?"
Now he said, "What if Robin Hood had a child? No, no, not a son – that's too predictable. Make it a daughter. Oh yeah, and start out where she has no idea who she is. And throw a lot of magic into the mix. Sherwood Forest should have a big part in this story. Heck, make Sherwood a virtual character."
As I often say, a writer's mind is a scary place. But at the combined urging of my Muse and What-If, I sat down with pen and paper, and the story took off on its own. Not only is my main character, Wren, the daughter of Robin and Marian – both deceased at the start of my tale – but she discovers she's a vital part of a magical triad charged with the task of leading the Saxon resistance and protecting Sherwood Forest. The other two members of the triad are offspring of Robin's men who also gave their lives for Sherwood. Martin, son of Will Scarlet, is a born warrior with a wicked, indomitable heart. Sparrow, son of Little John, is strong and loving, and holds all the magic of the ancient forest in his dark eyes. Not only must Wren bond with them, but she must decide to which she will give her heart.
Before I knew it, my characters became real, vital people with hopes and dreams and fears, who suffered and struggled and, I'd like to think, created their own portion of the legend. The time in which they existed wasn't always easy or pretty. There was danger and violence, but there was also beauty and enduring love.
That's the thing about legends: they do endure. And there's a reason for that. I believe something in the old tales uplifts us, satisfies and lets us learn about ourselves, and – like Wren – dare to be just a little bit more than we believe we are.
And so, when I'd written the last line of Daughter of Sherwood and laid my pen aside, did my Muse and that rascally What-If leave me in peace? Hardly, for no sooner had I received the contract from my editor than What-If leaned in and whispered in my ear, "What if you made it a Trilogy?"
I hope you'll join us just outside Nottingham for Daughter of Sherwood: The Guardians of Sherwood Trilogy Book One!
Laura Strickland's new historical romance book Daughter of Sherwood, published by The Wild Rose Press, was released on November 1, 2013.

Raised as a scullery maid in Nottingham Castle, Wren has no idea she is the daughter of the legendary Robin Hood. When she is forced to defend herself against the unwanted advances of an influential man, she flees the castle and finds refuge in Sherwood Forest. It is then she learns a powerful secret: she has a destiny as a guardian of Sherwood, charged with the responsibility of defending its ancient magic.

Since Robin's death many years before, his supporters have kept his legend alive. Now one of the three guardians holding the spell has died. With two young men, Sparrow and Martin, Wren must form a new bond strong enough to protect Sherwood and continue her father's fight. Drawn equally to Martin's warrior spirit and Sparrow's gentle strength, she finds it nearly impossible to choose between duty and love.

Laura takes us on a journey into the world of Robin Hood's daughter, where we experience her struggle to accept her identity and the demands of her father's legacy. Along with Wren, we learn that what is loved in life can never be lost, and that great love is worth the price paid. For at last, when Martin is captured and held at Nottingham Castle, the path becomes clear for Wren and she finds the strength to become the woman she was born to be, the Daughter of Sherwood.

Daughter of Sherwood is book one of The Guardians of Sherwood Trilogy.
About the Author: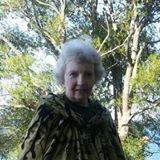 Born and raised in Western New York, Laura Strickland has pursued lifelong interests in lore, legend, magic and music, all reflected in her writing. Though her imagination frequently takes her to far off places, she is usually happiest at home not far from Lake Ontario with her husband and her "fur" child, a rescue dog. Currently she is at work on the third book of the Guardians of Sherwood series.
Goodreads ~ Website
Buy the book at Amazon.