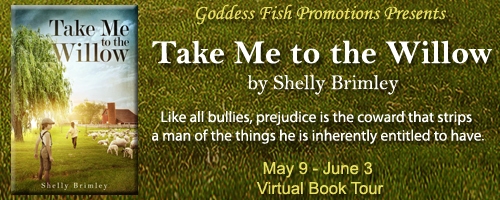 This post is part of a virtual book tour organized by Goddess Fish Promotions. One randomly chosen winner via rafflecopter will win a $50 Amazon/BN.com gift card. Click on the tour banner to see the other stops on the tour.
Thanks for stopping by Long and Short Reviews. What group did you hang out with in high school?
– I didn't hang out with any particular social group in high school. I got along well with most people and had a handful of close friends that I spent most of my time with.
What are you passionate about these days?
– Parenting and writing. I feel very driven to be a good mom, but it's a challenge. I find that trying to know the needs of your children and then being able to meet them is a daunting responsibility and one that consumes the majority of my energy. I want my children to grow up feeling ready to meet the demands of life, and I want to make sure that we are providing them with all that they'll need to be happy, responsible, successful, contributing people. I also feel passionately about writing. I look forward to the few quite moments I can find when I can put everything else aside and just write. As silly as it might sound, I am very connected to my characters and to what is happening in their world, and I feel a bit unsettled if I'm unable to resolve a conflict for them or complete a thought before being interrupted.
If you had to do your journey to getting published all over again, what would you do differently?
– Part of me says I would submit to agents a hundred times until the right fit was found, but that is so exhausting and requires incredibly thick skin. The other part of me says I'd do it just the same. I guess I'm undecided… we'll find out when I publish the sequel!
Ebook or print? And why?
– For me, print. I LOVE the feeling of holding a hard copy book in my hand while reading. There is no comparison. If I have to read electronically, I will, but I don't enjoy the read as much.
What is your favorite scene in this book?
– This is really difficult to answer. It's a toss-up between a few of them. But, I've read the book several times, and for some reason, I always seem to pause after the scene where Lawrence just can't go on and they find him with Adelaide and Charlie. I like different scenes for different reasons, but this one captures a very raw and cruel reality that feels meaningful to me.
In defending his life-long friendship with Charlie, Will may have inadvertently had a hand in the growing chaos that leads to the horrifying night when his familiar world is shattered.

When Will Wright, the eighteen year old son of a small-town Arkansas sheep herder in 1905, begins reading his mother's journal, he is inspired by its startling content to start putting his own experiences to paper for posterity. An unsophisticated but principled young man, Will is becoming increasingly aware of the hatred that exists in the world. When he begins his own journal, Will can't know what events are to take place in the next five years – from his mother's battle with a life threatening illness, to his embarrassments of learning how to be in love for the first time, to witnessing Charlie's fate at the hands of the bigoted townspeople. While part of him wishes the pain in those pages didn't exist, he knows that the original purpose for keeping the journal has been realized – to show his kin how he became the man he is. He will probably never go back through and read again the pages he's written, but someday, someone will, and they will see that along with the hurt, Will's life had been one that knew true joy, absolute love, and undying friendship.
Enjoy an excerpt:
I've only been in this cell for three days, but it feels like a might lot longer than that. I know what I did wasn't considered proper by most folks down here in the South, but I don't regret doin' it. And I'd do it again, if I had the chance. Charlie never did anything wrong. He's just colored. Not much he can do about that, and even if he could, I suppose he wouldn't want to anyhow. I didn't feel it right that Charlie be ignored when all he came to do was buy feed and tools like the rest of us. So when Eli Carver said he don't take no "colored" money, I thought it best to point out that he must be blind as a bat since Charlie's dollar and my dollar are both the same shade of green. And when I held the two right in front of Mr. Carver's face and politely asked him to show me the difference, he later told Sheriff Coleman I was threatenin' and causin' a disturbance. When I heard that, it just made my blood boil, and I decided Eli Carver needed to be taught a lesson. I went back to that store, although Charlie tried to get me to leave it be, but the next thing I knew, I was holdin' Eli a foot off the ground against the door to his very own supply store. If Sheriff Coleman hadn't been right there, I might have been able to argue my side, but there's no point arguin' against proof and common sense. Besides that, Sherriff Coleman is known for his feelin's about colored people, so I knew I was beat before I started. I suppose I just didn't care.
About the Author:
Shelly Brimley was born in Flagstaff, AZ, where she lived most of her life until moving to Mexico to study abroad. After graduation, Shelly did some volunteer work in Africa and completed her graduate degree while working in an adolescent drug treatment center. After acquiring her Master's degree, she worked as a counselor at a residential shelter for children who had been smuggled and trafficked into the USA from different countries around the world. She also taught English to adult refugees before resigning to raise her children. Shelly wanted to use her experience working with others as a source of inspiration in her writing, offering a voice for those who are not typically heard or considered.
Website | Facebook | Goodreads
Amazon – On sale for only $0.99 until May 22.