This post is part of a virtual book tour organized by the publisher to celebrate the release of
Take a Chance on It
by K.A. Mitchell.
*****
Hi!
Thank you for the chance to tell you a little bit about Take a Chance On It, the third book in my Ready or Knot series. The idea for the opening of this book—a wedding where the best man was in love with one of the grooms—was the very first idea I had for the series. Writing his yearning hurt more than I thought it would. When I wrote the scene this excerpt was from, I cried and I knew it wouldn't be the last time. There is a happy ending, and I hope, a lot of funny lines and sexy times, but there is a lot of angst on the way. Here, the best man is alone with the groom just before the ceremony. I hope you enjoy this excerpt from Take a Chance On It.
Dane's moms—Theresa and Jess—had always been what Gideon would have wanted for his own mom—assuming, of course, he'd had one that stuck around past Gideon turning seven.

At the rehearsal dinner last night, Mama J had kissed his cheek and held him, despite Gideon's rigid posture and tentative return of the embrace. "We always hoped he'd finally see you, sweetheart."

And just like that, all the iron he'd used to lock away his feelings had turned to vapor, and Gideon had had to excuse himself. It had taken two shots of Chivas Regal to get him to the point where he could let anyone see his face.

"It really might have been your last chance." Dane wasn't teasing now.

"For fuck's sake, Dane, you're not going to die."

"That's not what I meant." Dane's hand hovered over Gideon's shoulder and then fell away. "But we're not just doing this for the paperwork, for me to go on his insurance. We're… closing the relationship."

As smart as Gideon knew he was, he would always be incredibly stupid when it came to Dane. Had he missed signs of that shift in his self-imposed exile from Dane's booty-call list?

Gideon buried his reaction in an examination of his cuffs. "I'd say you're cute when you're terrified, but neither of your heads need to get any bigger."

"Aw. You noticed." Despite his drawn features, Dane's grin was as bright as ever.

"You make damned sure everyone does."

Dane wrapped his arms around Gideon. "I love you, you know."

Gideon rested his hands on Dane's shoulders. "Yes."

"I only plan to do this once, and I want to do it right."

Let me tell you about the family curse, son.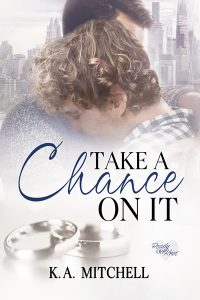 Left at the altar by his long-time lover Spencer and in desperate need of quality health insurance, now, Dane Archer can't say no when his best man and best friend Gideon DeLuca steps in. But Dane and Gideon have history, tangled and passionate and complicated.
After seventeen years of cat-and-mouse, Gideon has realized Dane isn't the kind of man who ever wants to be caught, and he's stopped playing Dane's game.
For Dane, it's never been a game, but sexual fidelity isn't his strong suit. Love is too beautiful for limits, something he's never been able to get Gideon the control freak to understand. Now Dane has nothing but limits, including the timeline on this paper-only marriage to Gideon.
Gideon's the only person Dane trusts enough to lean on, and Gideon will do anything to get Dane through this crisis. Anything but fall for Dane again.
Living together forces Dane and Gideon to stop circling and face what's been between them all these years. They just don't know if they have the power or the time to make things right.
What they do know is that they're not ready for it to be over.
About the Author: K.A. Mitchell discovered the magic of writing at an early age when she learned that a carefully crayoned note of apology sent to the kitchen in a toy truck would earn her a reprieve from banishment to her room. She never stopped making stuff up and was pleased to find out that people would pay her to do it. Over twenty books later, she's still in love with writing. Reviewers and readers alike have called her a "gateway drug" to gay romance. Although the men in her stories usually carry more emotional baggage than even LAX can lose in a year, she guarantees they always find their sexy way to a happy ending.
Buy the book at Amazon, Barnes and Noble, Kobo, or Dreamspinner.