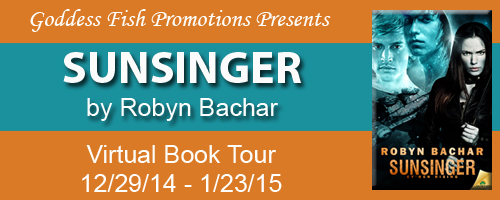 This post is part of a virtual book tour organized by
Goddess Fish Promotions
. Robyn will be awarding a $25 Amazon or B/N GC to a randomly drawn winner via rafflecopter during the tour. Click on the tour banner to see the other stops on the tour.
Do you ever suffer from writer's block? If so, what do you do about it?
I usually hit a block either about 30k words into a story, or after the second act. When I'm stuck I put the scene in question in brackets, like [fight scene here] and move on to another section of the plot. Then I come back to the problem area later when I'm ready to write it.
Are you working on anything at the present you would like to tell us about?
My March release is an erotic paranormal romance called Bite Me. It's a f/f/m ménage set in a post-zombie-apocalypse Chicago. The heroine is a vampire video gamer who used to run a rescue org for fighting dogs, and her love interests are a lesbian cop and a vampire composer. It's a lot of fun.
What do you like to do when you are not writing?
I'm addicted to my X-Box. I predict I'll be playing Dragon Age: Inquisition for the foreseeable future. I played through the first two games dozens of times. I love slaying monsters and saving the kingdom.
How many books have you written? Which is your favorite?
Sunsinger is my eighth book with Samhain. I love all of my books, and Sunsinger is my current favorite. It was fun to wrap up the trilogy and write everyone's happily ever after.
Ebook or print? And why?
Both. Each format has its advantages. Ebooks allow me to try out new authors and series without worrying that I'll end up with a half-read book taking up space on my bookshelves. The last time I moved I had over 50 boxes of books, and it's so much easier to move an e-library. 😉 But for books by my favorite authors—the ones I know I'll re-read and cherish—there's something satisfying about holding the pages in my hands.
Do you listen to music while writing? If so what?
When writing I prefer music without lyrics, otherwise I get distracted and start following along with the music instead of concentrating on my work. I have a film scores channel on Pandora that I like, and a Lindsey Stirling station.
What are your favorite TV shows?
I have a lot of TV addictions. I watch Grimm, Sleepy Hollow, Gotham, The Black List, Agents of SHIELD, Forever, How to Get Away with Murder, and Doctor Who, to name a few. I'm also addicted to reality shows that deal with food, like The Taste and Top Chef.
If you could keep a mythical/ paranormal creature as a pet, what would you have?
Oooh. I think my inner child would want a unicorn, but they're kind of large and would be difficult to house. Maybe something smaller. I wouldn't mind my own snarky flying lizard buddy like Loiosh in Steven Brust's Vlad books.
Favorite color?
Pink is my signature color.
Favorite non-alcoholic drink.
Coffee! Coffee is essential to life. Though usually by the time I'm done with it it barely tastes like coffee, because I'm heavy on the flavored creamers. I love peppermint, French vanilla, and mocha.
Her desire unites them. Her secret could destroy them all.

The lord.

The sole survivor of the Sunsinger massacre, Lord Degalen Fairren spends his days reading tales of the family he never knew. When a rival house threatens to enslave Cyprena, Galen is forced to pull his nose out of his books and enter into an alliance with House Morningstar, and a dangerous mission to save his world.

The assassin.

Lady Andelynn Harrow isn't House Morningstar's eldest or prettiest daughter, but she is the deadliest. After her father's murder, Andee must defend her new house and mate—the shy, reluctant Galen—but every battle risks revealing her terrible secret.

The slave.

Malcolm gets his first taste of freedom when the Cy'ren recruit him to locate the cure to a deadly virus—and feels the burn of desire for Galen, the lord he can never have, and for Andee, who awakens memories of a long-lost first love.

The danger they face fuels the heat between them, but with Cyprena's fate hanging in the balance, the race to find the cure could come with devastating costs.

Warning: Contains a blushing, virgin lord, a sexy geek, and an empathic assassin who always brings lube on a mission.
Enjoy an excerpt:
Cursing, Andee shoved Galen behind cover next to Malcolm and then knelt beside them. She ordered Sharp to lay down covering fire. When the marine shouted for her to go Andee leapt into action and used Sharp's distraction to her advantage. Andee dropped two guards before they could react and Sharp's pistol took out a third—good thing the man was a decent shot, because she didn't want to fall to friendly fire. But the fourth guard was a tougher foe, his energy empty of fear or hesitation. He fired at Galen and Malcolm's hiding place, and Andee threw herself in harm's way. The bolt burned a ragged line across her stomach—ugly but not deep—and she swallowed the scream of pain that bubbled up and channeled her adrenaline into a kick to his knee. The guard stumbled as he raised his rifle for a second shot, but before he could fire Galen tackled him to the floor.
Andee lurched forward and cut the guard's throat. She sheathed her blades then took Galen's arm and pulled him away, checking him for injuries.
"A'gra, you're wounded," he blurted. She flinched and snarled in pain when he touched the burn. Andee staggered, nearly overwhelmed with the force of Galen's concern for her, and then she caught his hands and steeled her shields.
"It's all right. Just a graze," she assured him through gritted teeth.
"Why did you do that? You could have been killed!"
"It's a privilege to die for my house," she quoted grimly. Andee stepped back as Malcolm approached them, wide eyed but uninjured. "Are you ready to go?" she asked him.
"Yes."
"Let's move out."
About the Author: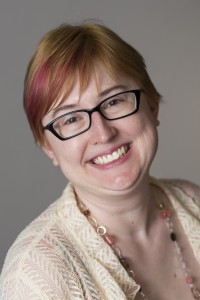 Robyn Bachar enjoys writing stories with soul mates, swords, spaceships, vampires, and gratuitous violence against the kitchen sink. Her paranormal romance Bad Witch series, historical paranormal romance series Bad Witch: The Emily Chronicles, and spicy space opera romance trilogy Cy'ren Rising are available from Samhain Publishing. Her books have finaled in PRISM Contest for Published Authors, the Passionate Plume Contest, and twice in the EPIC eBook Awards.
As a gamer, Robyn has spent many hours rolling dice, playing rock-paper-scissors, and slaying creatures in mmorpgs.
Twitter | Blog | Facebook | Google+ | Goodreads | LibraryThing | Shelfari | Amazon Author Page
Buy the book at Amazon, Barnes and Noble, iTunes, or Kobo.